Venezuela Has Banned All Protests Before Its Controversial Special Election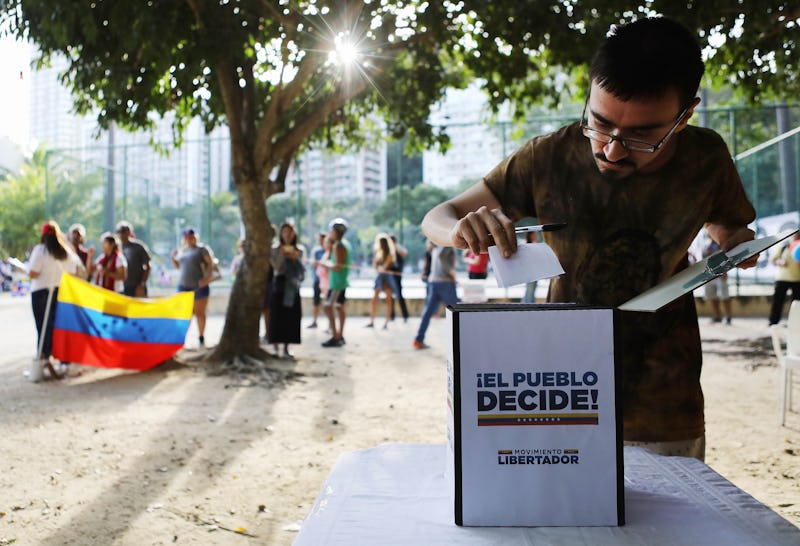 Mario Tama/Getty Images News/Getty Images
On Thursday, government officials announced that Venezuela is banning protests right before the election for a constitutional assembly. This newly implemented ban directly blocks plans for a massive strike on Friday against the election. The interior and justice minister, Néstor Reverol, announced that the ban will last from Friday until Tuesday, and prohibits "all public meetings and demonstrations, gatherings and other similar acts that might disturb the electoral process." The declaration was made on Thursday at the end of a two-day general strike by the opposition.
The penalty for anybody who challenges the ban could be five to 10 years in prison. "National meetings and demonstrations, concentrations of people and any other similar act that may disturb or affect the normal development of the electoral process are prohibited throughout the country," Reverol said in a television address.
The ban of widespread protests is in preparation for Sunday's controversial vote for constitutional assembly members, who could potentially repeal and replace Venezuela's 18-year-old constitution. The opposition fears a rewrite of the constitution could careen toward a dictatorship.
In fact, when President Maduro held an unofficial vote about the constitutional rewrite, roughly 98 percent of voters rejected the proposal, according to a report from NPR.
As an attempt to deter Maduro from moving forward with his plans for Sunday's vote, the United States announced sanctions against Venezuela. The sanctions themselves focus on 13 former and current officials working under Maduro. In effect, the sanction freezes the officials' U.S. assets while blocking Americans from conducting business with them.
"These sanctions are a fresh attempt to persuade Maduro to cancel Sunday's elections for a new assembly that'll have the power to rewrite Venezuela's constitution. The election is set up in a way that all but ensures the assembly will be packed with Maduro supporters," said NPR's Phillip Reeves.
When it comes to the relationship with the United States, Venezuela is one of America's largest oil suppliers, and supplies as much as 10 percent of our total imports.
"The Venezuelan people again made clear that they stand for democracy, freedom, and rule of law," President Trump wrote in a White House statement. "Yet their strong and courageous actions continue to be ignored by a bad leader who dreams of becoming a dictator. The United States will not stand by as Venezuela crumbles. If the Maduro regime imposes its Constituent Assembly on July 30, the United States will take strong and swift economic actions."