The 16 Best New Books This Week Feature Dark Magic, Espionage, And Poison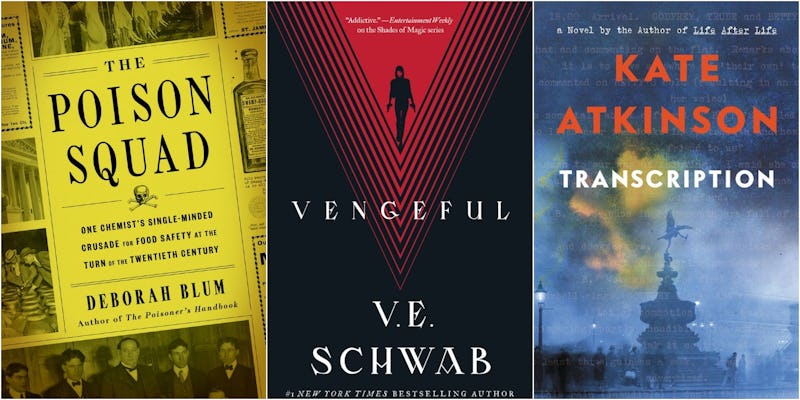 Fall is one of the best seasons to be a reader: There's all the awards (The National Book Awards are announced in November, and the Man Booker Award is announced in October, among others), there's the chilly temperatures, which make for the perfect excuse to stay indoors with a novel, and there's the new book releases.
This week's best new books include plenty of fantasy novels to keep you company during the dreary days ahead. V.E. Schwab's highly anticipated Vicious sequel, Vengeful, is here, which means you can spend the next few days cuddled up with a book about pure revenge (which, considering the news cycle, is not the worst idea.) Plus, there's plenty of novels out this week that center on the power of female magic, in all its light and darkness: Beth Revis tackles necromancy in Give the Dark My Love, Kiersten White retells the story of Frankenstein in The Dark Descent Of Elizabeth Frankenstein, Heidi Heilig gives readers a tale of blood magic in For A Muse of Fire, L.L. McKinney spins a modern version of Alice in Wonderland in A Blade so Black, and Rena Rossner introduces readers to two sisters with magic in their veins in The Sisters Of The Winter Wood.
Even if you're not in the mood for magic, there's plenty of new novels this week to keep you entertained until winter. Here are the 16 new books to know this week: