Victoria Beckham Hides Crystals In Her Clothes & Her Current Faves Are Quite Revealing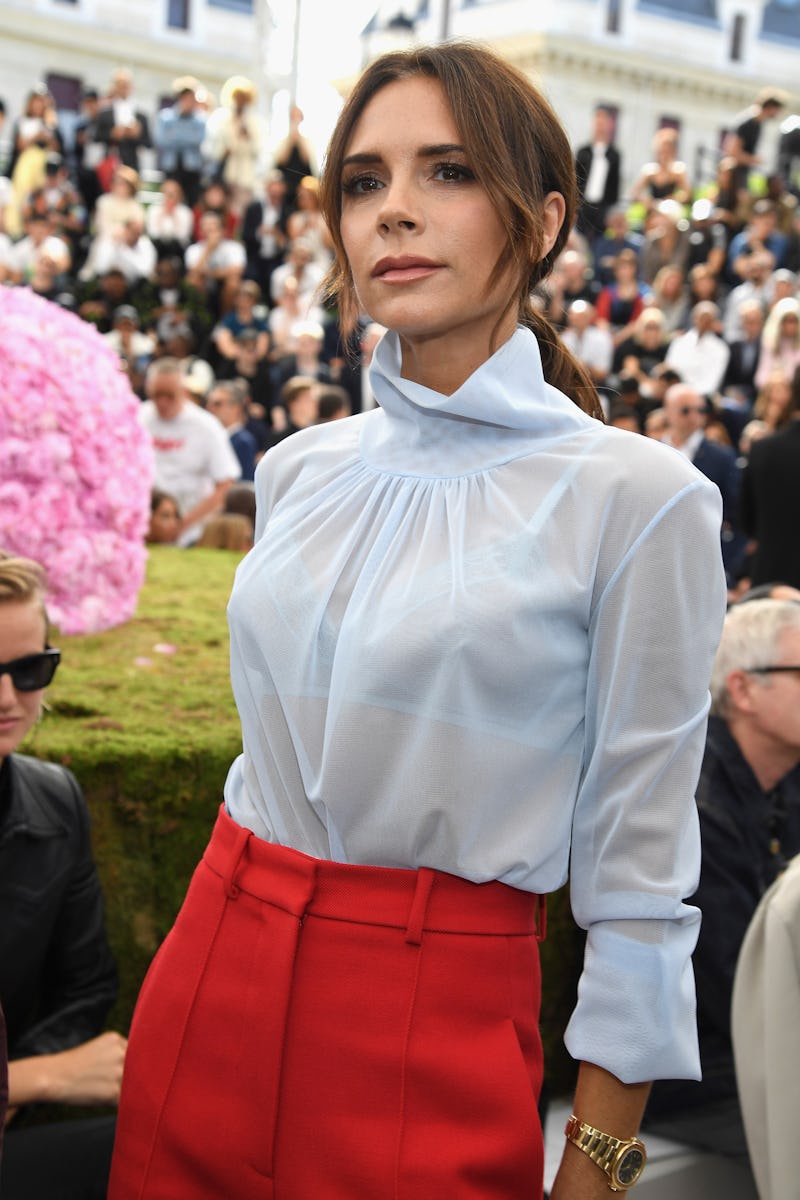 Pascal Le Segretain/Getty Images Entertainment/Getty Images
Here are some pre-established interests of designer, businesswoman and perhaps soon-to-be-returning Spice Girl Victoria Beckham. First, testing our fragile hearts by dismissing Spice Girls reunion rumours. Second, refusing to smile just because people are oddly preoccupied with her facial expressions. And now, a third: it turns out Victoria Beckham is really into crystals.
So much so, in fact, that she's incorporating them into her Pre-Autumn Winter collection. What's more, she told ELLE exactly which stones she's toting around right now. "I like to surround myself with positive energy, and so often have a little collection of crystals in my handbag," she told the magazine, allowing believers and non-believers alike an insight into Beckham's current mindset and concerns. Sceptics, suspend your disbelief: we're about to plunge into Posh Spice's mind.
According to ELLE, Beckham's latest collection includes crystal jewellery and charms. Grappling with the age-old problem of unsightly lumps in your trouser pockets because they're just so dang full of crystals? Look no further: VB told the magazine that her range includes "secret pockets for them on wide leg trousers—so you can carry charms wherever you go." Handy!
Explaining the inspiration behind the crystal-centric range, Beckham said: "I want to make my customer feel confident and secure, and for me adding crystals felt like a nice way to help do that." There's also the fact that crystals are more popular than ever, especially among millennials, with Business of Fashion reporting in February that "crystals are the new 'It' item." The same report also quoted an estimate by Dennis Tanjeloff, who owns Astro Gallery of Gems in New York, that the crystal industry was worth an eye-watering $1-1.5 billion. Yikes.
So what can we glean from Beckham's current personal favourites? "My current favourite is a White Howlite crystal," she told ELLE. "It's a calming gemstone that relieves stress, calms the mind, and relaxes the whole body." She's also been sporting one of her own designs, the "Tri Stone Pendant Necklace", which contains "Crystal Quartz, White Howlite, and Rose Quartz", according to the official website.
What's that necklace combo doing for VB? Well, crystal quartz, or clear quartz, is a "master healer and draws off negative energy of all kinds", crystal therapist Carol Fenner told Hello! And rose quartz is "the classic stone for love", Refinery29 writes, continuing, "It embodies love on every level so is a particularly magical one to use when you're working on self-love." It's got a veritable fan club in the celebrity world: it's beloved by Miranda Kerr, Katy Perry, Kate Hudson, and Father John Misty, The Cut reports.
The crystal that started it all for Beckham, meanwhile, was black obsidian; "I still carry it everywhere with me!" she told the magazine. Let's turn to Goop for an explanation, since no self-respecting article on crystals can omit a mention of the holy text of wellness. "This first chakra (the root) stone helps you feel more grounded," the site explains.
Let's get analytical, then. Beckham's cherished first crystal, black obsidian, might suggest she wanted help keeping her feet on the ground — related to the small, unassuming, mildly successful girl group she once belonged to, perhaps? Her current attachment to white howlite, meanwhile, suggests VB might be feeling a little stressed out. Perhaps it's the pressure of running a fashion house The Telegraph reported is valued at £100 million? Interestingly, HealingCrystals.com also reports that white howlite is great for the "elimination of pain, stress and/or rage," adding that it can also help "absorb anger and negative energy."
The inclusion of rose quartz in her favourite necklace could imply a desire to focus on her relationships: whether with David, her children, or even herself. Over the years, Beckham has shared less and less of her personal life with the public, so keeping a close eye on the crystals around her neck (or in her handbag, or dangling from her belt loop, or secreted in her trouser pockets) might be a sneaky way for Posh fans to figure out where her head's at. Or if you're looking to get the Victoria Beckham aesthetic without the Victoria Beckham price tag — the Tri Stone Pendant Necklace retails at £250, for example — just try clipping some rose quartz to the waistline of your H&M trousers. Your friends will never be able to tell the difference!