Victoria Beckham Wore Her Top Spice Girls Looks For 'Vogue' & The Video Is HILARIOUS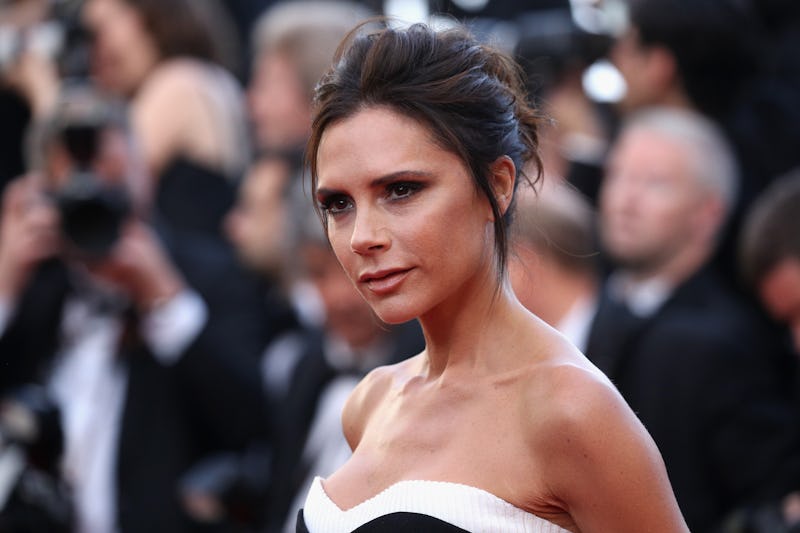 Andreas Rentz/Getty Images Entertainment/Getty Images
"We're here today on the set of British Vogue to celebrate 10 years of Victoria Beckham," says Edward Enniful, editor of British Vogue, in a new video celebrating the fashion icon. Ever since Beckham brought out her own fashion brand in 2008, she's been captivating runways with her assortment of high chic, minimalist class. "I think she's really refining her vision of a contemporary woman", Fashion Director Venetia Scott says in the video, before Beckham appears lugging out a fancy chair from a lorry. You can see for yourself what happened whenf Victoria Beckham teamed with Vogue, and as she says, "two become one."
That's the first of many Spice Girl puns to come. "We've put together looks from the past 10 years from the Victoria Beckham brand," says Scott. That sounds straightforward enough. As you play the whole video on Vogue.co.uk, and see the serious fashion people soundtracked to serious piano music, while a stone faced Posh Spice swans around the studio, you might just be expecting another pretentious, high fashion shoot. Not so. "We are shooting a cover story celebrating the rich and inspiring history of one of the most enduring style icons of all time," Becks says as she stares down the camera lens, totally deadpan. "Me, Victoria Beckham."
"What I want, what I really, really want is me, four other women," Becks tell British Vogue's bemused editor. "One sporty, bit of an athleisure direction. Another one that's younger, lots of pink, pigtails. One that's very glamorous, full on leopard print, and then another one that's super, super sexy." But she assures him "Edward, I'm giving you everything, all that joy can bring. This, I swear". And, in what's bound to be quoted until you become sick of it, she tells him "Spice up your life, Edward. Just spice. Up. Your. Life".
While the video is meant to be showcasing Beckham's brand, it instead spins it on its head. She's Posh Spice — she's supposed to be the severe one, the one who makes Anna Wintour look like a comedian — but in this case she's more like Joker Spice. And she gives you everything you could really really want. Instead of emulating looks from the Victoria Beckham brand she's seen sporting her Vivienne Westwood wedding dress, as well as a similar catsuit to the one she wore in the "Say You'll Be There" music video 22 years ago.
The video is ultimately a funny decoy. Instead of the theatrics and iconic outfits the clip promises, you'll instead see a more relaxed Becks on the next cover of British Vogue. She poses alongside her children, serving up #domesticrealness, as Enninful says that the magazine wanted to get "beyond paparazzi flashbulbs, masterful personal branding, social-media savvy, and fashion and sporting prowess." And in that, they're dishing up everything the video didn't. British Vogue won't be giving us Spice Girl puns and images of an icon at large, but instead you'll see Becks at her most private and personal. Behind all the iconography of the fashion and music legend, you'll get to see what's behind it all — "the day-to-day business of family life". Hands up who's intrigued to see what's inside.