The Beckhams Just Celebrated Their 19th Anniversary With A Hilarious '90s Reference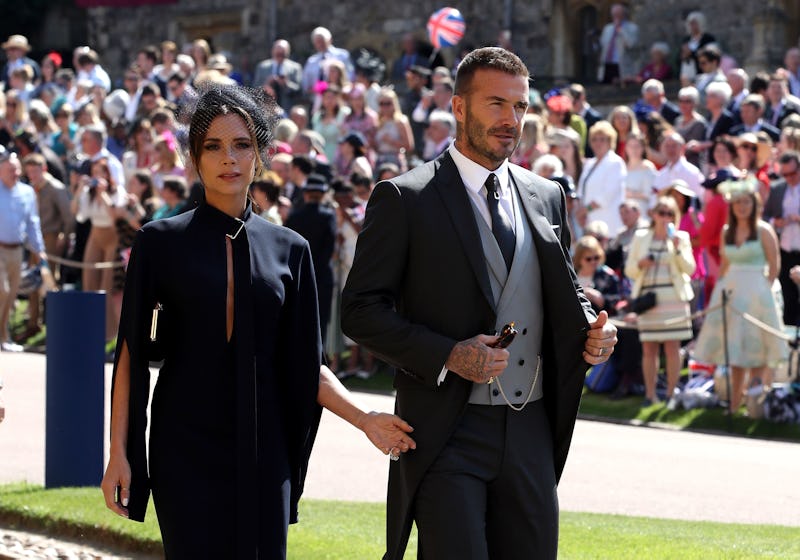 WPA Pool/Getty Images Entertainment/Getty Images
It's hard to believe that the world has been blessed with the seemingly unbreakable marriage of David Beckham and Victoria Beckham for almost 20 years now, but it's true. On Wednesday, the duo celebrated their 19th wedding anniversary and both shared images of the happy day on their respective Instagram feeds. So, how did David and Victoria Beckham celebrate their 19th wedding anniversary? And, which of them did it with a nod to their very questionable '90s fashion?
David and Victoria Beckham got married on July 4, 1999 in front of a lot of celebrity pals and — of course — a few Spice Girls. Since then, the couple have had four children and dominated both the UK and U.S. with their combined football, singing, and fashion careers. So, how did such a powerhouse couple celebrate their 19th wedding anniversary?
According to Hello Magazine, the Beckhams were keen to keep their wedding anniversary celebrations low-key this year, and the snaps posted by both David and Victoria strongly support that theory. Indeed, taking to Instagram on Wednesday, David shared a picture of him and Victoria merely sharing a few glasses of wine alone on an outside dining table, and looking pretty relaxed as a result.
Nonetheless, despite the chill anniversary vibes, it seems David couldn't resist bringing up how his retrospectively bizarre '90s fashion choices left him in "head to toe in purple" on one of the most important days of his life. He captioned the photo: "19 Years WOW ... This time 19 years ago I was dressed from head to toe in purple. Happy anniversary to the most amazing wife & mummy ... Love You x."
So what did Victoria have to say?
Well, perhaps it's not a surprise the critically acclaimed fashion designer didn't want to bring up her '90s fashion choices up to her 21.2 million Instagram followers. Thus, to commemorate her and David's wedding anniversary this year, Victoria shared the same picture as David on her Instagram page, alongside the much shorter (and less purple) caption: "19 years!!! X I love u so much x."
But, how have the Beckhams kept their marriage alive for 19 years? Well, Victoria may have actually shed some light on that recently. WWD reports that, while speaking at the Forbes Women's Summit last month, Victoria explained how she worked hard to "spend time" with David and the rest of her family in order to keep the marriage successful.
"I am trying to be the best wife and the best professional," she said at the event. "When I get home I try to put the phone down and spend time with the children and spend time with David. I have the support of an incredible husband. We really are equal with everything we do at home with the children. When I'm away he's the one doing the school run and doing the cooking."
So, what about David?
Well, he has also previously reflected on the couple's long-lasting relationship. During a 2017 Desert Island Discs episode on BBC Radio Four, the retired footballer reflected on how his and Victoria's values align to assure they "work through" any marital problems that occur. "People have talked about 'Do [Victoria and I] stay together because it's a brand?" He elaborated further: "Of course not. We stay together because we love each other. We stay together because we have four amazing children."
"We have got strong parents too, and they taught us the right values," he added. "Of course you make mistakes, and we all know that marriage is difficult at times. It is about working through it. We have come up against tough times. But we know each other better than anyone else knows us. And we talk."
Aww, you guys. Congrats.