A Paragliding Protester Crashed Trump's Visit To His Scottish Golf Course & There's Video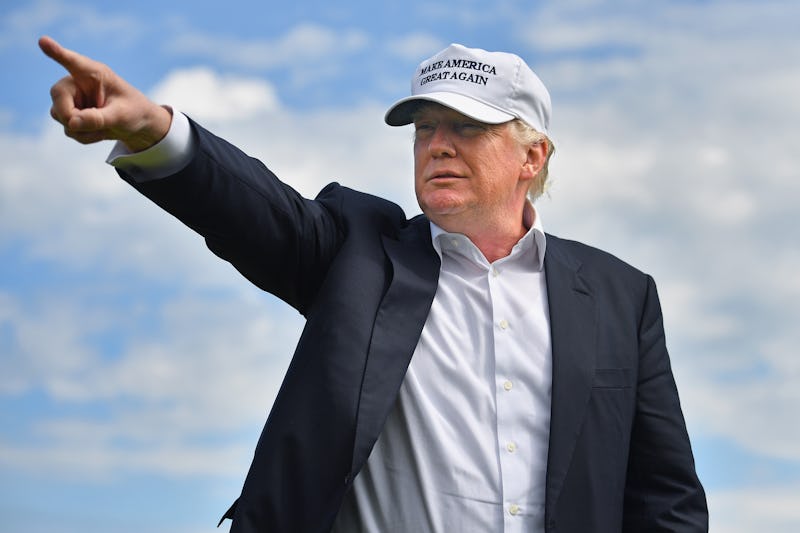 Jeff J Mitchell/Getty Images News/Getty Images
Look, up in the sky! It's a bird, it's a plane, it's... a paragliding protester? President Donald Trump reportedly arrived at his Scottish golf resort in Turnberry on Friday just in time to witness a clever new method of protesting: paragliding. A paraglider soared over Trump at his Scottish resort with a banner that read, "Trump: Well Below Par #Resist." But because the sky over the president's golf course was designated a no-fly zone, authorities are now on the hunt for Scotland's paragliding anti-Trump protester.
"Theresa May should not have dignified Trump with a visit to the U.K.," Ben Stewart, a spokesperson for Greenpeace U.K. which has claimed responsibility for the paragliding protest, tells Bustle in a statement via email. "The vast majority of British people are appalled by his words and deeds. He is, simply, the worst president ever. That's why we flew over him with a message branding him well below par."
The phrase "well below par" is a golf term used to indicate a player is worse than what is usual or expected.
Greenpeace U.K. claimed their message was meant as a criticism of Trump's environmental and immigration policies. "Trump does not believe in climate change," Greenpeace U.K. wrote in a tweet posted Saturday alongside video footage of their paragliding protest. "He's pulled the US out of the Paris Agreement, and is committed to burning more climate wrecking coal. We couldn't let him get away with a quiet game of golf."
The group said they'd designed their protest to be one Trump couldn't miss. "With @realdonaldtrump ignoring the amazing protests taking place up and down the country, we wanted to make sure there was one he couldn't avoid," Greenpeace U.K. said in a tweet Saturday.
A member of Greenpeace U.K.'s press office tells Bustle that while the group doesn't give out specific details regarding its action planning, conversations about staging a protest likely started as soon as Trump's visit to the United Kingdom was announced.
According to The Hill, Greenpeace U.K. claimed President Trump was outside his Turnberry resort as the paraglider approached and could be seen "breaking into a trot" as he headed toward the entrance of Trump Turnberry.
But Scottish law enforcement officials have said the paraglider took their protest too far. Authorities told the Associated Press that because the paragliding Greenpeace activist flew into airspace that had been designated a no-fly zone, they had committed a criminal offense.
In a statement to Bustle, Greenpeace U.K. says it had notified local authorities about their protest plans both over the phone and in-person at the police line near Trump's Turnberry resort 10 minutes before the paraglider came into view. The group says it had also alerted Prestwick air traffic control to the paraglider's expected route.
But authorities said the paragliding protester put themselves at risk despite warning police of the protest. "There's no doubt anybody who breaches security around him puts themselves in grave danger, Assistant Chief Constable Mark Williams told the BBC, citing the armed officers tasked with protecting President Trump. "On this occasion we could assess the situation and we realized there was no direct threat to the president. However, it's absolutely something that is very serious."
He confirmed that an investigation had been launched to identify the paraglider.
But the non-profit environmental organization isn't attempting to hide or shy away from their involvement in the protest. In fact, Greenpeace U.K. said they'd affixed a giant Greenpeace logo onto the chute of the powered paragliding rig so that President Trump — and anyone else watching — would know who was behind the protest.