Beto O'Rourke Spoke Up About Botham Jean's Shooting In A Stirring Video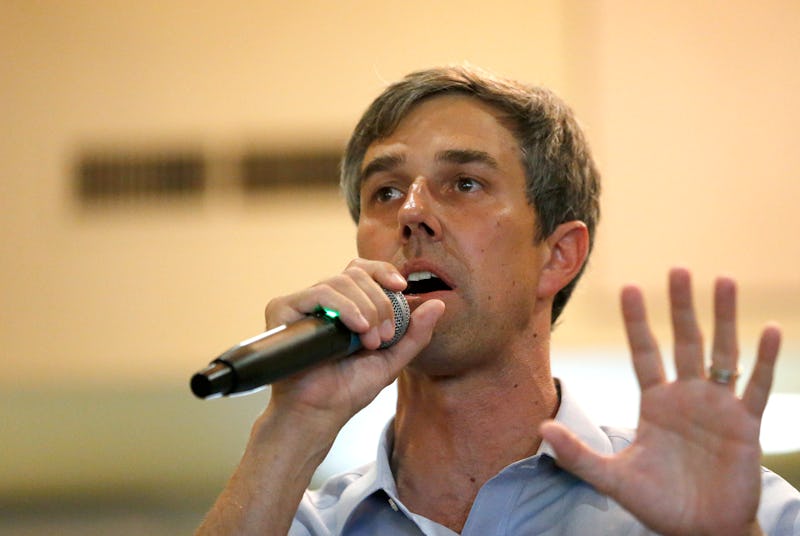 Chris Covatta/Getty Images News/Getty Images
During a rally in Dallas on Friday, a Senate candidate delivered a rousing speech condemning police mistreatment of African Americans. Indeed, video of Beto O'Rourke's comments on Botham Jean's shooting reveals that the Senate candidate made important points about the flaws in society and the justice system that result in mistreatment of minorities.
Jean, an African-American man, was shot and killed in his own apartment in Dallas last week by his neighbor Amber Guyger, an off-duty police officer. As Vox reported, Guyger claims she mistook Jean's apartment for her own and shot him because she feared he was an intruder. Guyger has been charged with manslaughter in the case and has been released on bond.
However, as Vox also noted, Jean's family has indicated that they have doubts about Guyger's story, claiming the details do not make sense. Moreover, the family is reportedly frustrated because investigative documents from the shooting noted that investigators found a small amount of marijuana in Jean's apartment. As Dallas News reported, this has caused the family to accuse the Dallas police department of launching a "smear campaign" against Jean, saying that police are attacking his character.
O'Rourke, a Democratic Senate candidate who will face Republican Ted Cruz in November, seemed to indicate that he shared many of Jean's family's sentiments during a speech he gave at a rally at Good Street Baptist Church on Friday. The Senate candidate asserted that, instead of concentrating on the marijuana found in Jean's apartment, authorities should be focused on why so many African-Americans are still being shot by police offers.
As O'Rourke told the crowd:
How can it be, in this day and age, in this very year, in this community, that a young man, African-American, in his own apartment, is shot and killed by a police officer? And when we all want justice and the facts and the information to make an informed decision, what's released to the public? That he had a small amount of marijuana in his kitchen.
How can that be just in this country? How can we continue to lose the lives of unarmed black men in the United States of America at the hands of white police officers? That is not justice. That is not us. That can and must change.
The crowd responded strongly to O'Rourke's comments, with many cheering and some rising to their feet. When O'Rourke asked, "Are you with me on this?" in reference to changing the justice system, the crowd responded with a wave of applause.
Over 2,000 people attended O'Rourke's rally on Friday, which, as Dallas News reported, was intended to improve his outreach to Dallas' African-American community. As state senator and church member Royce West told the outlet, "In order to win we have to have a bigger turnout in the midterms than we normally have ... [therefore] it's very important that he continue his outreach to the African-American community." West also noted that the audience on Friday, which was predominantly African-American, was very receptive to O'Rourke's speech. "They are now very excited about his candidacy," West asserted.
Former State District Judge Elizabeth Frizell, who was featured in one of O'Rourke's television ads, told Dallas News that O'Rourke's visit to Good Street Baptist Church constituted a good "first step" in reaching out to the African-American community. However, Frizell noted that she would like to see the Senate candidate go to more churches in the area, as there are "a lot of people in the black community that don't know him."
Overall, O'Rourke's message about police mistreatment of minorities and the inequalities of the justice system certainly seemed to resonate with many on Friday. As midterm elections draw near, many Texans will likely be closely watching as O'Rourke campaigns to defeat Cruz in November.