The First Video Of David Schwimmer In The 'Will & Grace' Reboot Will Give You '90s Vibes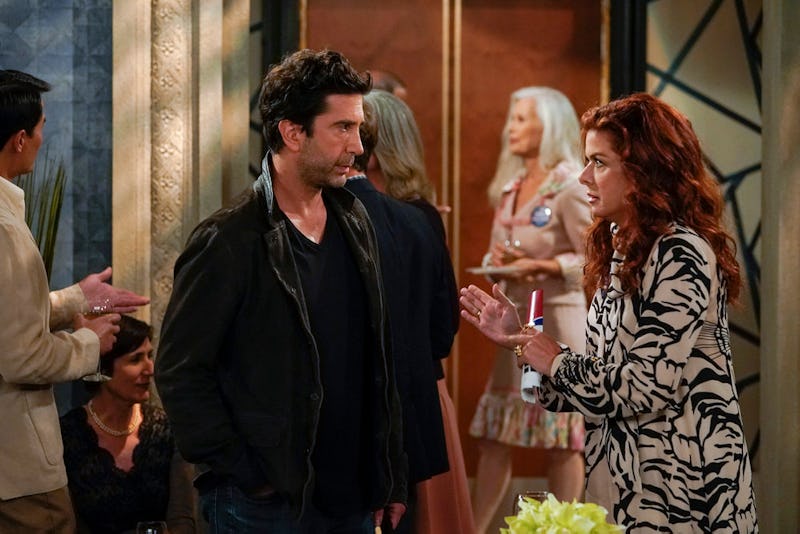 Chris Haston/NBC
Grace Adler has a new man in her life — and he's actually a very familiar face to fans of '90s sitcoms everywhere. The first look at David Schwimmer in Season 2 of the Will & Grace reboot shows that as Debra Messing's new love interest, his new character seems to be drastically different from his Friends character Ross Gellar, who we all know and love.
Entertainment Tonight revealed a first look at Schwimmer's arc on the show, which Messing told the outlet will kick off early in the season (although not in the very first episode). Based on the clip, the pair seem to first meet at an event where Grace — who is running for office in Season 2, and is wearing a button supporting her campaign — tells Schwimmer's character, Noah that they "hate all the same things," like TV, taxis and (as he fires back) "chatty redheads."
However, it seems as if things work out between them pretty quickly, as Messing teased back in July that the new season will "really get into each character's private lives."
Though she wouldn't reveal how long fans can expect Schwimmer to stick around for, she did say, "we're gonna do what we always do, which is comment on what's happening in the world right now and, you know, try and make you laugh out loud on your couch for a half hour every week because you know that's what we wanna do — we wanna bring that joy."
And Schwimmer also seemed delighted to be returning to his multi-cam sitcom roots: "Just playing at the level of this cast, who are at the top of their game, it was kind of like this great, wonderful gift," he told ET.
Though Schwimmer's casting officially makes Season 2 of Will & Grace the ultimate must-see TV mashup fans have been waiting for since the early aughts, they probably shouldn't expect Noah to be Ross 2.0. After all, he's traded in Ross' baggy button downs and professor blazers for a sleek, all-black outfit and a general air of exasperation, so it looks like Schwimmer's character this time around is quite a bit cooler than his paleontology-expert counterpart.
Based on the small bit of screen time that Noah was given in the teaser, it's clear that he's got a sharper edge to him than the goofy, sensitive Ross, which is to be expected if he's going to fit in with the meaner, sharp tongued group of friends that Grace surrounds herself with. In other words: Think less margarita-drunk, awkward Ross and prepare for even more barbs and quips to spark a flame between these two characters.
Of course, Schwimmer isn't the only familiar face stopping by in Season 2 to hang out with Will, Grace, Jack and Karen. In addition to Karen's former lover, Agent Malcom (Alec Baldwin) making a reappearance to flirt with everyone's favorite hard-drinking socialite once more, stars like Jon Cryer, Chelsea Handler and Matt Bomer will also make an appearance on the new season.
(And yes, Will and Jack fawn all over Bomer with the exact same amount of swoony disbelief as any reasonable human being would.)
While it's unclear as of yet just how long any of those characters — most especially Bomer — will stick around, fans can catch all of them on Season 2 of Will & Grace, which kicks off on Thursday, October 4.