This Viral Video Of A Church Trying To Stop A Man From Being Deported Is So Powerful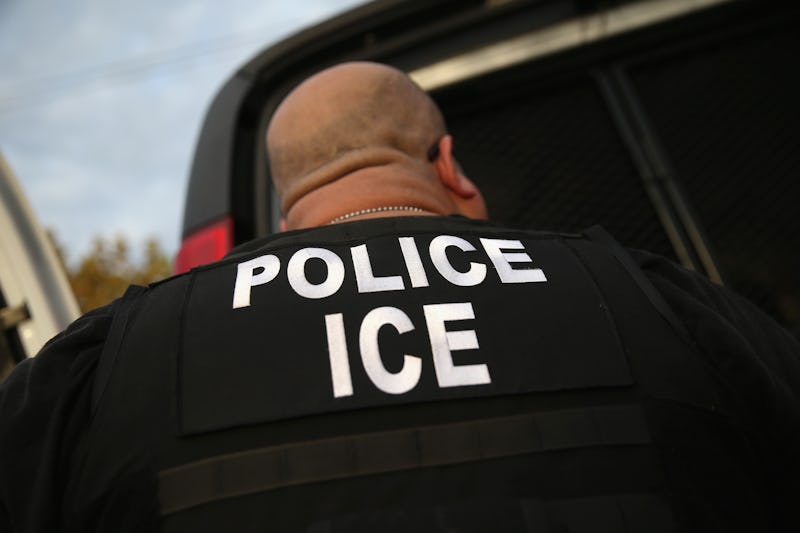 John Moore/Getty Images News/Getty Images
Late last week, members of a North Carolina United Methodist church attempted to physically block a man from being deported from the United States. Video of an ICE van surrounded by church members singing "Amazing Grace" went viral in the event's aftermath. A total of 27 people were arrested, according to The Washington Post.
A Facebook livestream of the encounter ran for nearly an hour on Friday. In the video, members of the CityWell United Methodist Church are seen waiting outside of a United States Citizenship and Immigration Services (USCIS) building where, per the Post, 47 year-old Samuel Oliver-Bruno, an undocumented immigrant, had an appointment to have his fingerprints done.
Oliver-Bruno had been living in the church's basement for about 11 months, according to multiple reports. It was a place where immigration officials could not arrest him, and church members referred to it as a "sanctuary," per the Post. On Friday — the day of Oliver-Bruno's fingerprint appointment — over two dozen church members accompanied him to the USCIS office. The church's Pastor Cleve May explained to the Post that "we don't really believe that sanctuary is just a building."
However, as seen in the video, Oliver-Bruno was only in the USCIS office for a few minutes before he was promptly arrested and separated from his son, who is reportedly a U.S. citizen, and who had accompanied him to the appointment.
The Morrisville Police Department issued a statement about the protest via Facebook, writing that "the crowd, although peaceful, refused to allow the passage of the ICE vehicle." The department also distanced itself from Oliver-Bruno's arrest. They continued:
Over the period of 30 minutes, Morrisville officers issued two orders to disperse, or the crowd would be arrested for obstruction. Officers arrested 27 people without incident or injury.
The Morrisville Police Department did not participate in the active arrest of Mr. Samuel Oliver-Bruno. Officers were called to the scene after the initial arrest had been made. The Morrisville Police Department did not have prior knowledge of plans to arrest Mr. Oliver-Bruno.
ICE declined to discuss the details of Oliver-Bruno's case with media outlets, but a spokesperson contended that he had no reason to remain in the United States. "Mr. Oliver-Bruno is a convicted criminal who has received all appropriate legal process under federal law, has no outstanding appeals, and has no legal basis to remain in the U.S," spokesman Bryan Cox told The News & Observer in a statement.
Before moving into the church's basement, Oliver-Bruno had been convicted of attempting to enter the United States with fraudulent documents, per the Post. At the time of his entrance, he was reportedly returning to the country with his wife, who has Lupus, and who needed medical care that was unavailable in Mexico. He had previously lived in the United States from 1994 to 2011. North Carolina Reps. David Price and G.K. Butterfield released a joint statement condemning the arrest.
"It appears ICE has acted in concert with officials at USCIS, who instructed Mr. Oliver-Bruno to appear at local USCIS offices to discuss his deferred deportation," they said. "He was then apprehended by plainclothes ICE agents upon entering the building. At best, Mr. Oliver-Bruno was presented with a catch-22 dilemma; at worst, he was entrapped."
Although it appears that Oliver-Bruno will be removed from the country, his official deportation details were not immediately available. Additionally, whether the church will take any additional collective actions toward protecting undocumented immigrants is not yet clear.