This Video Of Ivanka's Face As Trump Joked About Killing A Bill She Backed Is So Awk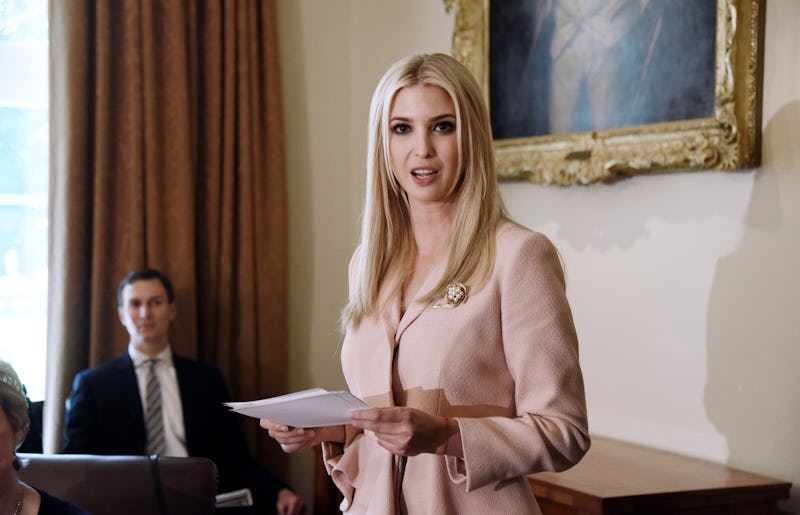 Pool/Getty Images News/Getty Images
Things got a little awkward in Iowa on Thursday. At a press conference promoting Perkins Career and Technical Education Act, which White House adviser Ivanka Trump has championed, President Trump joked about vetoing this legislation that Ivanka worked on. The president's daughter said that the legislation would provide the financial assistance needed to help some 11 million students and workers learn digital skills in the United States.
"After many, many years since 2006, Congress on sides of the aisle could not get together to reauthorize and modernize a piece of legislation that is so critically important to what we're all here talking about: career and technical education," Ivanka told the press. "Perkins Career and Technical Education Act passed the Senate last week, passed the House this week, and will be signed into law by the president after over a decade of languishing."
As the audience clapped for Ivanka, her father quipped, "Who said I'll sign it? Maybe I'll veto it! Let's see. I think I'll veto that bill. What do you think?" Ivanka appeared briefly caught off guard before laughing and wagging her finger at him, saying, "No, no, no!"
She then quickly pivoted back to the script. "It's going to affect 11 million students and workers across the nation who are seeking to acquire the technical skills to be able to thrive in our modern and increasingly digital economy," Ivanka said. "So it is very, very exciting. It's an enormous piece of legislation and it's going to be really transformative for education across the country."
Of course, on social media, people were a little weirded out by the president's joke targeting the legislation his daughter worked on. Killing a piece of legislation, even said in jest, can be a little alarming to some especially considering the amount of work put into crafting a bill and seeking support. Some even shared gifs of the moment Ivanka does her "gotcha!" finger at Trump.
Prior to his joke, Trump praised Ivanka as a special student back in the old days. "She went to Wharton School of Finance and she was always a great student," he said. "I said, 'Ivanka, are you going to do your homework?' [and she'd say,] 'Yeah, I've already done it, dad.' Then she got As, I said, 'she doesn't work!' And I remember when she graduated from Wharton, she did very well and her friends said, 'We had to work harder than she did.' And I don't know if they were happy or not but they liked her. Everybody likes Ivanka."
It remains to be seen whether the legislation is signed by the president. But so far, it has the approval of both Democrats and Republicans in the Senate. As Ivanka mentioned in her remarks to the press, the Perkins Career and Technical Education Act has enjoyed bipartisan support on Capitol Hill. The business community seems to like it, too.
But POLITICO reported that certain educationists and state leaders have their qualms. It reported that some worry the piece of legislation is vague and may not adequately address the issue of state allocation of funds for technical education. Their advice is simple. They say that Senate should "be tightly focused on the activities that are most closely related to CTE program quality and student achievement."