This Video Of Rep. John Lewis Dancing To "Happy" Is Exactly What You Need This Weekend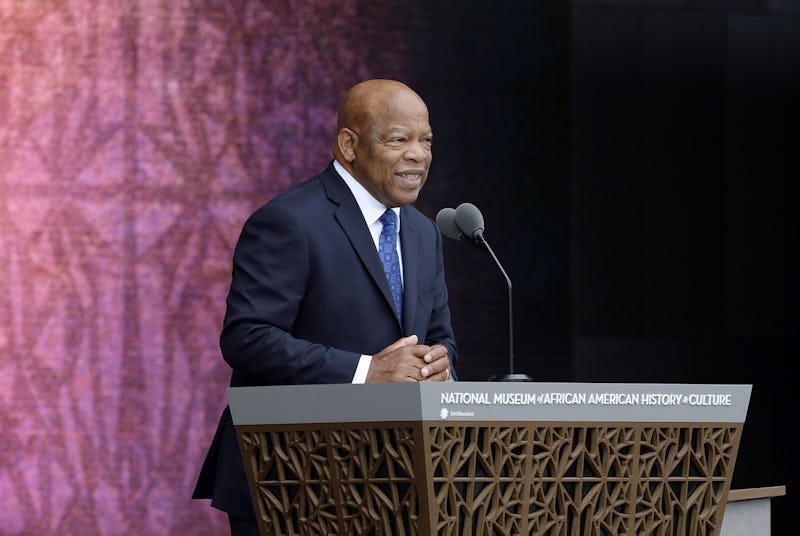 Pool/Getty Images News/Getty Images
As Georgia Democrat Stacey Abrams campaigns to become the first black female governor in the country, various celebrities — from Oprah Winfrey to Will Ferrell — have lent her their support. This week, civil rights icon John Lewis also joined Abrams on the campaign trail, and a video of Lewis dancing to the song "Happy" during an event has gone viral.
On Thursday, CBS News' Nancy Cordes spotted Lewis dancing to Pharrell Williams' "Happy" at a campaign rally headlined by Winfrey, and managed to capture the moment on video. The original video had more than 800,000 views by Friday, and Lewis himself tweeted it with the suggestion that "sometimes you have to let the spirit move you."
The video also caught Williams' attention, prompting him to refer to Lewis as a "legend." As The Hill pointed out, Williams' reaction to Lewis' dancing was in stark contrast to the cease and desist letter he sent President Donald Trump earlier this week, when Trump played "Happy" at a rally hours after a shooting at a Pittsburgh synagogue killed 11 people.
"There was nothing 'happy' about the tragedy inflicted upon our country on Saturday and no permission was granted for your use of this song for this purpose," the letter stated, per the New York Daily News.
Williams also reportedly said that Trump is not allowed to use any of his music without his permission, according The Hill.
Lewis, however, did not get the same negative reaction as he danced along to "Happy" this week. After the 78-year-old representative from the Atlanta area danced with attendees at Abrams' campaign event, Abrams retweeted multiple videos of him doing so while simultaneously encouraging Georgians to vote early.
Abrams — who previously served as the minority leader for the Georgia House of Representatives — is currently engaged in an extremely close race against her Republican opponent, Georgia Secretary of State Brian Kemp. According to The Hill, Kemp has been a loyal supporter of Trump, and he was joined on the campaign trail this week by Vice President Mike Pence. Meanwhile, former President Barack Obama is planning to meet with Abrams on Friday in order to help her campaign.
Abrams has received significant support from high-profile lawmakers and celebrities, prompting some criticism from both Trump and Pence. While stumping for Kemp on Thursday, Pence argued that Abrams is "bankrolled by Hollywood liberals."
"I'd like to remind Stacey and Oprah and Will Ferrell, I'm kind of a big deal, too," Pence told voters in Georgia, per The Atlanta Journal-Constitution. "And I've got a message for all of Stacey Abrams' liberal Hollywood friends: This ain't Hollywood. This is Georgia. And Georgia wants a governor that's going to put Georgia values and Georgia first. And Brian Kemp is going to do just that."
In the meantime, Trump has routinely attacked Abrams as being unqualified for the governorship, though The New York Times pointed out this week that the president has not offered any evidence for this assertion. Despite this criticism, however, Abrams' campaign has captured national attention, The Washington Post reported, and drawn support from progressives in Georgia as well as all over the country.