Video Of Michelle Obama Surprising Harlem High Schoolers Will Give You All The Feels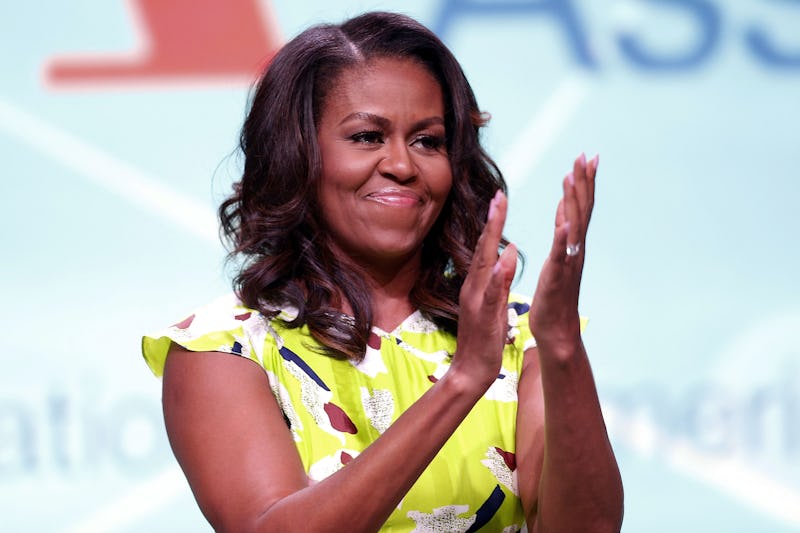 Jonathan Bachman/Getty Images News/Getty Images
It's college application season, and that means there are probably a lot of high school seniors that could use some inspirational words. One recent video of Michelle Obama surprising Harlem high schoolers at a college application prep session shows the former first lady giving them just that.
The NowThis clip starts with an auditorium filled with mostly black students from Democracy Prep Harlem High School, watching a video chat projected on a large screen, when suddenly, Obama sits down in front of the webcam. Many of the students, understandably, jumped up in excitement. "I've heard about all the hard work you guys are doing to prepare for college," she began after a few moments. "I know what you're going through because I am living with a senior myself and these days are stressful and exhausting."
Obama continued, giving advice and speaking warmly about the students and what she hopes for their futures. "I know what it's like to have big goals for yourself, but sometimes to second guess yourself, and be second guessed by those around you," she said. "I see you all, not just in the story of my children, who have gone through this process, but I see you guys in my own story."
Obama grew up in a working class family on the South Side of Chicago, and has spent much her career advocating for youth and education. After graduating from Harvard Law School, she founded the Chicago chapter of Public Allies, an AmeriCorps program that helps young people enter public service. "I want them to see themselves in my story," Obama told NowThis. "I want them to see the value in their own stories and imagine what they might become in the years ahead."
During her husband's second term as president, Obama started the Reach Higher Initiative to encourage students to pursue higher education, find job opportunities, and develop the necessary skills to join the workforce. "I want you to keep working hard, I want you to keep reaching higher," she told the seniors at Democracy Prep, throwing in a motherly reminder: "Make sure you filled out those FAFSA forms."
The students at the surprise appearance were also given free tickets to attend Obama's tour for her upcoming book, Becoming. NowThis interviewed a few of the attendees, who were clearly enthralled to have gotten to hear Obama deliver such a personal message. "I want to say thank you for believing in me when I didn't believe in myself," one student said. "It was really nice."
"The first black first lady is talking to us, out of all people," another said. "We're not always privileged with the school we go to, with the opportunities we have, but that opportunity, no one can say they did that."
Obama ended on an uplifting note, reminding all the students that they are cared for by the former first family. "I'm proud of you. Barack is proud of you. We love you," she said. "In times like this, I think it's important for you to know that you've got people like us who have your backs and care deeply about your growth and development. Know that we are thinking about you every step of the way."