Video Of Obama & Joe Biden On A Lunch Date Proves The Bromance Is Still Going Strong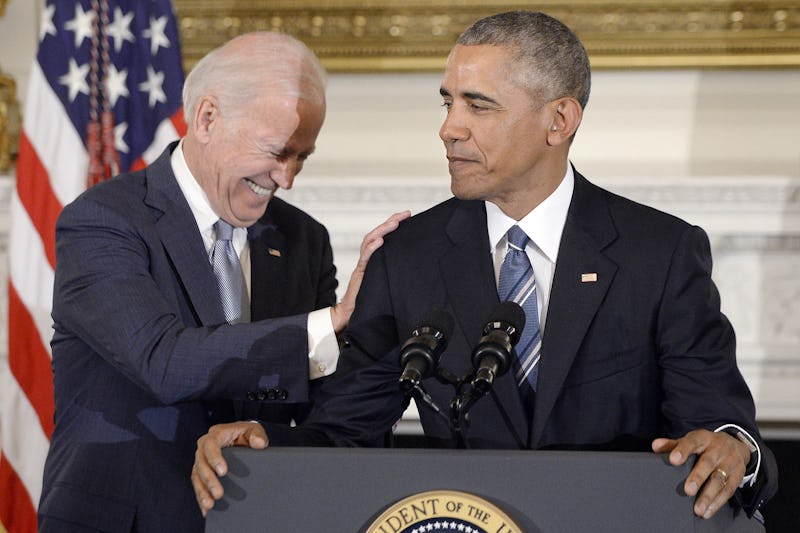 Pool/Getty Images News/Getty Images
If there's one thing the internet loves, it's the relationship between the 44th president and his former second-in-command. And on Tuesday, the people of the worldwide web were heartened to glimpse video of Obama & Joe Biden reuniting for a lunch date, suggesting that their bond is just as strong as ever.
The CEO of Dog Tag Inc., which runs an eponymous bakery located in Washington, D.C., said that Obama and Biden's visit was "a total surprise," and that guests and staff were thrilled to have them stop by. "It was phenomenal," said CEO Meghan Ogilvie, according to The Washingtonian. "They took the time to shake every hand, take selfies when asked. They recognized each of our service members."
Several videos and photos of their visit were immediately posted to social media, and viewers meticulously examined every second of the clips, including what Obama and Biden each ordered for lunch. For the record, those would be ham and gruyere sandwiches on shallot-jam ciabatta, a slice of mint-basil blueberry cake, brownies, and coffee, according to CNN.
"Give the boss one of those, too," Biden is heard saying after he and Obama both decide on ham sandwiches. Obama then asks what's inside the restaurant's fennel salad, before placing an order for one.
The pair lingered in the cafe for about 45 minutes, according to observers. But before leaving, Obama thanked workers at Dog Tag Bakery for the work that they do. The bakery, which describes itself as "a living business school," offers work experience for veterans, military spouses, and caregivers, according to its website. Dog Tag Bakery collaborates with Georgetown University, and says it "seeks to build a bridge to business employment and a productive civilian life for the veterans and military families that have served our country so well."
A second video of Obama and Biden's trip to the cafe shows the former president praising the bakery's mission. "What you guys are doing... that's what makes us proud," Obama is heard saying. "We so appreciate you guys."
Obama and Biden's relationship has sparked a seemingly infinite number of memes, largely centering on what has been dubbed their so-called "bromance." One particularly popular set featured imaginary dialogue imposed over or shared with images of the two, wherein Biden fictitiously imagines practical jokes to play on Donald Trump before he moves into the White House.
The memes featured Biden suggesting to Obama that they not give Trump the White House WiFi password, that Obama leave a fake birth certificate lying around for Trump to find, and painting "Michelle Obama 2020" on the walls. In most of the memes, Obama is depicted as the voice of reason, countering Biden's playful suggestions.
The pair has not been seen in public together since leaving office, according to the Huffington Post. That, of course, would make Monday's lunch date quite a significant event, especially for fans of their relationship. While it's not clear what, exactly, the pair talked about during their meal, video footage suggests they had a good time. So, too, did their fans.