This Video Of Obama Recalling The Moment He Won The '08 Election Will Make You Tear Up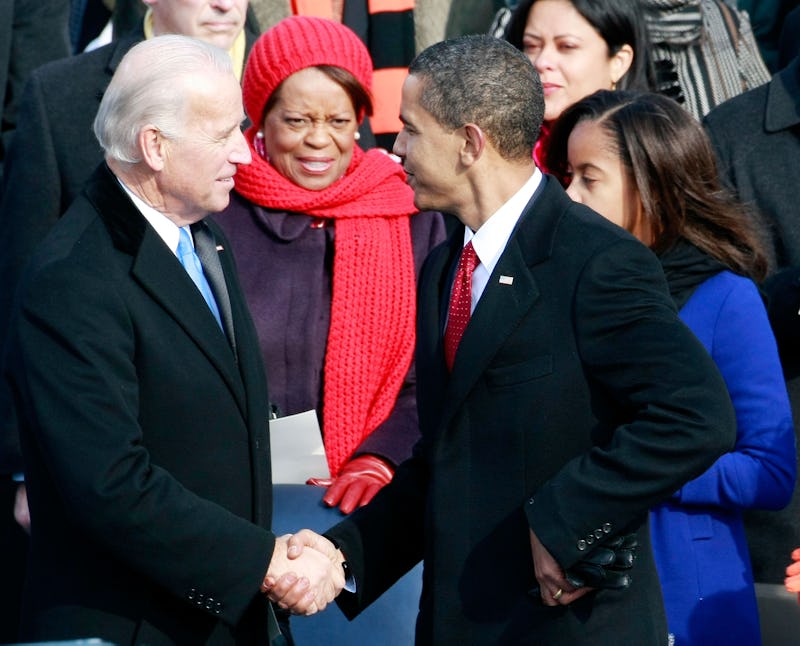 Mark Wilson/Getty Images News/Getty Images
It was a stroll down memory lane. On Monday, former president Barack Obama remembered winning the 2008 election as he sat with his mother-in-law, Marian Shields Robinson. The Obama Foundation, a non-profit founded by Obama in 2014, shared a video of the former president recalling that eventful day.
A tweet from the foundation reads as: "Ten years ago, Barack Obama held his mother-in-law's hand as news broke that he had won the election." The video, which was also retweeted by former First Lady Michelle Obama, was part of the foundation's oral history project.
"When the results were actually announced, by that time we had a pretty good sense that we were going to win," Obama said. "My mother-in-law, who grew up on the south side of Chicago, worked as a secretary, working-class, had worked all her life to allow Michelle and her brother to go to some of the best schools in the country." The former president said that Shields Robinson seemed stunned about the result of that year's presidential election.
"I could tell she just seemed like it wasn't clear how all this had happened," he said. "I sat next to her and grabbed her hand and we held hands, and just as it was announced that the projections were I was going to win, I said, 'How are you feeling?" Obama added that his mother-in-law responded with, "Well, it's just a little overwhelming, isn't it?"
Viewing her son-in-law win the 2008 presidential election as an African-American woman "who grew up in a deeply segregated Chicago" and had seen "barriers" along with "limits" in spite of her and her family's talents was profound, Obama said.
"For what was true for her was that something she might not have ever imagined possible had happened," he added, "and her daughter was going to be the next first lady of the United States." Understanding the significance of his own victory through his mother-in-law's eyes "made it a little more special," Obama said.
In another recording for The Obama Foundation's oral history project, Obama talks about the people who made his election win possible. The former president said that he was especially moved by the diligence and passion of young volunteers as well as "not-so-young" supporters who rallied fervor in Iowa. "If we hadn't won Iowa, we wouldn't have won the presidency. We were fighting against the odds," he said.
Apart from reminiscing about his early days alongside his mother-in-law, Obama gave a shout-out to political activists. Making his presidential victory possible took a lot of organizing from young people "on the ground," the former president said. Obama noted that local organizers throughout the United States weren't just rallying for him; they were also rallying for the people "who had lost faith and trust" in governance.
With the help of rallies and engagement brought on by organizers in different parts of the country, voters came out to support him, he said. "That is," Obama added, "ultimately what made the early stages of that [2008] campaign so powerful."