Video Of Prince Harry's Speech After 'Hamilton' Is The Best Thing You'll See All Day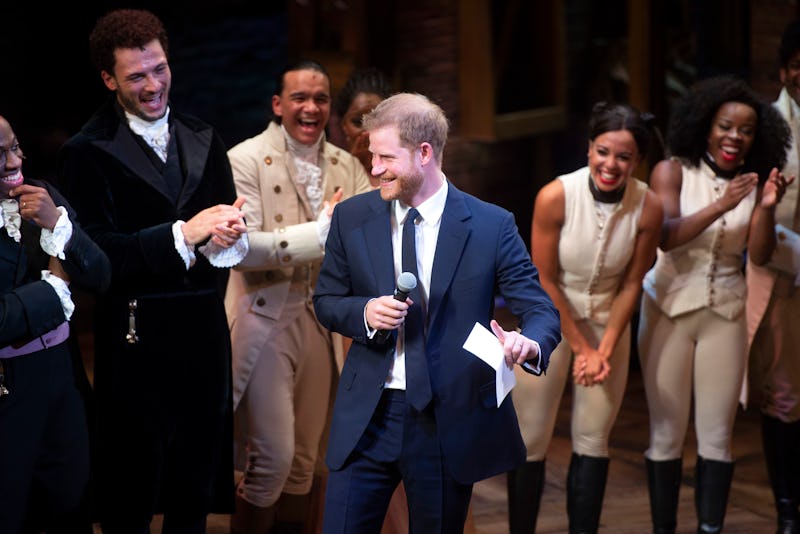 WPA Pool/Getty Images Entertainment/Getty Images
If you aren't totally in love with the royal couple by now, then you probably will be after seeing video of Prince Harry's speech after a Hamilton performance in the West End of London. The 33-year-old prince took to the stage to after the musical wrapped up, and he had a surprise up his sleeve: a small musical performance of his own. So it wasn't just a speech — it was a few bars of a song, followed by a speech, which really makes the whole thing so much sweeter.
Even though Hamilton tends to be a speech-worthy event, all on its own, this particular performance was special. It was performed as a means to raise awareness and funds for young people and children affected by HIV.
To thank everyone for participating in the event, Prince Harry took to the stage, first surprising everyone by singing a bar from Prince George's Hamilton refrain: "You say..." Prince Harry said, "You have together raised a huge amount of money to change the lives of thousands of children in Botswana ... and through that work, we will be able to stop the generational handover and stigma around HIV. Thank you so much for being here this evening."
Then, to the cast specifically, Prince Harry said, "I don't know how you guys do it every single night, over and over again. And to his heat, as well." The clip was cut off there, from the Kensington Palace Twitter account.
Hamilton creator Lin-Manuel Miranda was pretty excited about Prince Harry's brief reference to King George. He tweeted later that night, "King George III's great-great-great-great-great-great grandson The Duke Of Sussex sang a few bars tonight." Before the show, according to People, Miranda told reporters,
You don't get that every day. You get heads of state, we've had some popular folks come see our show, but you don't often get a direct descendant of one of your main characters.
The special performance of Hamilton specifically was thrown to support Prince Harry's charity, Sentebale. According to the site, Sentebale "supports the mental health and wellbeing of children and young people affected by HIV in Lesotho and Botswana."
Sentebale was co-founded by Prince Harry and Prince Seesio in 2006 as a way to honor the late Princess Diana, according to ABC News.
In the wake of their blockbuster wedding, Prince Harry and Megan Markle have since returned to a relatively quiet lifestyle, with this Hamilton event being one of their bigger public appearances. They also recently made news when it was revealed that the newly married couple had gotten a puppy, which is reportedly a Labrador Retriever, though the name is unknown. The dog might be a callback to Prince Harry's childhood, as he and Prince William grew up with a black Lab.
This will be the second time Prince Harry has seen the musical Hamilton, which is ironically all about his family, in a certain way. This will have been the third time Markle has seen the musical, having watched it once with Prince Harry earlier in the year and once with Priyanka Chopra in New York City.