Rudy Giuliani Said "Truth Isn't Truth" & The Video Will Make You Cringe So Hard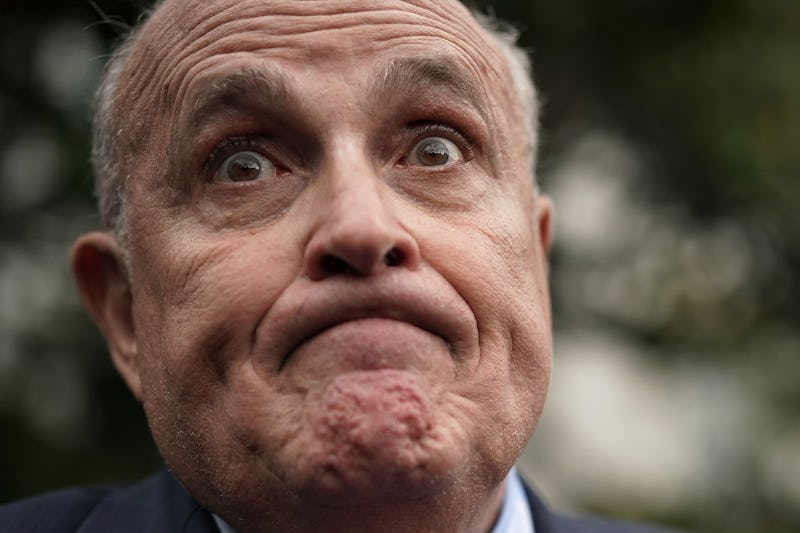 Alex Wong/Getty Images News/Getty Images
The president's lawyer appeared to get philosophical about the notion of truth Sunday while arguing that his client shouldn't testify in special counsel Robert Mueller's Russia investigation. In a video clip that is so cringeworthy it's almost unbelievable, Rudy Giuliani says "truth isn't truth" during an interview with NBC.
"When you tell me that, you know, he should testify because he's going to tell the truth and he shouldn't worry, well that's so silly because it's somebody's version of the truth. Not the truth," Giuliani said Sunday in an interview with Chuck Todd on NBC's Meet the Press. The two had been discussing whether or not the president should testify in Mueller's investigation into allegations of collusion between the Trump campaign and Russian meddling in the 2016 election.
"Truth is truth," Todd said in response.
"No, it isn't truth," Giuliani replied. "Truth isn't truth."
"Truth isn't truth?" Todd cut in to ask. "Mr. Mayor do you realize what — I mean, this is going to become a bad meme."
"No, no. Donald Trump says, 'I didn't talk about Flynn with Comey.' Comey says, 'You did talk about it.' So tell me, what the truth is?" Giuliani asked, referencing accusations that the president discussed an investigation into former national security adviser Michael Flynn with then-FBI director James Comey.
Giuliani said he would not be "rushed into having [Trump] testify so that he gets trapped into perjury."
But Giuliani's assertion that "truth isn't truth" didn't sit well with some folks. Merriam-Webster, a publishing company widely known for its dictionaries, responded to Giuliani's remarks by tweeting a link to its online dictionary's definition of the word truth. Its definitions of the word include "the body of real things, events, and facts" and "the state of being the case."
This isn't the first time Giuliani has appeared to argue against the existence of truth. Last week in an interview with CNN's Chris Cuomo, Giuliani said facts are in the eye of the beholder.
"I think it's a little early on that," Cuomo said in response to Giuliani's claims that nobody was "as honest as" Trump and that the president had accomplished more in the last 18 months than his predecessor had in eight years, according to CNN. "And if fact [checking] is anything, we've never had anybody with the level of mendacity that he has. Not even close."
"It's in the eye of the beholder," Giuliani responded.
"No, facts are not in the eye of the beholder," Cuomo said.
"Yes they are," Giuliani replied. "Nowadays they are."
Giuliani's recent statements bring to mind White House senior adviser Kellyanne Conway's 2017 "alternative facts" remark. While defending then-White House Press Secretary Sean Spicer's false claims regarding the size of Trump's inauguration crowd, Conway said the White House "put alternative facts out there" to counter negative media coverage.
But Giuliani's remarks aren't completely surprising when you consider what President Trump has said. In July, for example, Trump told a crowd gathered at the Veterans of Foreign Wars convention in Kansas City, Missouri, that what they see happening in Washington isn't real.
"Don't believe the crap you see from these people, the fake news," the president said. "What you're seeing and what you're reading is not what's happening."