Video Of The Falcons' Pick Six At The Super Bowl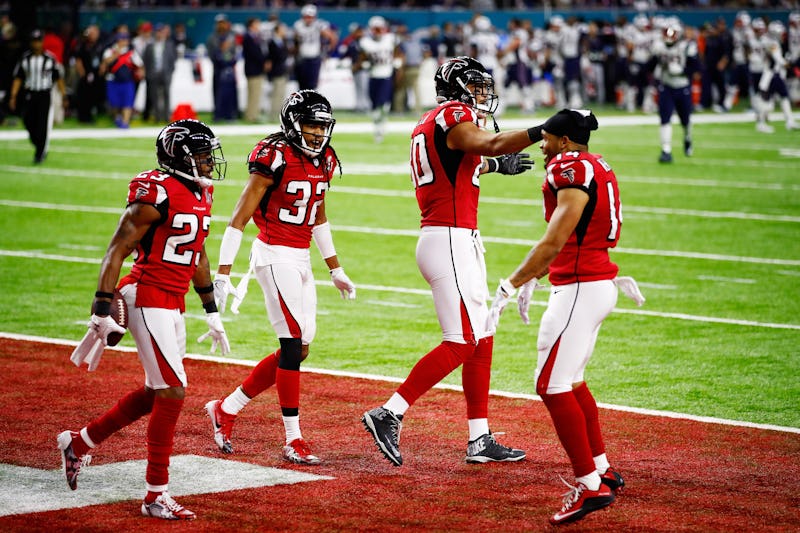 Gregory Shamus/Getty Images Sport/Getty Images
Near the end of the second quarter of the Super Bowl, the Atlanta Falcons took a decisive lead against the New England Patriots. You can watch the video of the Falcons pick six and see how the team expected (albeit slightly) to lose is pulling ahead. After the play, Atlanta took a 21-0 lead.
The Patriots walked into the game with +3 edge according to the betting odds. The game was expected to be close, but the Falcons have dominated the first half of the Super Bowl.
In an interview that aired on Fox News earlier on Sunday, President Donald Trump predicted that the Patriots would win by eight points.
For those unfamiliar, a pick six in football is when someone intercepts a throw and returns it for a touchdown. That's exactly what Robert Alford, Falcons' cornerback, did in the Super Bowl LI game. Tom Brady, the quarterback for the New England Patriots, threw the ball, only to have Alford intercept for a successful touchdown. It was a major turning point in the game, ultimately setting up the Falcons for what many thought would be an unlikely win.
As of 2015, the Patriots had won four Super Bowls. The Falcons have never won, and Super Bowl LI was only the second time the team had made it to the game in its 51-year history. These videos of Robert Alford's pick six show the moment the game changed in favor of the Falcons, potentially setting them up for making history.
Fans who captured the moment on their phones were quick to post the videos on social media. Apparently, this was the first post-season pick six Tom Brady had thrown this season. According to Gary Myers, an NFL reporter for New York Daily News, Brady had thrown 1,279 passes before Alford's unexpected Super Bowl pick six, arguably the worst time for one.
Understandably, Falcons fans watching the game couldn't contain their excitement after Alford's pick six.
Even after the pick six, the Falcons clearly showed up to give the Patriots solid competition throughout the game. This video of one player juking another to the point that he fell was, well, just another example of the Falcons' desire to win.
At the start of the fourth quarter, the Falcons led the Patriots 28-9, suggesting that after a strong showing, they would take their first Super Bowl victory.