'Jane The Virgin' Fans Need To See This Video Of The Cast Finding Out That HUGE Finale Twist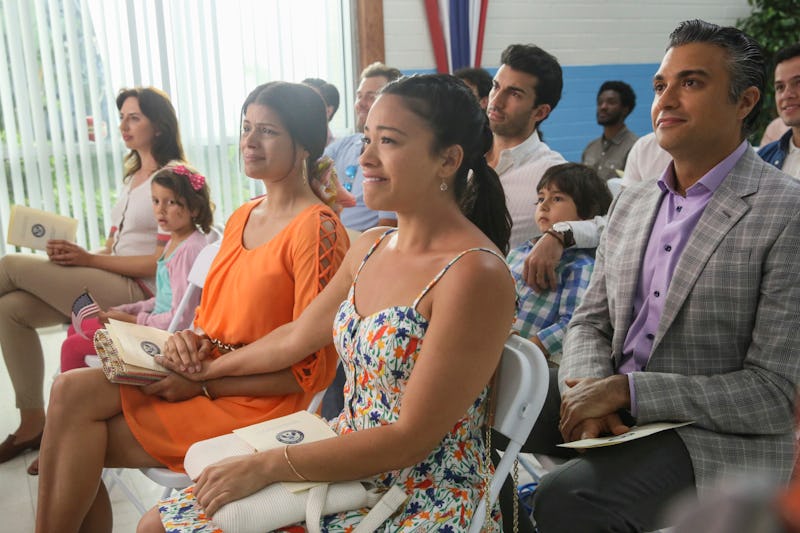 Patrick Wymore/The CW
SPOILERS ahead for the Jane The Virgin Season 4 finale. On Friday, April 20, Jane The Virgin finished its fourth season with the biggest twist of them all: Michael. Is. Alive. After the huge reveal, show executive producer Jennie Synder Urman posted a Twitter video of the Jane The Virgin cast realizing that Michael is alive at a table read for the finale script. Get ready to gasp and sob at that huge twist all over again.
Urman tweeted the video along with the caption: "Here you go! The video of the cast finding out that @Brettdier is back..." The video starts with the words, "There was a special surprise...at Jane The Virgin's finale table read." shows the cast gathered for a table read of the script and it seems like even they don't know who will be involved in the big reveal...until a door opens and Brett Dier (who plays Michael) walked into the room, sending the cast into a tizzy. Gina Rodriguez, who plays the titular Jane, jumped into Diers arms and you can also see Justin Baldoni (who plays Rafael) embrace the fellow actor in a hug. At the end, Rodriguez and Dier are all smiles as they address the camera, declaring, "He's back! But don't tell anyone."
It's unknown when the video was originally taken, but the surprise on everyone's faces is definitely timeless. Jane The Virgin has had its share of big finale telenovela-style twists in the past (remember when Baby Mateo got kidnapped?), but Michael being alive feels like the biggest of them all. After all, viewers surely remember when Michael very clearly, realistically, and suddenly died in the middle of Season 3, sending shockwaves through Jane's universe and inspiring a time jump into three years in the future.
But even with all the shock and celebration, the question remains: Was that actually Michael, or perhaps Sin Rostro as Michael? Because Rose has been known to transform into very realistic different appearances. So that worry on Rafael's face at the end of the season finale might not have been regarding his relationship status with Jane — it could have more to deal with the fact that Rose could have taken the form of Michael.
In an interview published on Friday, Urman told Variety: "When Rose is involved there's always going to be a question." As for that time Michael died in Season 3, Urman told the publication the following:
He was definitely dead. Because it's a telenovela, there's always that trope. That said, we had to mourn him as a show, as a cast, as a room and as a fanbase. He's been gone for a year and a half. It's not like I brought him back three episodes later. That had to feel like a loss — and it was a loss at that time. And as I started to think about the show and where I wanted it to go as we head into our final chapters and what I wanted to do with the storytelling, it just kept coming back to that piece. It really leads to some really interesting, complicated dynamics [and] let us come full circle in a way in our storytelling. I knew it would be the ultimate surprise, and we love a big shocking season-ending twist...
Urman also clarified to Variety that Michael did not fake his own death in Season 3. "I feel like that would be horrible, but that's not the story we're moving into," she told the publication in the interview.
Of course, fans will have to wait until Jane The Virgin Season 5 premieres in order to find what brought Michael back to the show — and potentially back to life, if it's really him.