Trump Got Laughed At During His UN Speech & It's So Awkward To Watch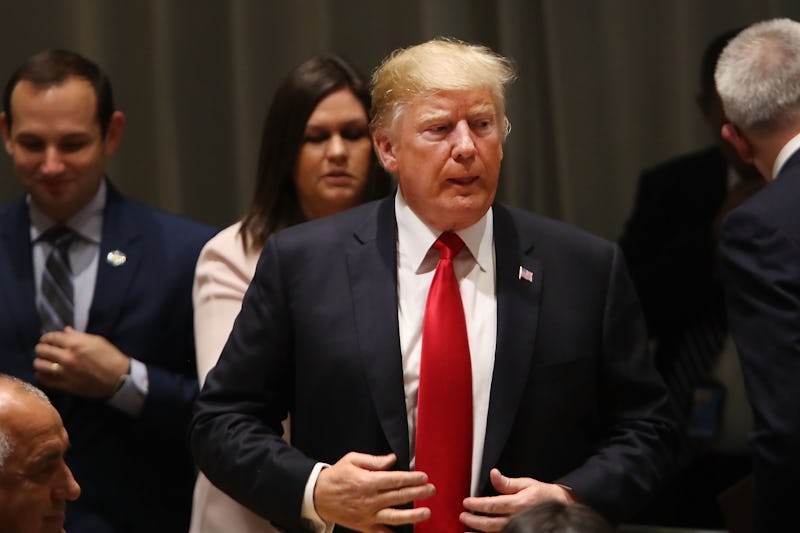 Spencer Platt/Getty Images News/Getty Images
President Donald Trump addressed the United Nations General Assembly (UNGA) on Tuesday, and one of his lines drew a reaction that the president apparently did not expect. Trump told the UN that his administration had accomplished "more than any other administration in the history of our country" — and in response, the UN audience started laughing at Trump's speech.
"My administration has accomplished more than any other administration in the history of our country. So true," Trump said during his speech. When laughter from across the room started to become audible, Trump took a moment to recognize it and respond to it, saying "Didn't expect that reaction, but that's OK."
Trump's reaction, then, led to an even louder collective laugh emanating from the audience of foreign diplomats and dignitaries.
Trump's UNGA speech was planned to emphasize U.S. sovereignty, CNN reported. Given the forum, it's unsurprising that the speech focused on the administration's foreign policy moves — many of which have been hugely controversial on the international stage, CNN noted.
Among the ones that he brought up were withdrawing the U.S. from the Iran nuclear deal and moving the American embassy in Israel to Jerusalem, both of which were heavily criticized both at home and abroad.
Trump's speech, in addition to bragging about his own achievements, offered some very harsh criticisms of both the UN as an institution and the ideology behind it. "We reject the ideology of globalism, and we embrace the doctrine of patriotism," Trump said, in on such instance. In another, according to CNN, he said that the solution of the global crisis of migration would be making other countries "great again." "Only by upholding national borders, destroying criminal gangs, can we break this cycle," Trump said, according to CNN.
He also criticized the situation surrounding foreign aid, saying "the United States is the world's largest giver in the world, by far, of foreign aid. But few give anything to us," according to NBC News. Trump has repeatedly proposed cutting foreign aid, as the Washington Post reported, a proposal that could have numerous negative effects on a global scale. These include, as the Post noted, less ability to detect the beginnings of potential pandemics, for example.
"Only when each of us does our part and contributes our share can we realize the UN's highest aspirations," Trump said, according to CNN.
Already, Trump's speech has drawn negative reactions from observers on Twitter.
"Incredible. Embarrassing," wrote former Obama ambassador to Russia Michael McFaul, referring to the assembly laughing about Trump's comment on his achievements.
"He really should have combed through his speech to avoid repeating false claims that pop up in his rallies to cheers from his base," wrote Washington Post fact checker Glenn Kessler, referring to the same moment.
"Cannot ever remember another UN General Assembly speech where a US president was laughed at, for a line that was not intended as a punch line," wrote NBC News national political reporter Josh Lederman.
Numerous Twitter users have also brought up an older tweet, which they find to be relevant today.
"We need a President who isn't a laughing stock to the entire World," wrote Donald J. Trump in 2014. "We need a truly great leader, a genius at strategy and winning. Respect!"