This Bizarre Video Of Trump Using An Umbrella Will Leave You With One Question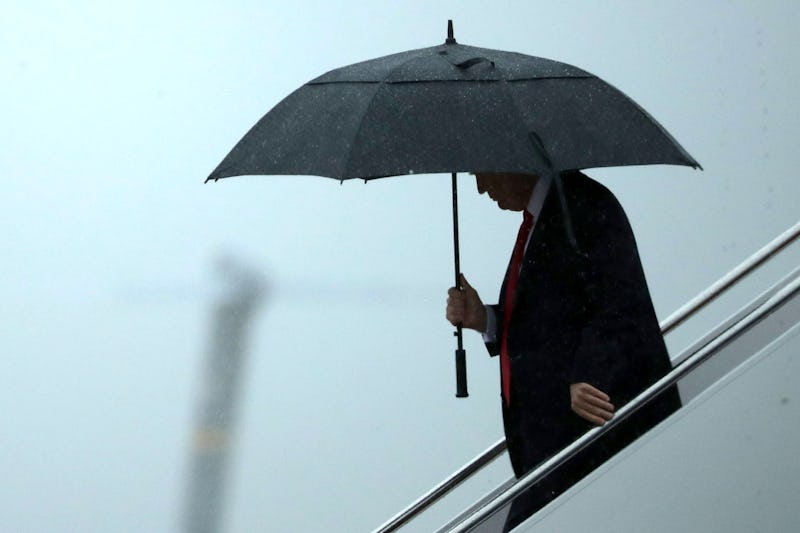 Chip Somodevilla/Getty Images News/Getty Images
After delivering his initial comments on the deadly mass shooting at a synagogue in Pittsburgh, the president went to board a plane at Joint Base Andrews in Maryland on Saturday. But video of Trump leaving an umbrella outside of Air Force One shows it was anything but a run-of-the-mill event. Instead, it might leave you asking whether or not Trump knows how to close an umbrella.
It was raining on Saturday in Maryland, so Trump was given an umbrella for the walk to Air Force One. However, instead of closing it before entering the plane, he simply abandoned the open umbrella outside of the door. In the video, you can see Trump ducking into the airplane while the umbrella tipped over.
Before he boarded the plane, a reporter asked Trump if he would call for new laws regulating guns. The president dodged the question by suggesting there should be armed guards at houses of worship. "This would be a case for, if there was an armed guard inside the temple, they would have been able to stop him," Trump told reporters. "Maybe there would've been nobody killed except for him." After answering a handful of other questions, he boarded the plane to travel to the Future Farmers of America convention in Indianapolis.
The apparently abandoned umbrella isn't the first of Trump's puzzling behavior captured on video — and not even the first odd incident related to Air Force One. At the beginning of October, Trump boarded Air Force One at Minneapolis–Saint Paul International Airport for a short flight to Rochester, Minnesota. The boarding was, again, supposed to be an ordinary event. Instead, news cameras caught Trump with something white stuck to his shoe — a napkin or maybe toilet paper. When he reached the top of the stairs, Trump turned and waved to the crowd, and apparently remained oblivious to whatever was stuck to him. Then, he tapped the side of the airplane and disappeared inside.
In another bizarre video, Trump appeared to push Montenegro Prime Minister Dusko Markovic out of the way so he could be front and center of a photograph at NATO summit in Brussels in May 2017. Then, there were Trump's series of odd handshakes with French President Emmanuel Macron. Trump also made headlines when he tossed paper towels into the crowd of Hurricane Maria survivors he was meeting in Puerto Rico after surveying damage caused by the devastating storm.
But the puzzling moments captured on video weren't always initiated by Trump. In May 2017, First Lady Melania Trump drew attention when she appeared to swat away Trump's hand while they walked the tarmac in Tel Aviv during their first trip abroad since Trump's inauguration. And then there was that time Indian Prime Minister Narendra Modi gave Trump an impromptu hug during their joint statement at the White House in June 2017.
While the case of the abandoned umbrella sparks questions about whether or not Trump knows how to close an umbrella, it's not the first puzzling incident to happen during the president's term.