This 1994 Video Of Trump Talking About Baby Tiffany's Legs & Chest Has Resurfaced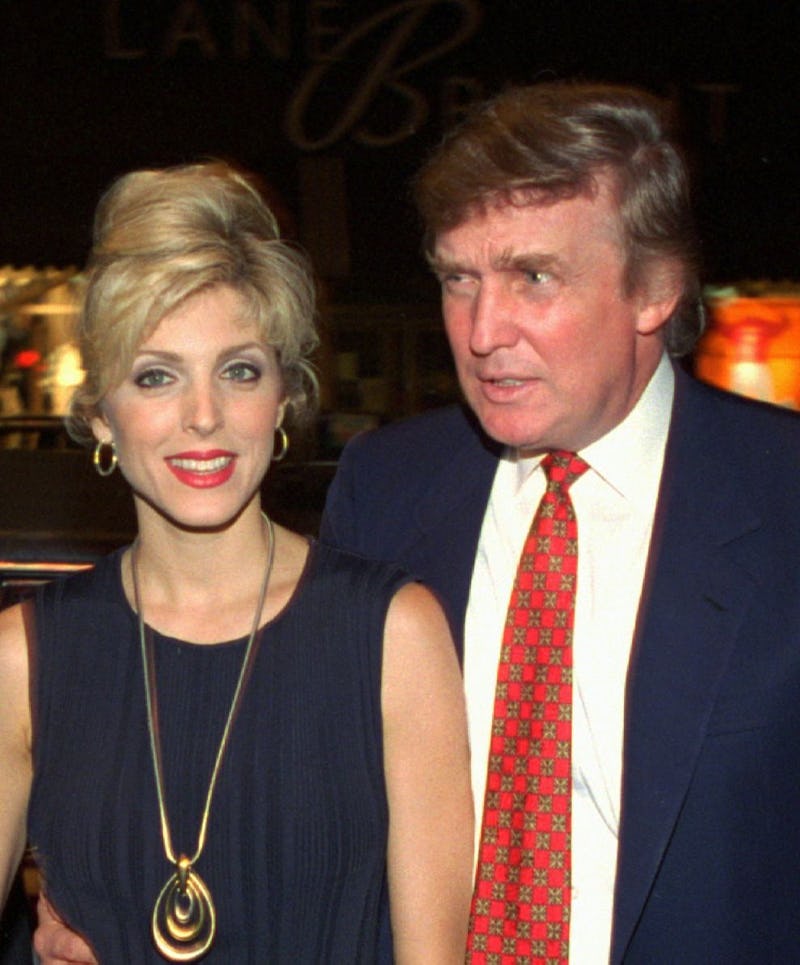 JOHN BAZEMORE/AP/Shutterstock
In April 2016, just months before Donald Trump won the presidential election, The Daily Show resurfaced a 1994 interview in which Trump speculated about his daughter Tiffany's future physical appearance. This week, following the death of Robin Leach — the celebrity journalist who conducted the interview — the clip has once again gone viral. In the video, Trump talks about baby Tiffany's legs and breasts when Leach asks Trump about what attributes Tiffany inherited from him and her mother, Marla Maples.
Leach became "a symbol of unapologetic opulence" as the host of Lifestyles of the Rich and Famous, a TV show in which he sat down with celebrities in their luxurious homes, according to The New York Times. Leach died on Friday, but many of his interviews are still quite popular — including the one he conducted with Trump back in 1994. Trump appeared on the show alongside Maples, and proceeded to talk about 1-year-old Tiffany's physical characteristics.
"Well, I think she's got a lot of Marla, she's a really beautiful baby," said Trump, who sat next to Maples. "She's got Marla's legs. We don't know whether or not she's got this part yet, but time will tell," Trump added, gesturing at his chest to indicate breasts.
Trump's comments generated swift backlash when Trevor Noah aired the clip during a 2016 segment of The Daily Show, but Leach defended Trump. In an interview with Inside Edition — also in 2016 — Leach argued that the criticism of Trump was an "overreaction."
"I think it's an overreaction to be really honest, and I think that it's just the piling on of those that dislike Donald," Leach told Inside Edition. "You've triggered a thought that I should send him a note saying, 'Sorry I asked the question 22 years ago. How ridiculous they dig it up now.'"
When Noah resurfaced the clip on The Daily Show, however, he suggested that the comments were indicative of Trump's tendency to objectify any woman.
"He could have said anything and he went with legs and possibly boobs," Noah said in 2016. "We would have accepted pretty much any other body part. We know for sure that there's no female too small for Trump not to reduce her to her body parts. I don't even think that Trump was trying to be funny or provocative, it just clearly shows that it's an impulse for him."
As Time pointed out last year, Trump has a history of objectifying and degrading women. When he was still married to Maples, Trump told ABC News that he expected his wife to have "dinner on the table" when he got home, and suggested that "putting a wife to work is a very dangerous thing."
Moreover, Tiffany isn't the only daughter he has made questionable comments about, either. He has previously said that if Ivanka weren't his daughter, "perhaps [he'd] be dating her," and once told Howard Stern that Ivanka has "the best body." Ivanka, however, told CBS News that her father has "total respect for women," and has routinely defended his record on women's rights.