Trump Told A Woman Reporter "You're Not Thinking, You Never Do" — And There's Video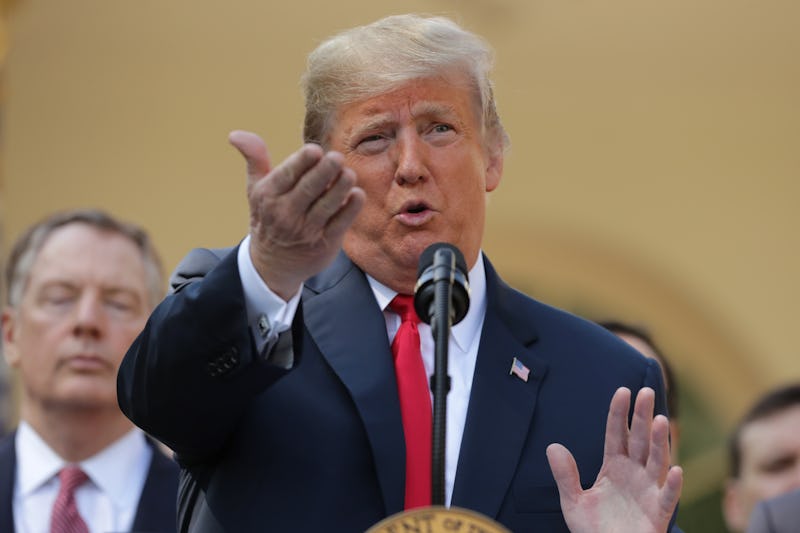 Chip Somodevilla/Getty Images News/Getty Images
On Monday, a tense exchange between President Donald Trump and a female reporter during a press conference made the rounds on Twitter. The quick back-and-forth was filmed, and video of Trump telling Cecilia Vega, an ABC News reporter, that she wasn't "thinking" and that she "never" does showed a startling, candid interaction between the president and a member of the press.
The press conference in question took place in the White House Rose Garden. In the footage shared online, Trump appears to have selected Vega so that she may ask him a question. When there is a pause before she begins speaking, Trump said that she is "shocked" he chose her.
"She's shocked I picked her, she's in a state of shock," he said, smiling. Many of the men standing behind him also smiled.
"I'm not, thank you Mr. President," Vega immediately responded. But though she quickly attempted to move on, it appeared that Trump had misheard her.
"I know you're not thinking, you never do," he said back. He was still laughing when he said this, per the video.
When Vega said, "I'm sorry?" in response to his remark, Trump told her to go ahead with her question. Bustle has reached out to the White House for comment.
When asked for comment about the exchange, Bustle was referred to a communications official at ABC News, who highlighted a tweet Vega posted about the incident. "A news conference means you get to ask whatever question you want to ask. #FirstAmendment," Vega wrote.
President Trump has had a contentious relationship with the press since he first stepped into the political arena, and very little about that dynamic has changed. Frequently labeling outlets, reporters, and individual articles as "fake news," he has also declared the news media to be the "enemy of the people" on multiple occasions. Given all of this history, it isn't entirely surprising to see the President have such a negative interaction with a reporter. What remains jarring is the upending of what has long been, at least, a professional relationship between elected officials and those tasked with reporting on them.
Vega was not the only woman reporter to to have an uncomfortable exchange with President Trump on Monday. At another point in the press conference, Trump cut off a reporter seeking to ask him a question about Supreme Court Nominee Brett Kavanaugh.
"Now that you've answered several questions on trade," CNN reporter Kaitlan Collins began, "I'd like to turn to Judge Kavanaugh." But as she began formulating her question, President Trump talked over her, telling her to stop.
"Don't do that," he said, per video footage shared on Twitter. "That's not nice."
When Collins made clear that she didn't plan to ask Trump about trade, he called on someone else and allowed that reporter to pose their question. That question was not about Kavanaugh.
President Trump is not known for hosting many press conferences, meaning that when he does begin fielding questions directly from reporters, he tends to receive a lot of attention. But President Trump's demeanor during those press conferences is not very different from how he is seen in many other situations — he is, as ever, blunt, and often appears to be speaking to whatever is on his mind.