These Videos Of Luann's Cabaret Show Debut Will Give 'RHONY' Fans Serious FOMO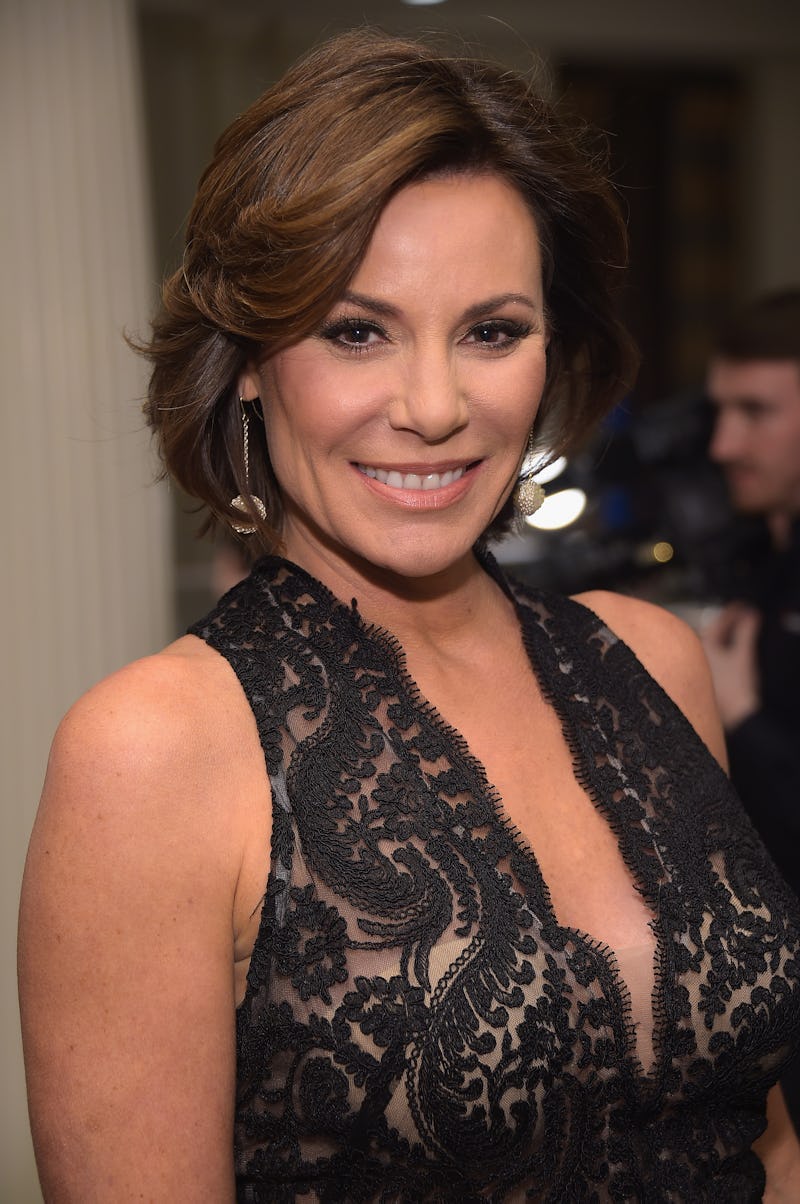 Michael Loccisano/Getty Images Entertainment/Getty Images
The Countess has officially taken her love of music and performing to the next level. On Tuesday evening, Luann de Lesseps' cabaret show debuted in New York City at Feinstein's/54 Below. As Real Housewives of New York City fans can imagine, it was a huge success, and fans will have serious FOMO after seeing some amazing photos and videos from the #CountessAndFriends nightclub event.
According to Bravo's The Daily Dish, de Lesseps belted out hits like "With a Little Help From My Friends," "Almost Like Being in Love," and "L.O.V.E.", of course. She, obviously, also sang her most famous song, "Money Can't Buy You Class" — and with help from her good friend and co-star, Sonja Morgan. They even jazzed it up by adding in a "Hamilton-inspired rap", per The Daily Dish. There were many familiar faces in the audience, too, including, Lu's ex-boyfriend, Jacques Azoulay, former RHONY star Kelly Bensimon, and former Queer Eye star Carson Kressley.
According to Entertainment Tonight, the 52-year-old Housewife joked about her December 2017 arrest in Palm Beach, Florida during the show. "I can say I've learned one thing from this experience," she said about the incident. "Everyone should memorize three phone numbers you should call if you went to jail. Think about it. When you get arrested, they confiscate your cell phone." She also joked, per ET, "I had a list of songs but had to reconsider Jailhouse Rock. I fought the law and the law won. Crazy for thinking I could get out of those handcuffs."
Her jokes didn't stop there. People reported that de Lesseps poked fun at herself for cutting out alcohol. "Not drinking is exhausting," she joked. "Getting up at six and going to my meetings and to yoga and then filming Housewives. I'm dead by ten o' clock I'm wiped out, I'm exhausted. And usually, I'm just starting at the Regency at that time."
After the show, Morgan gushed about de Lesseps to People. "Luann was amazing! She rocked and was amazing." Bensimon added, "She was unbelievable. Such an amazing sense of humor and incredibly courageous. It was such a great show." Kressley also said, "Money can't buy you class but it can buy you talent. She was amazing."
They weren't the only ones who fell in love with #CountessAndFriends. Comedian and Edit That Out podcast host Michelle Collins posted a ton of clips. Check them out:
This Is Quite The Duet
WOW.
Sonja Morgan, Everyone
The Caburlesque queen certainly knows how to entertain.
It Was A Dream Come True
This is what Countess fans have been waiting for all their lives.
She Looked Like A Bride
No, that is not her wedding dress that she also wore at the RHONY Season 9 reunion.
And below is an Instagram shared by comedian Murray Hill, who not only attended the show, but participated as well. According to People, at one point while on stage, Hill joked, "Calm down Sonja, the show can't afford to send two of you to rehab."
If you're feeling left out, don't worry, you are not alone. Here's how a few fans responded to not attending:
A Massive Regret
Preach.
So Much FOMO
It doesn't get harder than this.
It's Haunting
Ditto.
De Lesseps is set to do another performance on March 8, but, before you get your hopes up, it's already sold out. As she told The New York Times in a February piece about her cabaret show, "To know that the show was totally sold out and people are still trying to get tickets is a really great feeling." She added, "That I get to come back and have something creative to sink my teeth into has been really helpful for me, because it's been a rocky road, the past two years."
The good news is fans can experience #CountessAndFriends through social media. Plus, The Countess is hoping to soon release a new single called "Make It Part of the Dance", which she first said would make a great song title while appearing on Watch What Happens Live With Andy Cohen in September 2017. Well, at least there is a new song to look forward to!