Obama Had A Quick Comeback For The Hecklers Who Were Disrupting His Speech — VIDEOS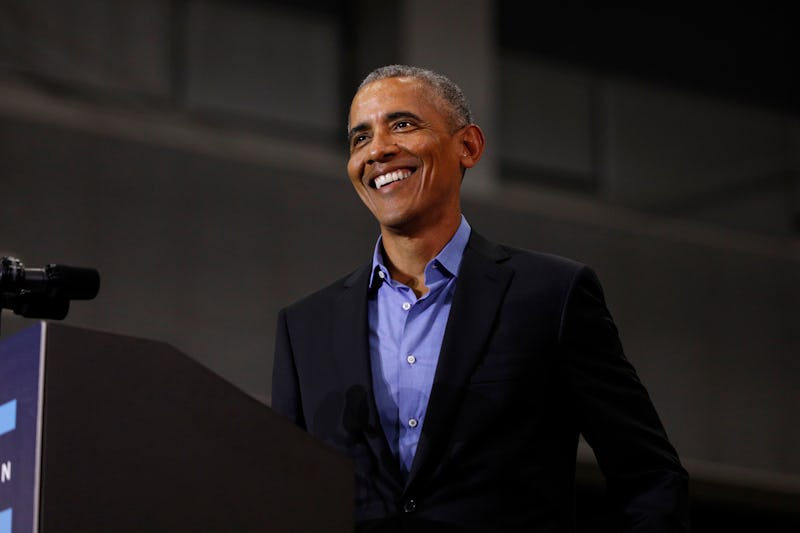 Bill Pugliano/Getty Images News/Getty Images
Barack Obama paid a visit to Florida on Friday to campaign for Tallahassee Mayor Andrew Gillum and Sen. Bill Nelson, the Democratic candidates for governor and Senate, respectively. During his speech, the former president was heckled several times, and he addressed the interruptions in his speech. It shouldn't come as any surprise that Obama's response to the hecklers in Florida was light-hearted, non-plussed and humorous — that is, vintage Obama.
The video and audio from the event doesn't make it clear exactly what the heckler or hecklers said, but Obama's response to each of them came across loud and clear.
"This is what I look forward to, is to have a few hecklers to get me back in the mood," Obama said to applause. "It's like, I enjoy that. You always got to have a few in order to know that you're on the campaign trail." He also scolded heckler for their language, telling them not to "curse in front of kids."
After a second interruption, when the audience of Democrats began chanting "bring it home" to drown out the heckler, Obama opined that "if you support the other candidate, maybe you should go support the other candidate."
"One of the things I never understood was why, if you supported the other guy, you'd come to my rally," Obama said.
After the heckler shouted for a third time, Obama said that the interruptions are an "old playbook" that "the powerful and the privileged turn to whenever control starts slipping away."
"They'll get folks riled up just to protect their power and their privilege, even when it hurts the country, even when it puts people at risk," Obama said. "It's as cynical as politics gets." He then pivoted back to his speech, telling the audience that "in four days, Florida, you can reject that kind of politics."
When he was interrupted for a fourth time, Obama questioned why a conservative activist would feel the need to protest in 2018.
"Why is it that the folks that won the last election are so mad all the time?" Obama asked. "It's an interesting question. I mean, like, when I won the presidency, at least my side felt pretty good. You know, I don't know why. It tells you something interesting — that even the folks who are in charge are still made. Because they're getting ginned up to be mad."
Both Gillum and Nelson are running in close races in the Sunshine State. Nelson, currently the only statewide elected Democrat in Florida, is facing off against incumbent Gov. Rick Scott to retain his Senate seat, while Gillum is running against former Rep. Ron DeSantis to replace Scott in the governor's mansion. Although the polls have been tight in both races, both Democrats are slight favorites to win, according to FiveThirtyEight.
During his speech, Obama also addressed President Trump and other Republicans' false claims that they've been fighting to retain protections for Americans with preexisting conditions. Trump has called many times to repeal the Affordable Care Act, the only federal law that provides such protections, and supported several plans by Congressional Republicans that would have eliminated protections for preexisting conditions.
"Let's call that what it is: It's a lie," Obama said at the Florida rally.