Videos Of The Woolsey Wildfire In Malibu Show Apocalyptic-Level Devastation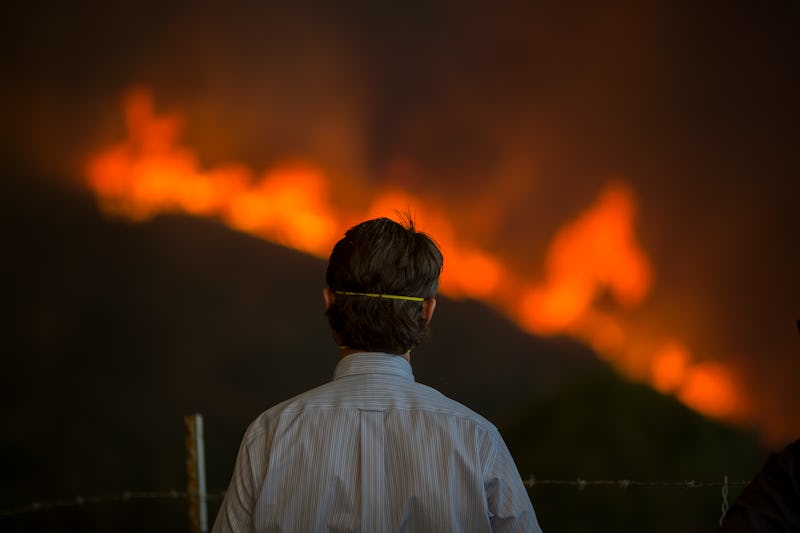 David McNew/Getty Images News/Getty Images
Fires have been raging in southern California since Thursday, and videos of the Woolsey fire in Malibu will render you speechless. Thus far, the Woolsey fire has burned through 83,275 acres, and it's only at 10 percent containment, according to the latest update from Cal Fire on Sunday morning. Even worse, USA Today reported that two people died in the Woolsey fire as of the last update.
Los Angeles County Fire Department Air Operations Section shared a video from its helicopter on Monday. "Firehawk helicopter flying along Pacific Coast Highway in Malibu on the way to protect life and property," the department wrote with the video post. "This is a historic event. Please follow the direction of local authorities."
California Department of Forestry and Fire Protection, or Cal Fire, issued mandatory evacuations for the entire communities of Bell Canyon and Oak Park, as well as partial-but-mandatory evacuations of parts of Thousand Oaks, west of Highway 23, south of Bard Lake, and south of Highway 101, according to Cal Fire.
Los Angeles County Fire Chief Daryl Osby said a "brief respite" from high winds on Saturday allowed firefighters to trade crews and control the blaze's borders, according to USA Today.
However, winds could gust up to 40 mph on Sunday, which could result in greater loss of homes and structures, USA Today reported.
"Don't be lulled by a false sense of security. Right now mother nature has given us a short reprieve. The winds are not blowing," Ventura County Fire Department Chief Mark Lorenzen said on Saturday, according to USA Today. "But we know tomorrow Mother Nature is going to turn her fan back on."
Lorenzen also echoed comments made by California Gov. Jerry Brown during the last wildfires. "Maybe 10 or 20 years ago you stayed in your homes when there was a fire and you were able to protect them. We're entering a new normal," Lorenzen said, according to the Los Angeles Times. "Things are not the way they were 10 years ago."
In August, Brown said he would not be surprised if climate change brought harsher wildfire seasons. "It's drier, the soil is drying, the vegetation is drying that makes for perfect kindling. And then these winds events, wind storms and tornado type behavior — some of this is unprecedented," Brown told reporters, according to CBS San Francisco. "We're in new normal. I would suspect there are more fires to come."
KABC, the Los Angeles ABC affiliate, reported that about 265,000 residents have been evacuated. Cal Fire reported that 177 structures have been destroyed thus far, while 2 structures are reported as "damaged." About 57,000 structures are considered threatened by the still-raging Woolsey fire, according to KABC.
CNN reported that a smaller fire — the Hill fire — is burning nearby. The Hill fire has burned 4,531 acres, and destroyed 2 structures, according to Cal Fire. However, it's 70 percent contained, unlike the neighboring fire.
Beyond the Woolsey fire that is burning in southern California, the Camp fire is raging through northern California. And it's the largest of those currently consuming the state.
The Camp fire has burned 109,000 acres with 25 percent containment as of Sunday morning, CNN reported. Cal Fire reported that the Camp fire destroyed 6,453 residences and 260 commercial structures. Another 15,000 structures are under threat by the blaze's path. As of Sunday, 23 people have died from the Camp fire, according to CBS News.