Videos Of The Obama Family Over The Years Prove Some Things Never Change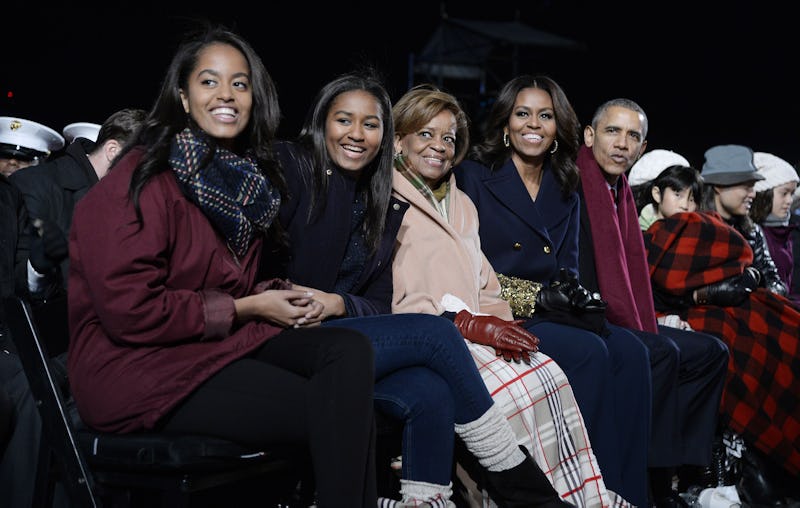 Pool/Getty Images News/Getty Images
The Obamas spent eight years living in the spotlight, but that doesn't mean their family is worlds apart from yours. In fact, videos of the Obama family over the years show that despite being at the center of American politics, some things never change and they still share typical family jokes and banter. It's that bond that no doubt helped them navigate life in the public eye — and support each other along the way.
The Obamas became one of the most recognizable families in America after Barack won the 2008 presidential election. In January 2009, he and his wife, Michelle, along with their daughters, Sasha and Malia, moved into the White House residence. As PBS News Hour noted, Malia was 10 when her father became president and Sasha was 7. Notably, Sasha was the youngest child to reside in the White House since John F. Kennedy's administration from 1961 to 1963, the outlet reported. Marian Robinson, Michelle's mother and the girls' grandmother, also joined the family when they moved to Washington D.C. in a bid to make the presidential transition easier for the girls, the Daily Beast reported.
During Barack's eight years in office, Sasha and Malia grew up before America's eyes, and the family shard many unique and exciting experiences together. These videos illustrate these experiences but, above all, highlight the close relationships that members of the Obama family have with each other.