Vin Diesel Stands Up For The Women Of 'Fast & Furious'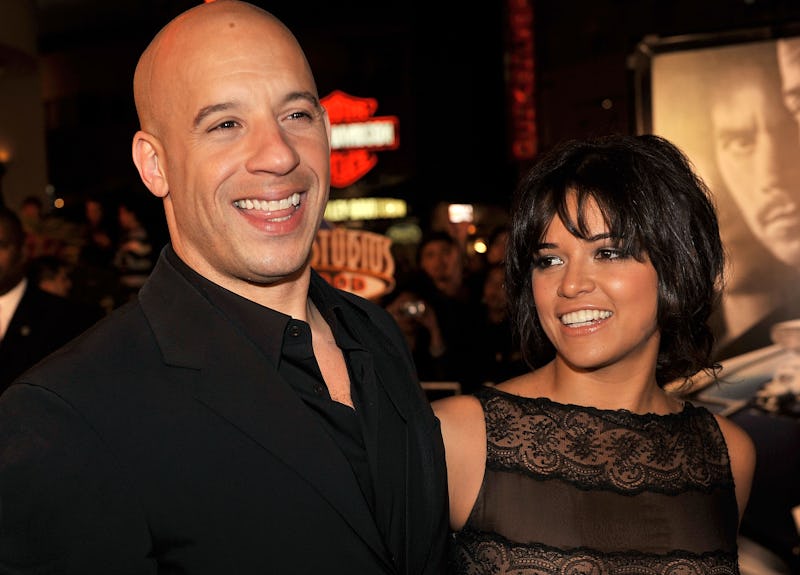 Kevin Winter/Getty Images Entertainment/Getty Images
True to form, a man who's proven time and time again that he's dedicated to his Fast & Furious family is standing behind a fellow castmate. Vin Diesel showed his support for Michelle Rodriguez when he recently appeared in a video with her on his personal Instagram, wherein Rodriguez thanked him for his support of her and the other women involved in the movie franchise.
Recently, Rodriguez threatened to quit the Fast & Furious franchise over its treatment of women, although she did not give rise to specific accusations. Her comments, however, have led some to believe that she was referring to previous Fast & Furious films offing strong female characters, or perhaps making the female characters in the films secondary to male characters. (Bustle reached out to Universal Pictures, but did not receive an immediate response.)
However, it would seem that Rodriguez wanted to take a moment to make sure fans knew that Diesel isn't included in any negative feelings she has about Fast & Furious. In the video, Diesel embraces his co-star in a one-armed hug while smiling. He also appears touched by her comments to the camera: "Vin, for many years you've been the biggest supporter of strong women" — to which Diesel kissed her on the forehead — "and I've always appreciated that about you through the years."
"Just know that if I ever post anything, that it's not you I'm talking to," she said. Of course, Diesel couldn't miss the chance to end on a high note, so he replied, "Aw, of course it's not me," before playfully ribbing Rodriguez. Diesel captioned the video with his own take on the subject. He wrote,
"Proud of Our saga... but we must try to reach higher each time. The challenge is what makes it fun and exciting. Its also why this saga has reached the level that it has... you have been the best fans in film history and we are forever grateful... Dom and Letty."
It's nice to see that Diesel (who's also a producer on the Fast & Furious films, meaning his opinion would seemingly carry extra weight) is giving his support to the women of these incredibly successful films by voicing a desire to do better by them.
While there's no doubt that the Fast & Furious films have given a platform for empowered female characters, the fact that two of the original actors involved in this franchise are united and committed to making the films better for its women is a big step forward.