Viola Davis' Outlook On "Anti-Aging" Is So Refreshing, But Also Totally Relatable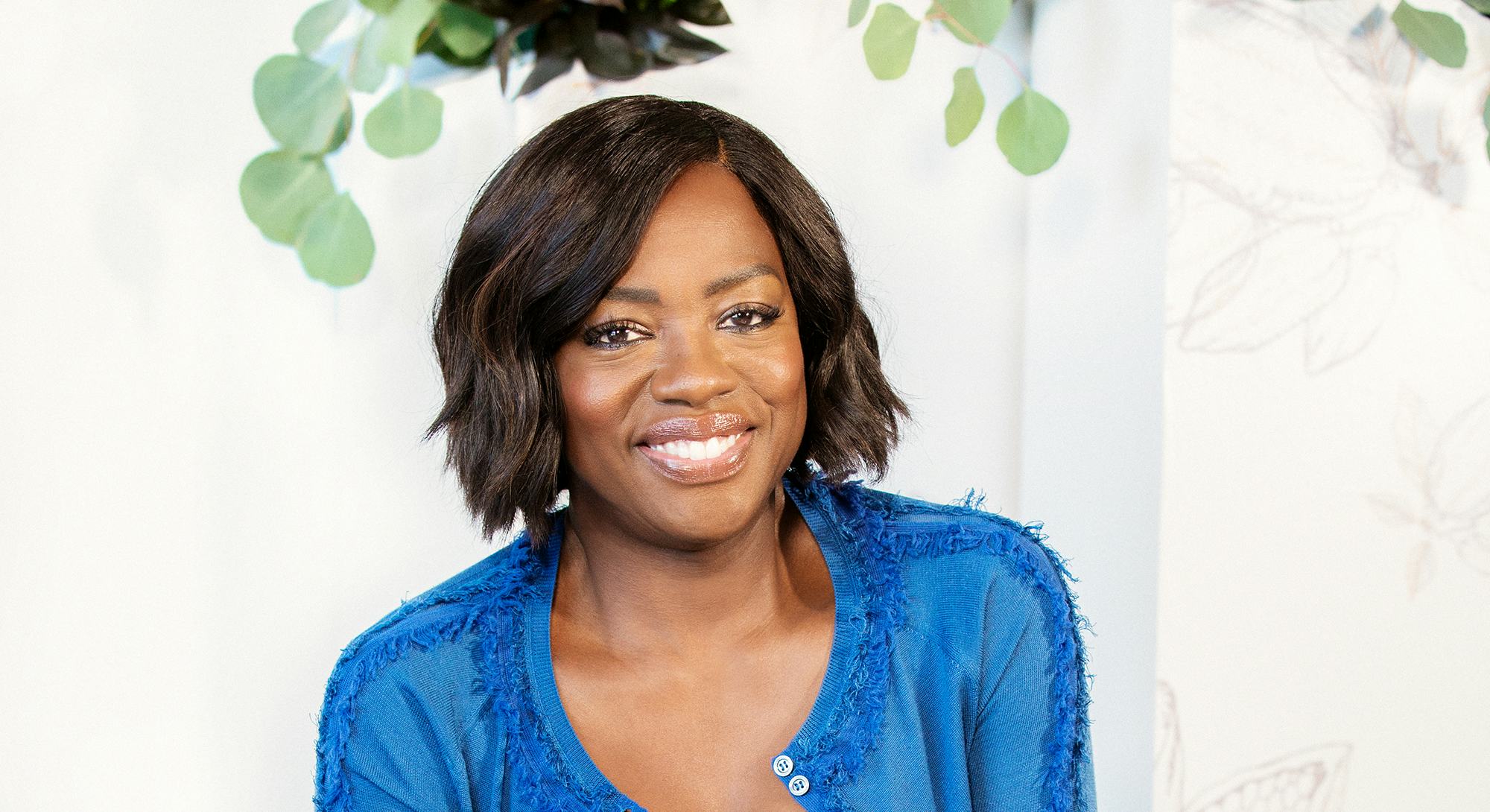 Vaseline
Viola Davis has a presence that is beyond movie celebrity. She commands the small room at the Waldorf Astoria in Beverly Hills the way I'd imagine a politician does — in a powerful, presidential way. Maybe even like royalty. But when we sit down and start talking about her love for Vaseline Cocoa Butter, Issa Rae, and bubble baths, Davis convinces me that she is just like us — kinda.
"I get up two hours before I have to go to work — I try to, anyway — [and] I take an Epsom salt bath with Dr. Teal's and some bubble bath [liquid] and essential oils, and I soak in that," Davis tells me when I ask her how she practices self-care.
Davis notes that she takes a bath before her workout — which she knows sounds weird, but she likes to start her day completely relaxed. She then gets in her steam shower to help remove the makeup she inevitably missed taking off from the night before (she is just like us!) and to make her "skin feel pretty," she says. She adds that she might follow up with a Kinara face mask if she has time. "I'm not trying to be somebody else's pretty. I'm just trying to be my pretty."
Davis is big on that — being her version of pretty, living her life, embracing her story. It's how she became her most confident self at 52.
She tells me she got there by "not living anyone else's life or perceived notion of [her] life" and understanding that her coming into herself and her faith "didn't start with just one leap, but a series of staggers from one place to the next."
"My advice to everyone is: The privilege of a lifetime is being who you are. In this town, I'm telling you, everybody you look at, everyone coming in with the same hairstyle, face, clothes... Dare to be you. See how it feels," she says.
Every sentence Davis utters comes out like poetry. You'd swear she was a full-time professional speaker — not just the Oscar, Emmy, and Tony-award-winning actress we all have admired movie after movie (after TV show). And although she might not be selling out stadiums a la Tony Robbins just yet — she is more than just an actress, too.
Off screen, Davis is a committed activist. She has worked with organizations to help vulnerable youth fight hunger and find education and in 2016, she partnered with Vaseline on The Healing Project (see video above), an aid effort to provide Vaseline jelly, dermatological care, and medical supplies to those in need.
While the purpose of our meeting isn't about activism or ambition — we're here to discuss the launch of Vaseline's new Intensive Care Cocoa Radiant Smoothing Body Butter (Vaseline's latest product made with 100 percent pure cocoa and shea butter) — our conversation still includes discussion of what it means to age as a woman in the movie industry.
"I'm very proud of being 52. I mean that," Davis says. When I ask her about her thoughts on the beauty industry's movement to ban the word anti-aging, she tells me she's just learning that this is a thing that's happening and says she "thinks" she likes it.
However, Davis admits, quite frankly, that whenever she sees a product labeled "anti-aging," she buys it. But it's not because she's scared of aging and wants to reverse her age — in fact, she embraces being 52 and isn't afraid of looking older. For her, it's simply about skin health.
"I feel that a lot of times people want to hold on to youth, especially in this town, because [of] how they looked, not because [of] how they felt. I really don't get that part of it," Davis explains. "Waking up and feeling like I'm embracing my story, that I'm stepping into who I am, that I'm living my truth... that I'm OK with failing... and embrace my flaws. I've got to believe that at my age. I can't think that the external is more important."
Even as a beauty ambassador for a major beauty company at a beauty launch event, Davis is not going to lie about what she really feels, for the sake of being "on brand." So while I leave my interview feeling more inspired than ever, reminded that what's on the inside is more important than the out, I won't be ashamed of using my collagen-boosting moisturizers and eye creams, because Davis says that's OK, too. As long as whatever I'm doing makes me feel good, that's what matters. Thanks for the pep talk, Viola.