Viola Davis Speaks About The Power Of Artists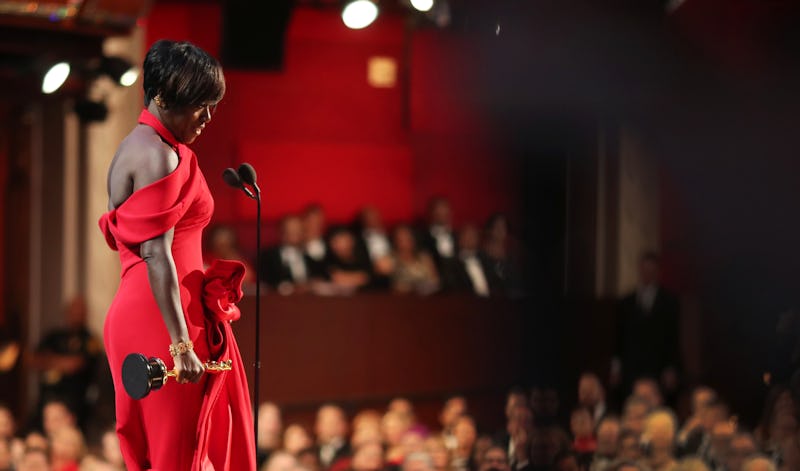 Christopher Polk/Getty Images Entertainment/Getty Images
On March 4, Viola Davis was presented the 2017 Artist of the Year award during Harvard's Cultural Rhythms Festival. While accepting the award, Viola Davis gave a speech about the power of artists and acting on Saturday night and it will inspire you. According to People, the Oscar winner shared that her role as an actor is to make people "feel less alone" — and to give a voice to those who don't have mainstream representation in the media.
Davis recently won the Best Supporting Actress Oscar for her role in the film Fences. She shared with the audience at Harvard University's Sander Theatre in Cambridge, Massachusetts, "I spent so many years at Julliard just wanting to beat somebody up. I think it was the height of my anger; that chip on my shoulder." She claimed that said chip, which she's "still trying to take care of" came about "mainly because I felt my voice as an artist was being stifled." Davis is all about using art to ensure people's voices are being heard, so to feel like her artistic voice wasn't being heard must have been incredibly tough for her throughout her career.
Davis, who also stars in the ABC drama series How to Get Away With Murder, continued: "I want people to be seen. I want them to feel less alone." She referenced another great artist, who had a similar philosophy: "I think Picasso is the one who said 'I paint because I want to show people what's going on behind the eyes.' "
This isn't the first time the 51-year-old has spoken about the artist's responsibility to tell stories. Last week, Davis' Oscar speech was about the entertainment industry's ability to "exhume those stories, the stories of the people who dreamed big and never saw those dreams to fruition." At the Harvard event, she spoke to the artists in the audience tasking them with the job to "come open and willing to transform, and that's the power of what we do." She admitted, "I feel like if one audience member is shifted in any way possible, I've done my job."
It's a delight to see this exceptional woman and actor accepting her awards with such grace and inspiring words. Here's to many more important stories performed for us by the one and only Viola Davis.