Violence Against Women In Politics Goes Far Beyond The Midterms — And The United States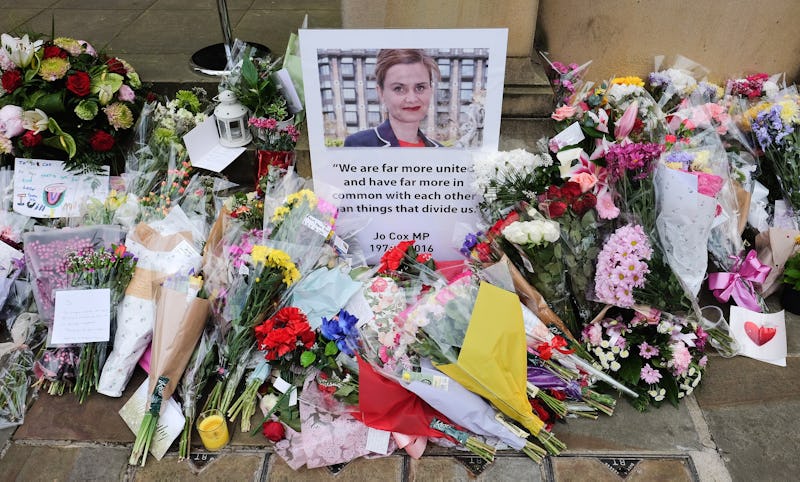 Ian Forsyth/Getty Images News/Getty Images
The record number of women running in the midterm elections highlights two huge issues facing not just the United States, but societies around the world — one, a lack of gender parity in the halls of power, and two, a key barrier to achieving that goal. In fact, violence against women in politics presents a major barrier to achieving equal representation for women in government, a new report makes clear.
Social media harassment, rape and death threats, and more that female candidates face in the United States have been covered by outlets like The New York Times and Glamour. Candidates for the midterms acknowledge that the abuse comes everywhere; perpetrators run the gamut from anonymous Twitter trolls to political opponents. For some, the election of Donald Trump over Hillary Clinton brought the issue to the fore.
But this is not solely an American problem. The United Nations Special Rapporteur on violence against women and its causes and consequences, Dubravka Šimonović, delivered a report at the UN General Assembly in October written with contributions from non-governmental and civil society organizations that found that, globally, underrepresentation of women in politics — from legislatures to presidencies — is in large part caused by gender-based violence.
"What we know about this phenomenon of violence against women in politics is that it is global; there is no safe haven," Sandra Pepera, director of the Gender, Women, and Democracy team at the National Democratic Institute for International Affairs (NDI) — one of the key contributors to the report — tells Bustle. "It impacts across cultures, across nationalities ... In Ghana, we would say, 'There is nowhere cool on this issue.'"
And in many places where it's happening, women are speaking out about it — from Pakistan to Bolivia and even in places like Sweden — according to the UN report which profiled individual experiences, too. A Swedish politician shared that she went to the police when she received violent threats, but they told her the threats were something "she had to learn to live with as a public person appearing in the local media." Now, though, several similar cases have been prosecuted — suggesting that drawing attention to the problem is key.
Pepera says that the violence experienced by the Swedish politician — and all violence like it — has one core root. "Yes, [women] are getting threatened and harassed and assaulted online and in the physical space through gendered lenses and gendered means, but it's not about sex — it's about the fact that politics is about power," she says. "Some people have decided only some people are to be in that bubble of power; they're mostly men and they're saying this not a space for women, stay out."
NDI's Gender, Women, and Democracy team is working to make sure that doesn't happen, including with resources like Think10, a tool they developed that women who want to get involved in politics — from Boise to Botswana — can use to gauge what risks they'd face entering politics and how to mitigate them.
Part of the risk assessment is based on the country a woman lives in, as evaluated by NDI. The United States, for example, ranks 133 out of 172 countries in the world according to NDI's Women's Political Participation Risk Index (WPPRI) — with the first being the most violent and the 172nd being least. Then, using a survey, a woman interested in joining politics answers questions about herself, such as if she's already been elected to the legislature or is just starting out, her age, and if she's a member of a marginalized community or lives somewhere geographically remote. If she's joining the party in power or opposition makes a difference, too.
The goal of the tool is to address the traits that increase the risk for gender-based violence. "Some women are at greater risk because they're from an ethnic minority, or they come from a radical party," Pepera says.
The tool then figures out a woman's personal risk of violence, correlated to their country score, for the final risk analysis for violence both in person and online. "The point is to get you to a safety plan and give you prompts as to what you can do to enhance your safety and security," Pepera says. "How do you go about your own political work in your own political context."
The suggested precautions depend a lot on the circumstances of the individual woman in politics, but also the cultural context of the country she's living in. For instance, Pepera explains, Hillary Clinton could shrug off a sexualized meme of her in a skimpy bikini, but, "if you do that to a young woman in Malaysia, or India, or Indonesia, the impact goes far beyond her political ambition. It actually goes to her social standings and can generate much greater levels of threat."
For women in those circumstances, this tool — and others like it addressing these barriers — is needed now more than ever. Pepera says that across the world, much like in the United States with #MeToo and the Women's March, there is an increasing openness about these issues. "There are lots of women standing up and saying, 'This is happening to me,' for the first time," Pepera says. "Women in politics, for whom it's been perhaps the most difficult, are increasingly talking about what happens to them."
Perhaps the most frustrating thing about the status quo is that the work towards the solution identified in the UN report — more women represented in government and institutions — has mostly fallen on the backs of women. And those women are then forced to protect themselves from threats.
But, with more women in politics talking openly about the violence they face, things may change yet. "The process of changing gender and cultural norms is glacial," Pepera says, "but these must shift if an enabling environment where women can participate equally in society and political life is to be established."