This Is Instagram's Most Popular Halloween Costume For 2018 & Seriously NO ONE Saw It Coming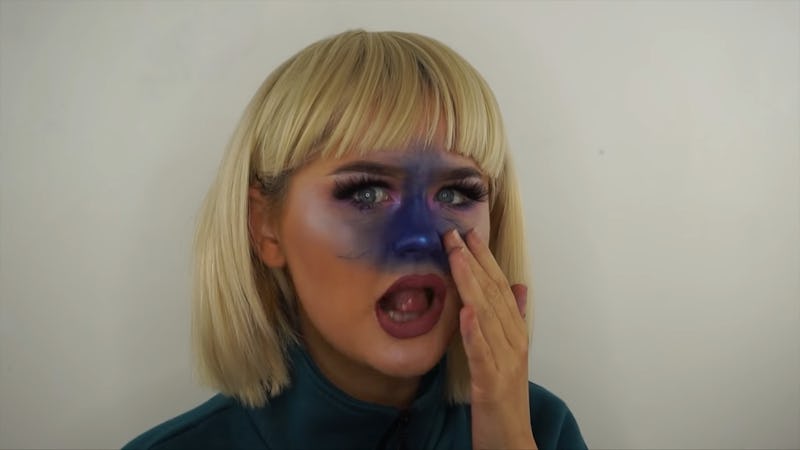 Ellie Addis/YouTube
Coming up with a creative Halloween costume can be tricky, but Instagram is always a great source for inspiration. From optical illusion makeup to intricate lip art and everything in between, this year's looks have been more imaginative than ever before. But one look in particular is the look of the year and everyone is recreating it with their own twist. Violet Beauregarde Halloween makeup is taking over Insta — and it all started with 18-year-old British makeup artist Ellie Addis watching Charlie and The Chocolate Factory with her family.
"When it came to the scene of Violet's inflation I thought it would be really fun to turn it into a Halloween look," Addis tells Bustle.
It was the first time that she's done a full face look for Halloween, and she definitely didn't expect for the picture to go viral. She decided to make a tutorial on YouTube that now, a little over month after it's been posted, has nearly 900,000 views.
And the steps to recreate the look are pretty easy. Addis did her base makeup as she typically would, adding purple eye shadow to spice it up. From there, she used an iMagic face paint palette to mimic the look of Violet Beauregarde turning into a blueberry, mixing the pink and blue colors to achieve the perfect shade.
"I used a beauty blender to start blending the face paint across my nose," she explained. "I made sure the edges were more blended than the rest to give the spreading effect." She highlighted with Blue Moon from the Anastasia Beverly Hills Moonchild Glow Kit to finish the look.
Now, if you search the hashtag #VioletBeauregarde on Instagram you'll see that it's flooded with makeup artists and beauty lovers across the globe putting their own twist on the beat.
"It feels amazing to know that my work has inspired so many people and I absolutely love seeing everyone's take on the look," Addis says. "They are all so great."
Take a look at some of the other incredible artists who have put their own twist on the Violet Beauregarde look.
This artist managed to perfectly execute the blurred nose effect, opting for a softer look without the blue veins. The purple eye shadow really make his eye color pop.
This makeup artist decided to make the look completely her own, adding a purple dripping effect as opposed to the blurred blue nose. Originality and execution are on point!
Adding a purple wig and matching purple lip really gets the point across that you're turning into a berry. And she genuinely looks as surprised as Violet was in the movie.
Opting for a more bold eye shadow and contouring with a more pink berry shade made this Halloween costume even more beautiful than it already was.
If you're still stuck on what to be for Halloween, take a look at the Violet Beauregarde hashtag on Instagram and put your own spin on it. It's almost guaranteed that you'll be the one to win best dressed at the costume party this year.