A Noose Was Found In The African American History Museum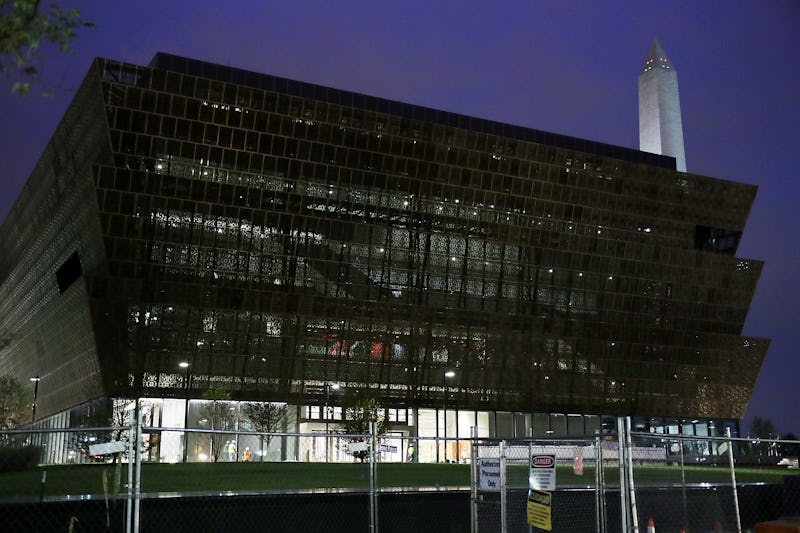 Alex Wong/Getty Images News/Getty Images
Less than a year after the National Museum of African American History and Culture held its grand opening in Washington, D.C., the exhibition became the site of what appears to be a hate-filled act. A noose was found in the African American museum near a segregation exhibit on Wednesday, prompting officials to temporarily shut down a section of the building. Police are investigating the incident, BuzzFeed News reported.
The noose was reportedly found on the museum's floor in front of a display that read, "Democracy Abroad. Injustice At Home" that was a part of the museum's permanent exhibition, "Defending Freedom, Defining Freedom: Era of Segregation 1876-1968." Visitors reported the finding to U.S. State Park Police, and the exhibition was temporarily shut down for three hours.
In an email to staff, founding museum director Lonnie Bunch condemned the symbolic gesture and vowed to continue working toward bridging the nationwide racial divide.
The noose has long represented a deplorable act of cowardice and depravity — a symbol of extreme violence for African Americans. Today's incident is a painful reminder of the challenges that African Americans continue to face ... We will continue to help breach the chasm of race that has divided this nation since its inception.
This is the second time in a single week that a noose has been discovered on Smithsonian property. On Friday, a noose was found hanging from a tree outside of the Hirshhorn Museum and Sculpture Garden, which is just across the National Mall from the African American History Museum.
The Smithsonian and U.S. Park Police are working together to investigate the incidents, according to the New York Times. Museum spokespersons consider the acts to be a direct "message to the museum."
"The Smithsonian family stands together in condemning this act of hatred and intolerance, especially repugnant in a museum that affirms and celebrates the American values of inclusion and diversity," Smithsonian Institution Secretary David Skorton said in email to Smithsonian employees.
For many, these incidents seem to continue an alarming trend of an increase in hate crimes and racially-charged acts that have occurred since President Trump was elected to office in November. According to the Southern Poverty Law Center, more than 1,300 hate incidents were reported between November 2016 and February 2017.
Other nooses have been found in public spaces across the country over the past few months, including a middle school in Maryland, a high school in California, and the Duke University campus.