Want To Be A Freelance Writer? Here's What It's Really Like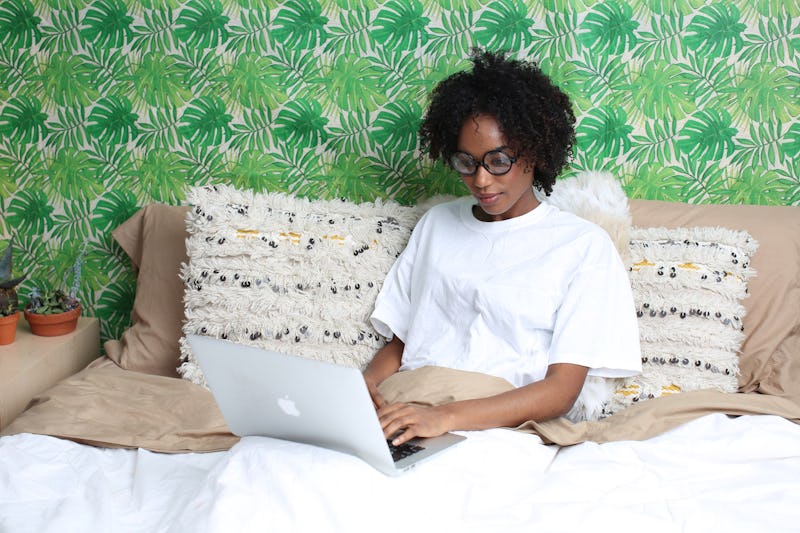 Ashley Batz/ Bustle
Did you just collect your English degree? Are you wondering about a post-graduation existence in which you live out your fantasy of life as a freelance writer, tapping out delightful things for magazines and other outlets, occasionally petting your cat, and looking sweetly out the window? That sounds like a lovely life. But I can officially tell you, as a veteran freelancer with 10 years of experience under my belt, that freelance writing is not like that. (Well, the cat part may happen, but the rest is not a given.) It's odd, hard, often very rewarding, and sometimes drives you so far up the wall you spend the entire night reading random books on Mesopotamian language to avoid actually dealing with your accountant. (It's happened.)
I don't mean to discourage you from a freelance writing career, of course — we need young women with eloquent voices putting their words out into the world, and being freelance can give you freedoms that being tied to a particular place or company simply cannot. But I also want to make sure that before you pursue a freelance career, you know exactly what the freelance life is really about.
Freelance writing can encompass a huge variety of genres, so consider this advice confined to the bits in which I actually have experience: subject-oriented journalism (art, fashion, science), editorials, and copywriting work for specific clients. Freelance medical writers work in an entirely different field with different requirements and structures. If you want to get into that, you'll need to do some specific research; this article's scope doesn't quite cover that.
What does this article cover, you ask? Let's start off by busting some myths about the freelance writing life.