Yes, ERs Are Already Starting To See Solar Eclipse Injuries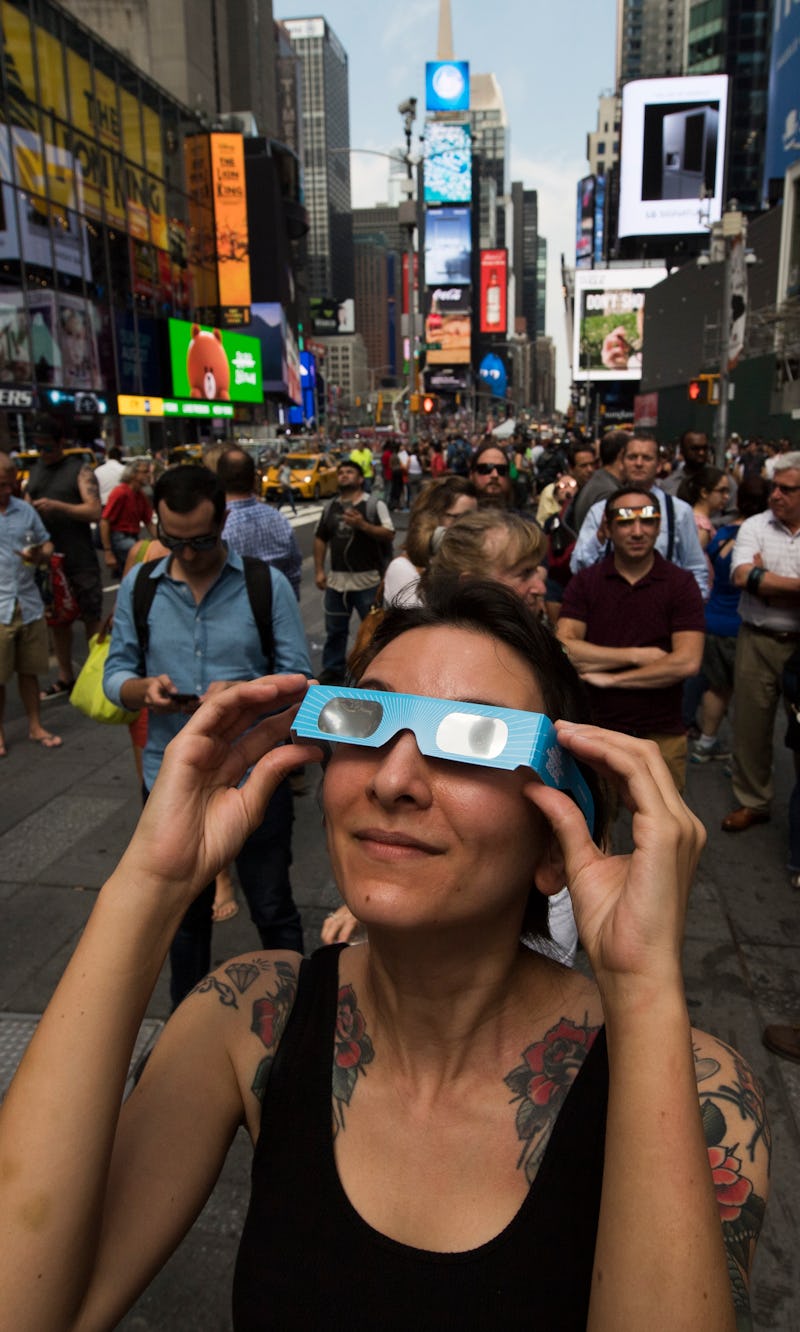 DON EMMERT/AFP/Getty Images
Doctors reported that they were expecting an influx of patients after today's solar eclipse, due to everything from failing to use protective eyewear to car accidents. The celestial event of the century has come to an end. And while it was amazing to witness, was anyone injured during the 2017 solar eclipse? Unfortunately, reports have already started rolling in. News station WYMT reported that one person was killed and two others injured when a car crashed into people watching the eclipse in the eastern Kentucky city of Hyden.
WYMT reported that a woman was driving when she lost control of her car, struck a utility pole, and two women who were watching the eclipse. Kentucky State Police Captain Jennifer Sandlin told the news station that the crash is under investigation. Oregon Live reported that a woman was injured when a man ran over tents of campers watching the eclipse at the Symbiosis Gathering in Oregon.
The Bellville News-Democrat reported that a hiker died when he fell from a cliff prior to the eclipse in Illinois. "Garden of the Gods and two other areas in Shawnee National Forest temporarily closed Sunday due to safety issues as around 300,000 eclipse visitors made the journey into the parks," the newspaper reported. "The Shawnee National Forest in Herod was in the path of totality for Monday's solar eclipse."
Doctors are bracing themselves for more injuries, and have prepared in advance.
"I suspect there will be an increase in patient traffic to ERs, especially in the areas expecting a large influx of eclipse watchers," Becky Parker, MD, FACEP, president of the American College of Emergency Physicians, said in a statement.
While the eclipse may be over, many towns and cities in the path of the event have experienced an influx of visitors, which could lead to more accidents. "When a population surges, even temporarily, ER visits tend to rise. Anything out of the ordinary that shakes up a regular routine, like this eclipse, or daylight savings, can lead to more vehicle accidents," Parker explained. "Be mindful of that."