This Is The *Real* Story Behind 'Mrs Wilson's Dorothy Wick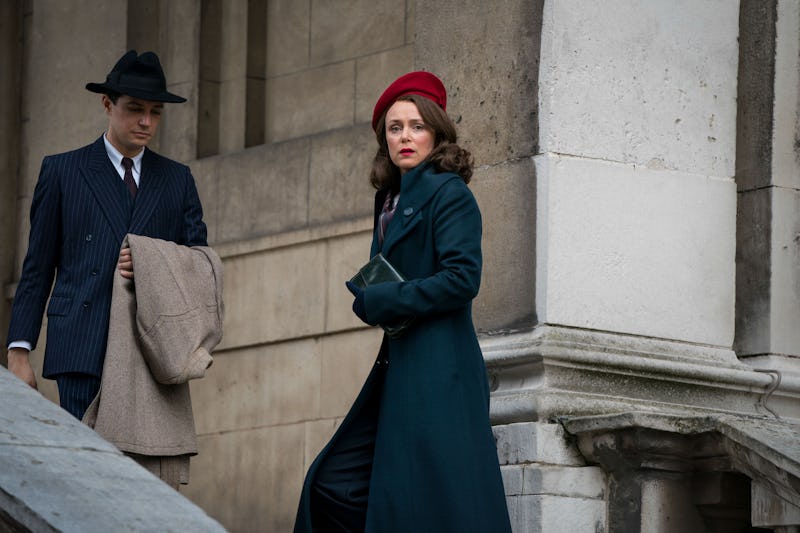 Steffan Hill/BBC/©WP Films Ltd.
Here's something the first episode of the series made abundantly clear: Mrs Wilson, starring Ruth Wilson in the title role, is a show that likes to shock. And nothing sent a collective gasp across Twitter quite like the series premiere's final moment. Alison Wilson — already aware of Gladys, another of her recently deceased husband's wives — was mistakenly called Dorothy, and thus discovered her husband was married to at least three women. Most viewers are probably aware that the series is based on a true story, the life of Ruth Wilson's grandmother — but was Dorothy Wick in Mrs Wilson a real person? Naturally, potential spoilers lie ahead.
The first episode of Mrs Wilson saw Alison and Alec (played by Iain Glen), meet while working together at MI6, and ultimately marry once Alec's divorce from Gladys became official. But after Alec's death, Gladys appeared at Alison's door, and the divorce started to look an awful lot like a fabrication. Then, the real shocker. As Alison stood by her husband's grave, a man introduced himself as Alec's best friend from his time in India, thinking he was speaking to his friend's wife — Dorothy. And suddenly, the sporadic presence throughout the episode of Keeley Hawes, playing Dorothy, made an awful lot of sense.
Ruth Wilson told iNews that the show was adapted from her grandmother's memoirs; playing her own relative, Wilson said, was "perhaps the most profound experience of [her] life." Aspects of the central character were altered slightly for television, Wilson admitted — but according to the Radio Times, the mysterious Dorothy Wick was very much a real person.
Wick, the magazine says, was a touring actor who met Alec — full name Alexander Wilson — while he was teaching in India. At this time, Alec was already married to Gladys, who he wed in 1916. They had three children, the first of whom, Adrian, was born in 1917. Alec and Dorothy reportedly married in 1930, and proceeded to have a son named Michael; in 1933, the family moved back to England.
On his return, Alec moved back to Gladys and his three children in Southampton, living there for 18 months while his second wife and their son stayed in London. He maintained a flaky presence in Dorothy and Michael's lives, only to abandon them completely when Michael was 8. Dorothy moved her son to Yorkshire, spinning the fiction that Alec died during the Second World War while fighting in El Alamein. Michael, according to the Radio Times, believed his dad died in the 1942 conflict for over 60 years.
The truth, of course, was that Alec had married Alison, using a simple bit of trickery to conceal his bigamy. "He changed his middle names often so that it didn't have a record of a previous marriage, so that's how he got away with it," Ruth Wilson explained to the magazine. Were his multiple marriages a necessity of his MI6 career? Or was Alec Wilson just a really terrible dude? Let's hope the episodes to come reveal all.