The DOJ Won't Commit To Investigating Heather Heyer's Death As A Hate Crime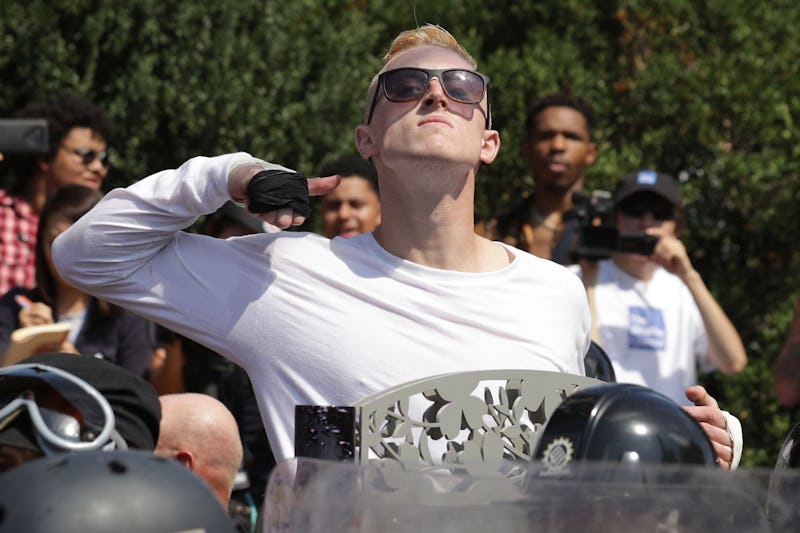 Chip Somodevilla/Getty Images News/Getty Images
The top law enforcement official in the United States has reportedly weighed in on the Charlottesville attack that left one dead and a reported 20 more injured. And from the sounds of things, a number of options are on the table ― Attorney General Jeff Sessions said Charlottesville might be a hate crime, although he was non-committal about what charges might come, in an exclusive interview with NBC News.
Speaking with Pete Williams, Sessions remarked that the attack in Charlottesville ― in which a driver (since identified by law enforcement as 20-year-old James Fields) plowed into a crowd of anti-racist counter-protesters with his car ― could be prosecuted as a hate crime, or include civil rights charges, which would thus stiffen the potential criminal penalties.
He did not conclusively commit to such a course of action, to be clear. But he did tell Williams that the Department of Justice is "working on it intensely in the assumption we may well want to prosecute him."
We'll be working with the state [of Virginia] to see how they would proceed with their charges. And we could bring charges whenever the investigation justifies that. But I don't think we should just feel like we should have to do it in a matter of hours or days.
It could be a 245, a civil rights violation, or 249, which is a hate crime, and there might be other charges that could be brought. So we are working it intensely, on the assumption that we may well want to prosecute it under one of those theories, or under whatever theory that we would find.
Sessions, 70, is one of the most controversial additions to President Donald Trump's cabinet, thanks to a long history of race-related controversies and scandals. Back in 1986, he was denied a federal judgeship by the U.S. Senate Judiciary Committee over accusations of racism, including an impassioned plea from Coretta Scott King, the widow of the late Dr. Martin Luther King Jr. Specifically, King called out Sessions' role in furthering anti-black voter suppression as a U.S. attorney in Alabama.
Sessions vehemently denied accusations of racism during his confirmation hearings earlier this year, insisting that "this caricature of me from 1986 was not correct," according to The Washington Post.
Regardless, Sessions' reputation among anti-racism and civil rights advocates is downright toxic, so his high-profile oversight of the Charlottesville case will likely draw a lot of attention and scrutiny. As for the local authorities in Virginia, Fields has already been charged with second-degree murder, and has been denied bail.