Jeff Flake Survived A Reality Show, But He Just Can't Take Donald Trump's Drama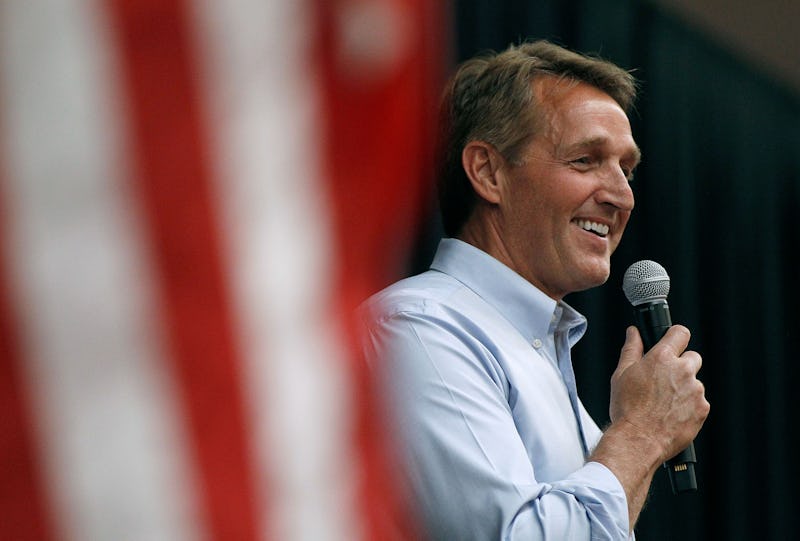 Ralph Freso/Getty Images News/Getty Images
Jeff Flake gave a highly publicized speech on Tuesday in which the junior senator from Arizona exhorted his fellow Republicans to value their principles over party loyalty at all costs. "Politics can make us silent when we should speak," Flake said on the Senate floor, in one of several references to the toxicity of President Trump's brand of politicking. He also defended the notion of compromise, and appealed to bipartisanship. But it's not the first time Flake's used a public platform to do so. In 2014, Democratic Sen. Martin Heinrich of New Mexico appeared alongside Flake in a one-off reality show called Rival Survival.
Rival Survival was filmed on a tiny island of the Marshall Islands called Eru. Flake had visited several times before, and pitched the Discovery Channel a show featuring himself and a Democratic senator spending a week there together, using Go Pro cameras to film some of their adventures. Their mission would be to survive seven days with no outside food, water, or amenities (besides an emergency satellite phone). The Discovery Channel took Flake up on the offer, sending their own camera crew to document Flake and Heinrich's island bipartisanship.
According to the two starring senators, Rival Survival was meant to demonstrate that two members of opposing political parties could still work together. It's an idea with widespread popularity, and many questioned why politicians would need to travel halfway across the world to "prove" their ability to cooperate in a locale nowhere near actual politics.
Flake and Heinrich appeared for several interviews following the airing of Rival Survival, where Flake received some flak over the incongruity between his "union rules" jabs at Heinrich, and the democrat's seeming outsized contribution to their survival. "He builds the shelter, gets the fish, he shucks the clams — what do you do other than sit around making ideological statements about him quitting at 5 o' clock?" asked MSNBC's Joe Scarborough.
Flake's response was to say, "It's the first time a Republican has had a Democrat do that, rather than the other way around."
But by far the biggest critic was then-late night host David Letterman. One remark to Flake and Heinrich about Rival Survival was just a series of questions: "What is it, why did we do this and how can we prevent it from happening again?"
Unfortunately for Flake and Heinrich, their 2014 preemptive bid to bolster bipartisanship does not look like a success. The 2016 election was decidedly divisive, and in Flake's Oct. 24 speech to the Senate, the Republican announced that seeking reelection would require too great a compromise of his values.
In his speech, Flake insisted that Trump's behavior was "not normal." Flake went on to say:
It is often said that children are watching. Well, they are. And what are we going to do about that? When the next generation asks us, "Why didn't you do something? Why didn't you speak up?" What are we going to say?"
Flake provided his own answer: "Mr. President, I rise today to say: enough."
That word "enough" is also the title of an op-ed Flake penned for The Washington Post. Published today, it follows up on the theme of Flake's Senate speech:
Nine months of this administration is enough for us to stop pretending that this is somehow normal, and that we are on the verge of some sort of pivot to governing, to stability. Nine months is more than enough for us to say, loudly and clearly: Enough.
It says something that Flake could tough it out on Eru for a week, surviving on whatever he and Heinrich could scavenge in the jungle — surviving the Senate with Trump as president, however, apparently proved too much for him.