How John Meehan Convinced Everyone He Had A Job In 'Dirty John'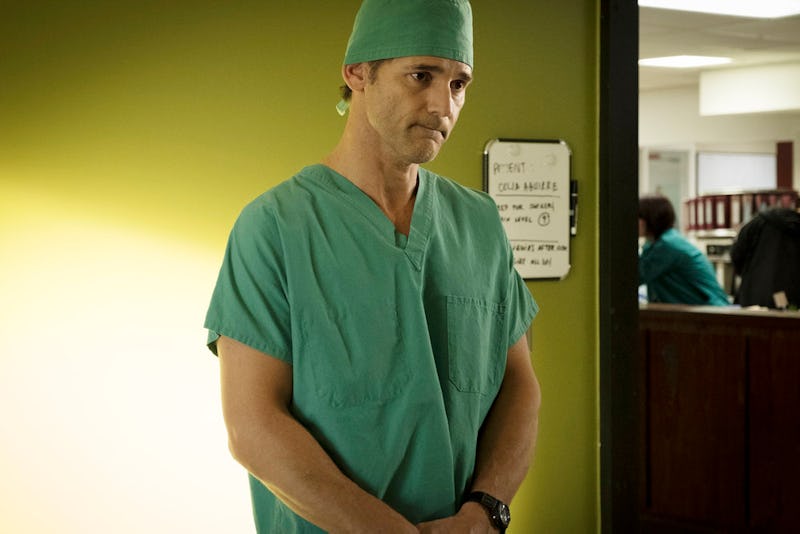 Nicole Wilder/Bravo
Connie Britton's Debra Newell may think her new husband is the perfect guy in Dirty John, but soon she'll come to realize that there's a lot she still doesn't know about him. That's probably due to the fact that he's been lying to her ever since they met — even about his job, to an extent. So if you're already starting to question whether the real John Meehan was really an anesthesiologist, you're right to be suspicious. Bravo's new series, which is based off the Los Angeles Times Dirty John podcast of the same name, made it clear right away that this guy is hiding some secrets, and his medical expertise is certainly one of them.
On the show, Meehan told Newell during their first date that he was an anesthesiologist who had worked as part of Doctors Without Borders in Iraq. Various scenes of Meehan interacting with a female patient about to undergo surgery seem to confirm this story. However, after the operation, the woman claimed to be experiencing a tremendous amount of pain, even though Meehan had allegedly given her painkillers to help ease the discomfort. She told the nurse that it felt like he hadn't given her anything at all. So what's exactly going on here? There's definitely a reason behind Meehan's shady behavior at work.
According to Christopher Goffard's Los Angeles Times podcast, as reported by Cosmopolitan, the real Meehan also claimed to be an anesthesiologist who had worked in Iraq, however, Newell eventually came to discover that it was all just part of a con that he'd used on multiple women, perhaps to make him seem all the more appealing. The truth of the matter is that he had been a nurse anesthetist.
In fact, according to The Los Angeles Times, Meehan's first wife Tonia Sells was a practicing nurse anesthetist and was the one who helped him through both nursing school and the Middle Tennessee School of Anesthesia. However, he ended up losing his career after reportedly stealing surgical painkillers. In 2002, he pled guilty to felony drug theft and was later sentenced to 17 months in prison, as per The Los Angeles Times. But as soon as he was out, he began his search for new female victims. Goffard noted in the podcast:
"From 2005 to 2014 — from about the time he got out of prison in Michigan for drug theft to the time he met Debra Newell in California — he had seduced, swindled and terrorized multiple women, many of whom he had met on dating sites while posing as a doctor, court records showed."
On the show, Britton's Newell has yet learn the troubling details of her husband's criminal history and the downfall of his medical career, though her daughters can already sense that this guy is hiding something and isn't as wonderful as he claims to be. Neither of them trust the numerous stories that he spins and are worried that their mother is blinded by her attraction to him.
Of course, those familiar with the podcast know how this all plays out, and as more episodes continue to unfold, the more you'll learn about Meehan's past and the other women he charmed under falsities and lies. Eric Bana does an impressive job in making Meehan seem like the ideal man, but when something seems too good to be true, odds are that it is. And it's only a matter of time before Newell starts to realize that as well.