The 'Harry & Meghan' Lifetime Movie Makes The Prince Out To Be A Sorta Bad First Date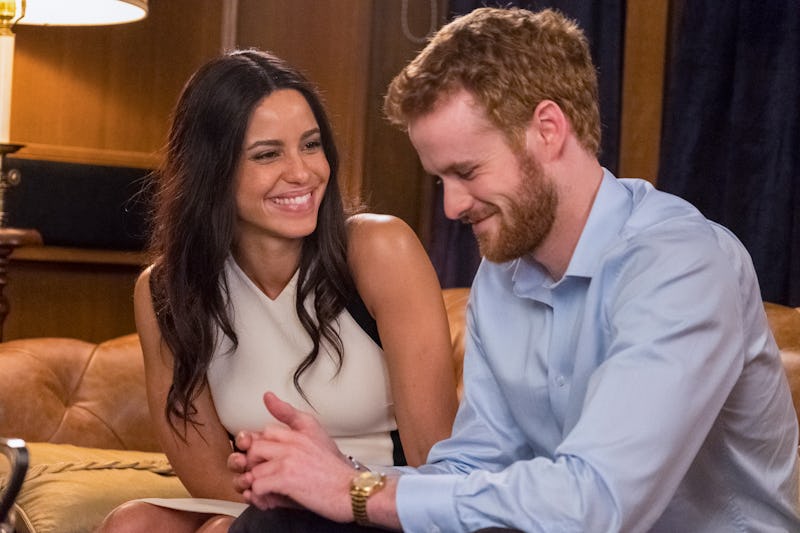 Lifetime
The wedding event of the season is upon us — Prince Harry and Meghan Markle are to be wed in London on May 19, 2018, giving us all a reason to wake up very, very early. Of course, with all of the hullabaloo surrounding the wedding, people want to know more about Harry and Meghan and their courtship. For instance — was Prince Harry late to his first date with Meghan Markle? Harry And Meghan: A Royal Romance on Lifetime portrays a major dating faux pas. (Bustle reached out to a representative for the royal couple but did not hear back.)
According to royal biographer Andrew Morton, whose book, Meghan: A Hollywood Princess, recently hit shelves, Harry and Meghan were reportedly set up by a mutual friend — Violet von Westenholz, a PR executive for Ralph Lauren. Von Westenholz' father, Baron Piers von Westenholz, happens to be a good friend of Prince Charles. Meghan was in London for Wimbledon as a guest of Ralph Lauren in June 2016, and von Westenholz reportedly set these two up on a blind date.
If that story is true, she must have an eye for love connections, because now, less than two years later, Harry and Meghan are going to be man and wife. Although no one but Harry, Meghan, and their teams know the exact specifics of their first date, it allegedly was at Soho House, a private, members-only club, according to Page Six.
In Harry And Meghan: A Royal Romance, Harry is not that enthused about going on a blind date, and can you blame him? As the fictionalized prince says, the women he's set up with are always built up to be more than they are, so he planned to just meet Meghan long enough so she can say she hung out with a prince and then bail. He even had his driver plan a fake emergency, just in case, to get him out of the date. (Been there, done that.) Meghan, who has been waiting for 40 minutes for Harry to show, isn't having it, and she scolds him for being so late. There's no assuaging with compliments here, buddy — even if you're in line for the British throne, you should be on time. Meghan's time is just as valuable as his. But, all is forgiven, they're locked on each other, and it's charming and lovely and everything a good date should be.
But, this movie is a dramatization of Harry and Meghan's whole relationship, so there's obviously plenty of poetic license built in. Since it's never been confirmed where exactly Harry and Meghan's first date took place, it's hard to confirm whether he was allegedly very late to meet her.
In any case, that first date went well enough for the real life Harry and Meghan to eventually get married. Some reported details have been leaked already. For instance, according to The Sun, they'll reportedly be married at St. George's Chapel at Windsor Castle — not Westminster Abbey, like Harry's big brother, William. William is in direct line to the throne, so his wedding was, simply, a bigger deal.
The flowers, designed by Philippa Craddock, will reportedly include white garden roses, foxgloves, and peonies, and the cake will be that of a lemon elderflower variety, made by pastry chef Claire Ptak. And who is footing the bill for this whole thing? The Royal Family, of course (but the taxpayers pay for the security, so it probably breaks even). Oh, and Meghan will probably pay for her own dress, as, according to Town & Country, the Middleton family did in 2011 when Kate and William married.
Whether a fan of the monarchy or not, one can't help but be excited about the festivities surrounding Meghan and Harry's upcoming nuptials. It all worked out, so who cares even if he could have been a little late to their first date? Their blind date setup great story that they can tell their kids for years to come.