Roy Moore Allegedly Tried To "Pick Up" Teens At A Local Mall & Got Banned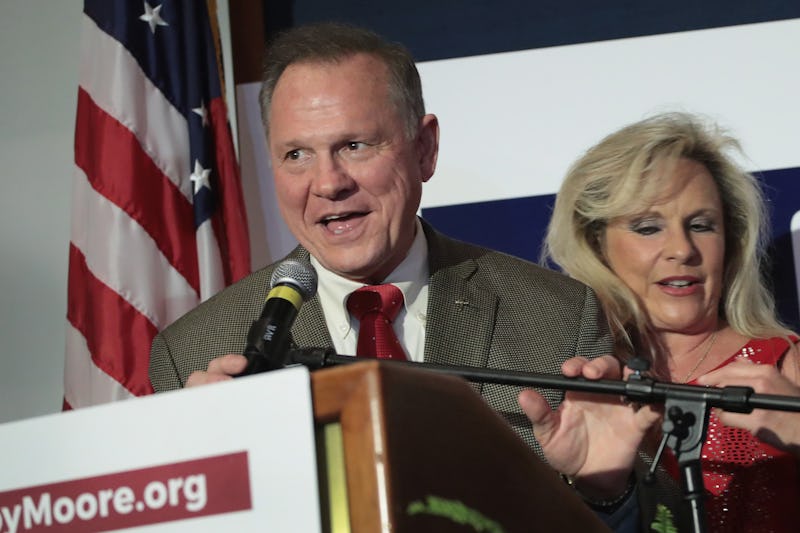 Scott Olson/Getty Images News/Getty Images
Another accusation has been added to the growing list of sexual misconduct allegations against Republican Senate candidate Roy Moore (all of which he strongly denies). Most recently, The New Yorker published an exposé on Monday claiming that Moore was once supposedly banned from the mall in his hometown of Gadsden, Alabama, after allegedly preying on teenagers. However, some former mall employees have said they don't remember his name ever being on the ban list.
According to the allegations, Moore would allegedly walk around the mall trying to "pick up" young girls. Some said that he had been "run off" from certain stores for his behavior; most said he'd been banned from the mall itself. One police officer alleged that "the general knowledge at the time when I moved here was that this guy is a lawyer cruising the mall for high-school dates." At the time, Moore was a lawyer in his 30s. He has called allegations of sexual misconduct "completely false."
The New Yorker's Charles Bethea spoke to many Gadsden locals, including police officers, legal officials, and former mall visitors and employees. One employee, who worked at a local music store at the time, claimed to Bethea that Moore was reportedly banned from at least 1979 to 1981. He said that he had been supposedly warned by his boss and a police officer to be on the lookout for Moore.
Some Gadsden Mall officials did not remember Moore being denied access to the building, but did tell Bethea that a ban list exists and existed. One security guard said, "We still have an active ban list," but in reference to whether it might include Moore's name, clarified, "It doesn't go back that far." Someone who helped manage the mall for a period beginning in the late '80s confirmed that a ban list was in operation at the time, but didn't remember Moore's name being on it. Another former manager who started his tenure in 1981 — noted in the article as a personal friend of Moore's — has suggested that all of the recent allegations against Moore are false and created for political reasons.
Although The New Yorker is the first outlet to fully investigate the Gadsden Mall story, it isn't the first to report on it. The Washington Post broke the original story that women were accusing Moore of sexual misconduct on Thursday. In that article, some women claimed that Moore "often walked, usually alone, around the newly opened Gadsden Mall — 6 feet tall and well-dressed in slacks and a button-down shirt." Again, Moore has called the allegations against him "politically motivated."
As of this writing, five women have come forward to accuse Moore of sexual harassment or assault. One woman in the Post story alleged that he took off her clothes and reportedly groped her when she was 14. At a news conference on Monday, another woman described an allegedly violent encounter with Moore that reportedly occurred when she was a 16-year-old waitress.
According to an account from Beverly Young Nelson, Moore allegedly assaulted her after a shift, "squeezing my neck, attempting to force my head onto his crotch." Moore has strongly denied the accounts, calling them "the very definition of fake news."
While many Republicans have disavowed Moore in the wake of these stories, it remains to be seen whether they will have enough of an impact on voters to allow Democratic candidate Doug Jones to secure a win in the special election on Dec. 12. While some polls suggest that the race has tightened in response to these allegations, others suggest that Alabama's evangelicals are actually more likely to support Moore now.
Even if most voters are repulsed by the allegations against Moore at the moment, the election is still a month away, which leaves plenty of time for opinions to change. When The Washington Post released the tape of Trump bragging about being able to grab women without permission on Oct. 7, 2016, he went on to win the presidency one month later on Nov. 8.
Republican Senate Majority Leader Mitch McConnell has reportedly told Moore to exit the race and threatened to expel him from the Senate if he is elected. McConnell also said that he is considering throwing his support behind a write-in candidate to challenge Moore. Again, Moore has firmly denied any wrongdoing.