Was The Russian Plane Crash Terrorism? The Tu-154…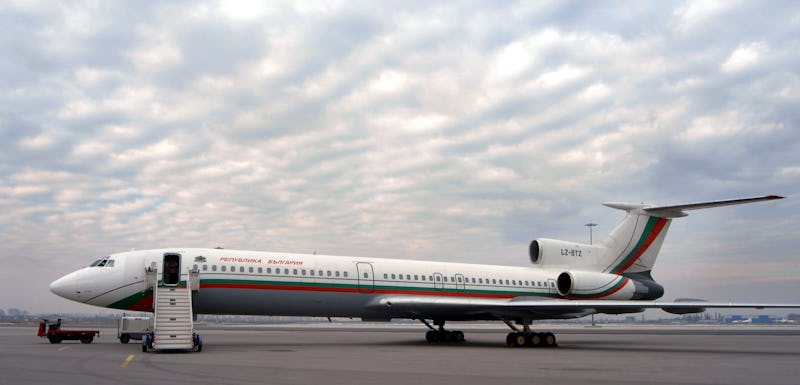 -/AFP/Getty Images
On Sunday, a missing Tu-154 plane that had crashed into the Black Sea minutes after takeoff was claimed by the Russian defense ministry. 92 people are reported to have died in the crash, according to the Associated Press. However, in the hours following the crash the defense affairs committee chair was quick to clarify that the Russian plane crash was not believed to be terrorism.
In a statement, committee chair Viktor Ozerov said that the crash was believed to have been the fault of a technical malfunction. Because the plane was solely operated by the Russian military, Ozerov said, according to Russian state media agency RIA, he "totally excludes" terrorism as a potential cause of the crash, The Guardian reported.
President Vladimir Putin has been informed of the crash, and a full investigation has been opened to determine whether there were any safety breaches that could have contributed to the crash, The Guardian reported. Most of those on board the plane were members of the renowned Russia military choir the Alexandrov Ensemble, who were traveling to Syria to celebrate the New Year with assorted military personnel in the region.
At present, the crash is being treated as a tragic accident. Ozerov said in his statement to RIA that, at this early juncture, it's thought that a technical malfunction could have been behind the crash.
In a statement, the Russian defense military said:
Fragments of the Tu-154 plane of the Russian defence ministry were found 1.5km (one mile) from the Black Sea coast of the city of Sochi at a depth of 50 to 70m (165-230ft).
The Tu-154 plane was involved in a high-profile crash in 2010, when then-Polish president Lech Kaczynski was killed along with several members of the Polish elite. There were 93 people killed when the plane crashed in poor weather conditions. Ultimately, both Russia and Poland determined that the crash had been caused by the unsafe landing, rather than any technical malfunctions regarding the plane itself.