Was Tom Petty Sick Before He Was In Critical Condition?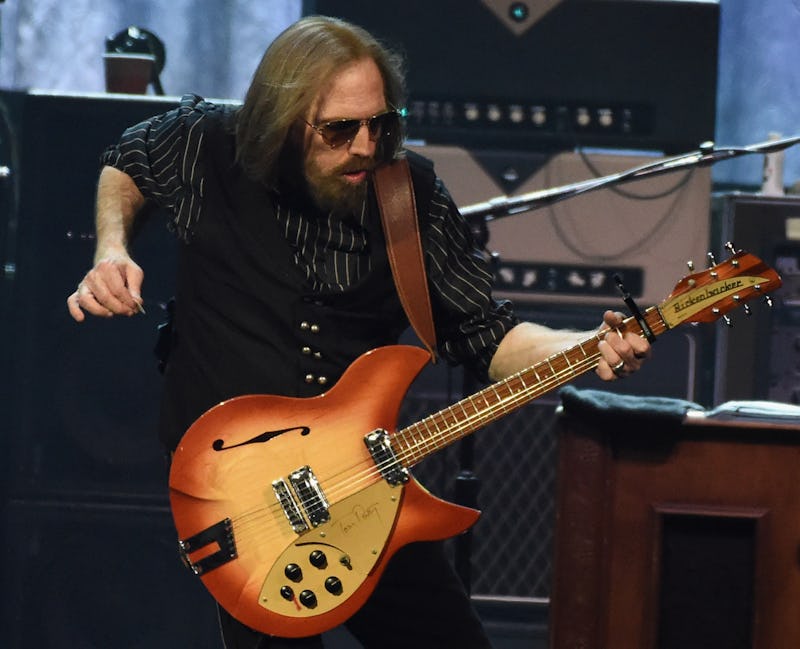 Rick Diamond/Getty Images Entertainment/Getty Images
Update: Late Monday night, manager Tony Dimitriades confirmed that singer Tom Petty "died peacefully at 8:40 p.m. PT surrounded by family, bandmates and friends." He said that Petty could not be revived after going into cardiac arrest in his Malibu home.
Earlier: On Monday, Oct. 2, TMZ reported some sad news: Tom Petty is reportedly in critical condition after being found unconscious and in "full cardiac arrest" in his Malibu home on Sunday night. It's a shocking development to fans and music lovers alike who may not have known if Tom Petty was sick. CBS News seemed to confirm that Petty had passed away at age 66 at 4:01 PM ET, but TMZ is now reporting that the musician is "clinging to life." The Los Angeles Police Department tweeted at 4:55 p.m. ET that they have "no information about the passing of singer Tom Petty. Initial information was inadvertently provided to some media sources. However, the LAPD has no investigative role in this matter. We apologize for any inconvenience in this reporting."
Last week, Petty had performed at the Hollywood Bowl in Los Angeles, where he reportedly told fans, "I want to thank you for 40 years of a really great time," according to CBS News. The sold-out show was the final one of three at the LA venue and it was part of Petty and his band The Heartbreaker's 40th anniversary tour. Petty and the band have spent most of 2017 on the road for what the singer told Rolling Stone in December that this would likely be their last major tour. He cited a desire to spend more time with his granddaughter as one of the reasons he wanted a less demanding touring schedule in the future.
In August, Petty cancelled a Sacramento performance due to laryngitis, but the singer seemed to quickly bounce back. Not only did he continue the tour, he also had two more shows lined up for November. If the singer was suffering from a serious illness, he did not disclose it to the public.
Petty and his band became famous in 1978 with the release of their first major hit "Breakdown." It didn't take long for them become one of the eras biggest rock and roll bands. Hits like "American Girl," "Stop Draggin' My Heart Around," and "Listen to Her Heart" became pop culture staples, while Petty's most famous solo song is 1989's "Free Fallin'."
The singer had planned to go on a separate tour to promote the release of a special addition of his solo album Wildflowers. He told Rolling Stone that the focus would be on smaller venues due to the albums many acoustic songs. While Tom Petty and the Hearbreakers are synonymous with rock and roll, as a solo artist, Petty was far more eclectic, favoring softer songs that maintained an edge.
At the age of 66, Petty has never slowed down. In addition to touring with his band, he also has a SiriusXM channel that has kept him busy since 2014. The singer personally oversees Tom Petty Radio, and has a chat show on the station.
It's not just work that has kept the rock and roll star occupied — he's also a family man. Petty has two daughters — Adria and Kim Petty —with his first wife, Jane Benyo. In 2001, Petty married Dana York, and since then the musician seems to have become content with the idea of leading a quieter life.
In 2014, Petty told Billboard magazine, "The only good thing about getting older is you get smart enough to avoid unnecessary problems. You know what's worth spending time on and what's not. If I had known that at 20, life would have been so much easier, but you have to experience all these things so you figure out how to find your way through the woods."
At the moment, it's unclear whether or not Petty was suffering from an illness at the time of his reported heart attack, but one thing is certain, nothing has kept him from doing the things he loves or spending time with his family.