Trump's Stormy Daniels Payment May Have Broken A Law, But Not The Way You'd Think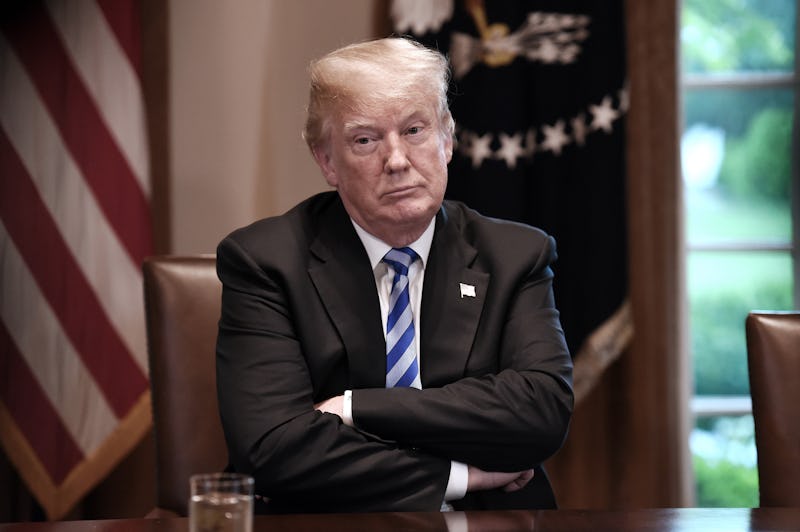 Pool/Getty Images News/Getty Images
President Trump's disclosure that he reimbursed his personal attorney for a six-figure payment to an adult film star may have been too little too late. The day after Trump submitted his 2017 financial disclosure, which included a footnote that appeared to disclose the payment, the Office of Government Ethics (OGE) got prosecutors at the Justice Department involved. It turns out that Trump's Stormy Daniels payment may have broken the law — just not in a way you might have expected.
The financial disclosure Trump submitted on Tuesday notes that "in 2016 expenses were incurred by one of Donald J. Trump's attorneys, Michael Cohen," adding that "Mr. Cohen sought reimbursement of those expenses and Mr. Trump fully reimbursed Mr. Cohen in 2017." The disclosure states that Trump reimbursed Cohen an amount between $100,001 and $250,000, without specifying an exact number.
Cohen has said he paid $130,000 to Stormy Daniels, whose real name is Stephanie Clifford, just before the 2016 election in order to keep her quiet about an affair she says she had with Trump back in 2006.
Because Trump's debt to Cohen was incurred in 2016, OGE determined that it should have been disclosed in financial documents Trump filed last year. The agency referred this year's disclosure to the Justice Department, following a complaint filed by the nonprofit watchdog group Citizens for Responsibility and Ethics in Washington (CREW). CREW's complaint urged the Justice Department to investigate whether Trump "knowingly and willfully" failed to report the payment last year.
In a letter CREW posted to Twitter, the OGE asked Deputy Attorney General Rod Rosenstein to investigate the timing of Trump's disclosure. "OGE has concluded that, based on the information provided as a note to part 8, the payment made to Mr. Cohen is required to be reported as a liability," the letter reads. "OGE has determined that the information provided in that note meets the disclosure requirements for a reportable liability under the Ethics in Government Act." The letter adds that the OGE provided both this year and last year's financial disclosures to Rosenstein in case they are "relevant to any inquiry" Rosenstein "may be pursuing regarding the President's prior report that was signed on June 14, 2017."
CREW's complaint similarly asserted that the president's actions may not have been in compliance with the Ethics in Government Act. "If it was a loan, President Trump likely violated federal law by failing to disclose it as a liability on his OGE 278 report, filed in June 2017 and covering liabilities incurred in 2016 like this $130,000 payment," the complaint reads.
Walter Shaub, former OGE director, and Adav Noti, senior director for the Campaign Legal Center, explained in a USA Today op-ed published before Trump filed this year's form that the president would need to explain why he didn't disclose the payment last year. They wrote:
He may already be in trouble for omitting his debt to Cohen from last year's report. If that omission was knowing and willful, the president may have violated a law that comes with civil and criminal penalties — more than one law in fact.
Up until this point, the main legal question surrounding Cohen's payment to Daniels has been whether it violated federal election law. Common Cause Vice President of Policy and Litigation Paul Ryan (not the speaker of the House) explained on Twitter that the payment may have violated the law if the Trump Organization facilitated it and/or if Trump's campaign filed an incomplete FEC disclosure report omitting the payment.
"@realDonaldTrump seemingly knowingly and willfully caused his campaign committee to file an incomplete disclosure report with the FEC—the committee didn't disclosure the $130k 'expenditure,'" Ryan wrote. "This not only violates campaign finance law disclosure requirements, it also violates a criminal statute that prohibits making materially false statements to the federal government."
These questions still linger, and the Stormy Daniels payment is now a legal problem for the president in more ways than one.