Elizabeth Warren Danced Her Watch Through Boston Pride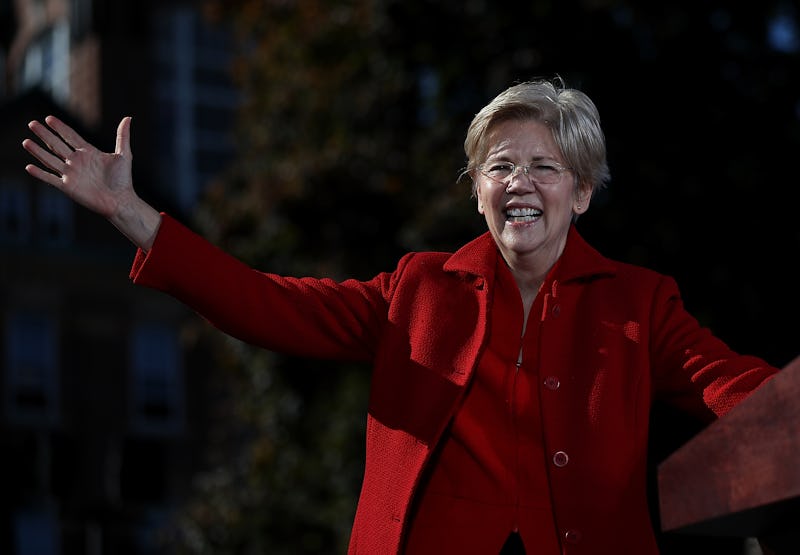 Justin Sullivan/Getty Images News/Getty Images
Pride is a time for celebration, and Sen. Elizabeth Warren just showed how well she understands that. She was among the tens of thousands of Bostonians and visitors who marched through Beantown on Saturday to celebrate LGBTQ equality. Politicians often show up at prides around the country, but this was different: Warren was killing it at Boston Pride. Not only did she wear a rainbow-colored feather boa, but she literally danced her way through the parade.
The pride parade was Boston's 47th, a 2.27 mile jaunt to celebrate the LGBTQ community, love and acceptance, and being oneself. This year the theme was "Stronger Together"; this was a clear political statement, given that was also the slogan for Hillary Clinton's unsuccessful presidential campaign.
In a moving show of importance for the ongoing fight for LGBTQ acceptance, the parade featured a float with 29 survivors of the Orlando shooting covered in rainbow flags and the names of those killed. One year ago Monday, 49 people were killed at Pulse nightclub in what is the worst mass shooting in modern U.S. history. That alone makes the attendance of politicians like Warren, Sen. Ed Markey, and Rep. Joe Kennedy III all the more important.
Warren has long been an advocate of LGBTQ rights. When she first ran for Senate, she was already openly in support of marriage equality. On her campaign website, the now-senator heralded Massachusetts' role as a trendsetter for the nation (the state was the first to legalize marriage equality, through a 2004 state Supreme Court ruling):
I'm proud that Massachusetts has led the nation in protecting and promoting equality – from marriage equality to the recently passed Transgender Equal Rights Bill. ... I will be a leader for equal rights for all in the U.S. Senate. We must end the two-tiered system created by the Defense of Marriage Act, pass a fully-inclusive Employee Non-Discrimination Act, and work to create welcoming schools and prevent bullying.
The Defense of Marriage Act has since been struck down, but there still is no nationwide Employee Non-Discrimination Act (ENDA) that would prevent employers from firing people based on their sexual orientation or gender identity. Only 20 states have passed laws against discrimination in employment based on both sexual orientation and gender identity. That's why events like Pride are so important.
Warren has noted the importance in the past; in 2016 she explained this to the Senate:
[The Boston Pride] parade is the tangible demonstration of what happens when we turn away from darkness and division and turn toward our best selves. When we turn toward each other. It shows us what this nation looks like when we are at our best. Inclusive, strong, united, optimistic, and proud.
The talk was during the filibuster by Democrats to push for gun control legislation following the Orlando attack. And while progress on this front now seems even further off, it's all the more reason to celebrate pride with gusto, defiance, and passion — the feather boa doesn't hurt either.