John Oliver Offers Up More Zebra Greatness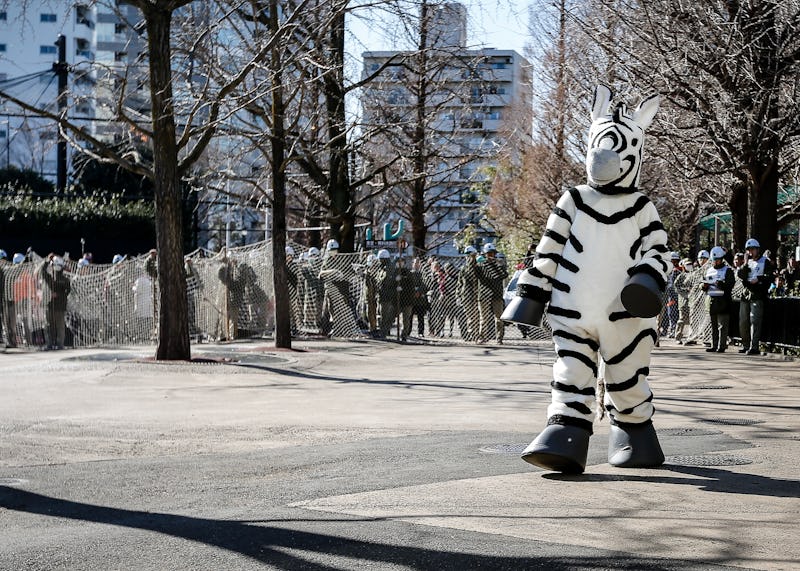 Christopher Jue/Getty Images News/Getty Images
On Last Week Tonight a few weeks ago, John Oliver introduced his viewers to Bolivian traffic zebras. They're actually people dressed up as zebras who teach drivers in Bolivia about traffic safety (a play on the name for zebra crossings or crosswalks). But he didn't stop there with the segment; he proposed adding zebras to lots of bad situations and even uploaded zebras dancing in front of green screens to the Internet for his viewers to do just that. Well, people at home listened, and one of Oliver's viewers used zebras to make Trump's candidacy announcement just a bit better.
Oliver wasn't a fan of the original. "Remember a Trump riding the escalator to announce his candidacy? It's a pretty horrible memory, right?" Oliver said. "Well get ready to have it slightly improved." And it is slightly improved. Now as President Trump and Melania ride down the escalators in Trump Tower, a person in a zebra suit rides up the escalator dancing the whole way. "It's better now," Oliver contends. "That doesn't fundamentally change anything, but it is just better now."
This clip was pretty epic, but it's not the only one Oliver played on the show Sunday night. He had made the case that "adding zebras to things is always an improvement," and the evidence clearly supports Oliver's claim.
Oliver was proud of the editing projects he inspired around the country, and to prove it, he showed some of the clips that were put together. "Let me just say, you people really came through for us," Oliver told his collaborators watching from home:
To give you just a flavor, you took Mariah Carey's New Year's Eve disaster and vastly improved it with zebras, you completely filled the White House press room them, and you put zebras into movies like The Shining, Mad Max: Fury Road, and naturally, Basic Instinct.
But it's not just movies or Trump political moments that are improved with these zebras. "Now interestingly, just adding zebras turns out to make great moments even greater as well," Oliver said. Then he played a video of an old Obama address from the White House with a zebra in the background, during which he announced that the United States had killed Osama bin Laden. Meanwhile in the background? Dancing zebra. Oliver liked it. "Yep, and that is what I will always remember now."
Oliver also mentioned that Bolivia appreciated his coverage of their zebras. On a Bolivian program, the host talked about how he was watching Last Week Tonight when Oliver brought up the zebras. "I thought he was only going to make a comment and suddenly he keeps talking and talking. He keeps talking," the host said, amazed.
That's essentially the show, Oliver argued. "'I thought he was only going to comment and suddenly he keeps talking and talking. He keeps talking.' That's actually an entirely fare description of the this show," Oliver pointed out.
And we're so glad that he does indeed keep talking.
Images: Last Week Tonight With John Oliver/HBO