Seth Meyers Is Not Impressed With Trump's First 100 Days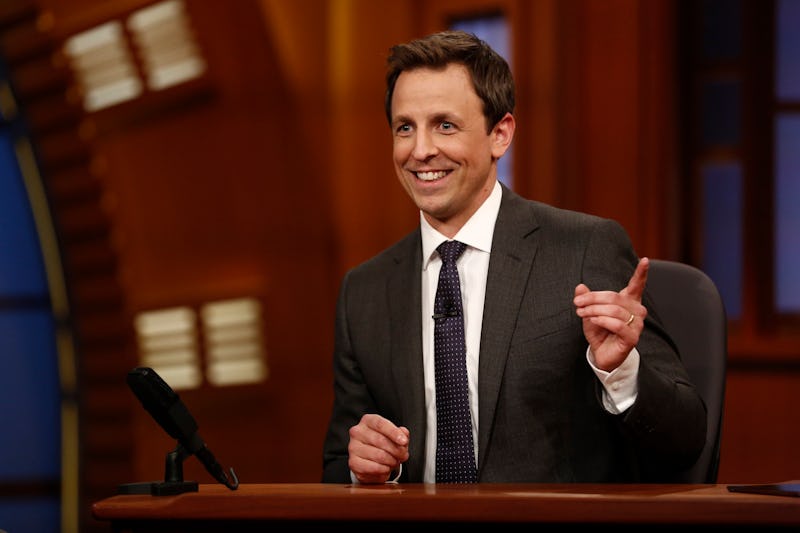 Peter Kramer/NBC/Getty Images Entertainment/Getty Images
On Monday's episode of Late Night With Seth Meyers, the comedian took a closer look at the beginning of Trump's presidency and provided a pretty eviscerating evaluation. Meyers is clearly not pleased with Trump's first 100 days as president, and he cited a myriad of reasons why he believes the president's commencement period is lackluster, at best.
Meyers indicated that since Trump is approaching his 100th day in office on April 29, an evaluation is in order, as the 100-day mark is typically used as a metric for the current and future success of one's presidency. He also mentioned that, unfortunately for Trump, assessments of his performance during his first 100 days are not good. According to a clip Meyers played on his show, polls show that Trump has the lowest approval rating for any modern president at the 100-day mark.
Meyers also took Trump to task for failing to advance any significant policy initiatives within his first 100 days. While Meyers noted that the first 100 days are actually just an arbitrary benchmark used to evaluate presidents, he indicated that Trump's failure to achieve campaign promises within this period is particularly jarring. Throughout his campaign, Trump touted the importance of the first 100 days and even developed a 100-days action plan for what he would accomplish in the beginning of his presidency. To date, very little on his action plan list, which includes repealing Obamacare and eliminating the Common Core for education, has been achieved.
In addition to failing to enact much of his 100-day action plan, Meyers also faulted Trump for reportedly playing a key role in bringing the federal government to the brink of a shutdown. As Meyers indicated, Trump's insistence on securing funding for a border wall between Mexico and the United States could result in a government shutdown at the end of this week if Trump refuses to sign a federal spending bill that does not contain funding for the wall. If the government does shut down, it would constitute the first time it has ever done so during the first 100 days of a new administration. However, Trump indicated on Monday that he'd be willing to sign a government funding bill that doesn't include funding for the wall.
Overall, Meyers made it very clear on his show that he does not remotely consider Trump's first 100 days a success. He also criticized Trump for failing to acknowledge his own shortcomings in this 100 day period, mocking the president for saying that "the government is coming along really well," and characterizing Trump as a "terrible student trying to turn an F into an A." It is quite obvious that Trump and Meyers have vastly different takes on the successes of his presidency thus far and that, according to the latest polling data, many Americans are inclined to agree with Meyers.