Watch The 'Ralph Breaks The Internet' Cast Try To Guess What "GPOY" Stands For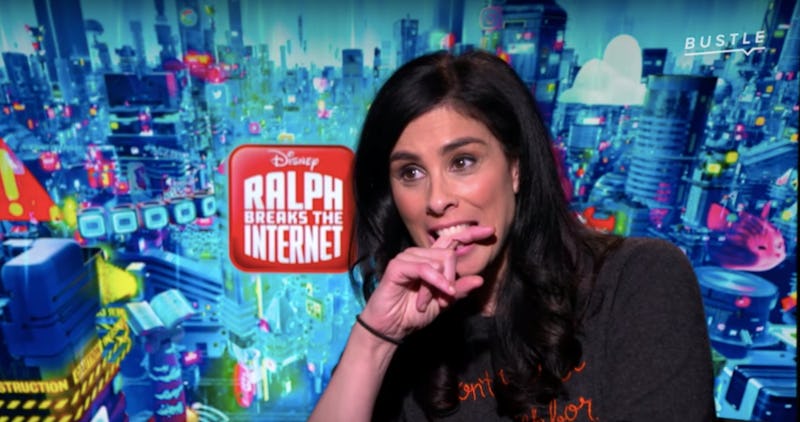 Growing up with the internet means you've had to keep track of all the different acronyms that've popped up over the years. There's LMAO's predecessor ROFL, and BRB, which anyone who used AIM remembers using constantly. But then there are more obscure ones like GPOY and TL;DR that are more familiar to Tumblr and Reddit users, respectively. The Wreck-It Ralph sequel Ralph Breaks the Internet opens on Nov. 21, and features both Ralph and Vanellope traversing the web, so they encounter some of these along the way, including BRB (which Ralph thinks means something else that's amusingly ridiculous). But is the cast just as knowledgeable as the characters?
During the movie's LA press junket, Bustle Contributing Editor Kelsea Stahler quizzed cast members John C. Reilly, Sarah Silverman, Taraji P. Henson, plus directors Rich Moore and Phil Johnston to see how their internet acronym knowledge stacks up.
Henson plays Yesss, an new character that's an algorithm that determines who'll become the next viral star on BuzzTube (a mix of YouTube and Buzzfeed). She also has a penchant for outfits as cool as Henson's Empire character, Cookie. But despite playing someone who is extremely internet-savvy, figuring out the acronyms proves to be a challenge for the actor.
GPOY stumps everyone, but Henson's guess is particularly hilarious and the directors even give the acronym a brand new meaning that'll surely turn into a catchphrase.
Moore and Johnston also easily have some of the most LOL-worthy guesses. When it came to ROFL, Johnston's outrageous response has his co-director shaking his head.
See how everyone's answers stack up in the full video below:
Silverman, who has a big presence on Twitter, is predictably one of the best at getting the acronyms right. The easiest one for her is NSFW. "Lots of my stuff is labeled that so I learned that," she says, which checks out, considering Silverman's known for her dark, dirty sense of humor, including this very NSFW catchy tune. But there's one piece of Internet lingo that no one could figure out, including Silverman.
And the film is just as hilarious as these responses. In the sequel, Ralph (Reilly) and Vanellope (Silverman) trek through the internet for the first time in search for a replacement part for Vanellope's game, "Sugar Rush."
But their journey quickly intensifies beyond its simple premise, with Vanellope finding out about a grittier gaming world, while Ralph discovers what it takes to become the ultimate meme. The best friends encounter everything you know from most corners of the internet, from YouTube trolls to the intimidating dark web, finding plenty of challenges along the way.
Their journey into the internet also means that Ralph and Vanellope cross paths with brand new characters who introduce them to internet experiences beyond their wildest dreams, including Henson's character Yesss and all the Disney princesses. Watching Ralph become a huge meme will have you anxiously awaiting a third movie, but let's hope that the cast brushes up on their internet lingo before it arrives.
Reporting by Kelsea Stahler.