Watch This Republican Senator Brilliantly Defend Planned Parenthood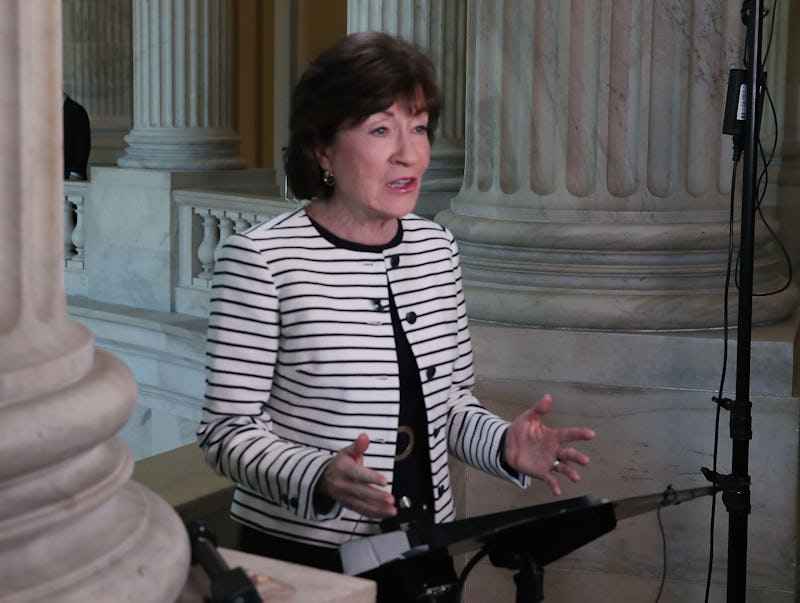 Mark Wilson/Getty Images News/Getty Images
A key Republican senator just broke ranks with one of her party's most contentious platform points, and her statement could have implications for coming legislation. During an interview this Sunday with ABC's George Stephanopoulos, Sen. Susan Collins defended Planned Parenthood against the steep proposed budget cuts in her party's newly revealed health care bill.
"It makes absolutely no sense to eliminate federal funding for Planned Parenthood," Collins said during the interview. "There are already longstanding restrictions on the use of federal funds for abortion, so this is not what this debate is about. And Planned Parenthood is an important provider of healthcare services, including family planning and cancer screenings for millions of Americans, particularly women," she continued.
Senate Republicans released their proposed legislation for the Obamacare repeal and replace effort this week, which would strip Planned Parenthood of the $528 million dollars the organization receives in federal funding. That's about 60 percent of PP's annual revenue and about .00013 percent of the national federal budget. The Hyde Amendment stipulates that no federal funding can be spent directly on abortion services.
Throughout her career, Collins has frequently voted with Democrats — according to Five Thirty Eight, she voted with her fellow Republicans less than 60 percent of her time in office between 1997 and 2015. However, since Donald Trump took office, she's drawn more in line with the party leader than expected. Five Thirty Eight's statistical analysis before the inauguration predicted that Collins would vote in alignment with Trump only 48 percent of the time, but in actuality, 86 percent of Collins' votes have been in Trump's favor so far.
According to The Portland Press Herald, this isn't the first time that Collins has spoken out in support of Planned Parenthood. In January, she spoke with reporters shortly after Speaker of the House Paul Ryan held a press conference announcing the GOP's intent to defund the organization.
"Obviously, I'm not happy that the speaker has decided to include the defunding of Planned Parenthood – an extremely controversial issue – in the package," Collins told The Press Herald. "There is a group of House Republicans led by Representative Charlie Dent who are opposed to the defunding of Planned Parenthood in the (budget reconciliation) bill, and I hope they will be successful in separating the two issues or knocking it out altogether."
Given the timing of the interview, Collins seems to be making her intentions quite clear regarding the Senate's impending vote on the Republican health care plan. With Democrats firmly coalesced in opposition, only a few Republican senators would have to defect to threaten the future of the legislation, so Collins is a key vote. If the senator from Maine is making Planned Parenthood her line in the sand, Republicans could acquiesce just to pass some legislation.
There's no way to tell if the chicken or the egg came first, but the people of Maine largely share Collins' views on Planned Parenthood. A 2015 poll found that 70 percent of Maine voters opposed Congressional attempts to defund the organization, so Collins seems to have her pulse on what her constituents care about. Whether she will be able to maneuver a tricky political path and protect it is the only question.