This New Netflix Series Shows How People Everywhere Use Dance As A Tool Of Resistance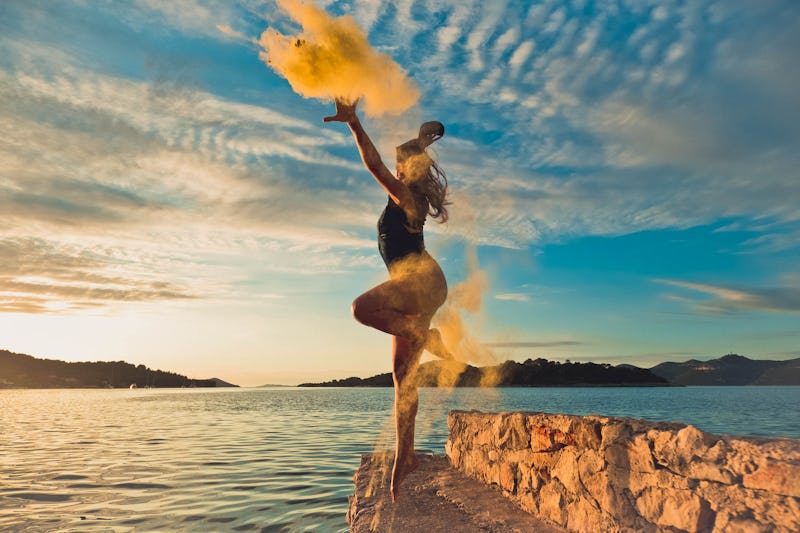 We Speak Dance
Dance is one of humanity's unifying languages. Incorporating the visual, the audible, and the symbolic, dance can be both a work of art, and a means of communication. In Netflix's new series We Speak Dance, host Vandana Hart, an Alvin Ailey-trained dancer and former United Nations advisor, explores the ways people preserve and enrich their cultures, communities, and resistance through dance.
Dance "is the most visceral, beautiful art form on the planet," Hart tells Bustle. "When dancers realize that they have the power to reshape their communities and society through movement, then all of a sudden they become leaders." Dance "can be used as a political weapon symbolically and literally," she says.
Premiering Jan. 1, We Speak Dance follows Hart to places like Lebanon, France, Spain, Vietnam, and Indonesia, and features folks whose dance preserves traditions and breaks boundaries, from gender-bending burlesque to vogue ball attendees to hip-hop battlers in neon-lit night clubs.
For Hart, dance as a way of life and a means of protest and politics has roots in her childhood. Her father, she says, was an American activist, fighting to free political and religious prisoners from Russia during the Cold War. When Hart's mother, who is Russian, became pregnant and was unable to leave the country, her father "basically campaigned to get my name and my mother's name on a nuclear disarmament agreement to get his family out of the country," Hart explains. And though she didn't realize it until she was older, she and her mother were refugees to the U.S.; now, much of Hart's current work, including We Speak Dance, is focused on supporting and empowering refugees across the world.
The idea for We Speak Dance began three years ago, after Hart moved to Kenya on a one-way ticket with no job and no plans. She found work choreographing the music video for "Look @ Me Now" by Camp Mulla, which became a hit in East Africa, and was invited to be a judge on Kenya's version of So You Think You Can Dance. "I thought [the invitation] was a joke, and it really wasn't at all," Hart says. "So it was two Kenyan guys who had choreographed all over Europe and Africa, and... me."
She ended up managing the first season's winning dance group, which was where her ideas for We Speak Dance really started to kindle. She realized while working with them that "there's no media on dance, and the substance and culture and the power of dance to unite us, to speak to the gods, to breathe prayer, to break boundaries and stereotypes, to be political and to be a way to tell stories," she says. "So I became obsessed with being a dance journalist."
She says she took inspiration from chef Anthony Bourdain's work, like his popular travel food show No Reservations, and started filming independently in six countries, including Kenya, Nigeria, Ghana, Costa Rica, the Dominican Republic, and Cuba, to gather enough material to put together a pilot episode.
"The whole point of We Speak Dance is to really reclaim dance as an art form and to elevate the culture of dance as well as redefine the culture through dance," she says. "And that's really my [...] ethos for We Speak Dance. How do I find the strongest dance leaders in the world who are using their dance to speak different kinds of languages and connect across cultures? One of my goals with We Speak Dance is for it to not just be a show, but for it to be a movement."
The dance leaders coming together in We Speak Dance comprise what Hart calls "the United Nations of dance," and she aims to take We Speak Dance's influence beyond the show itself, creating opportunities for "dance ambassadors around the world who can bring their art form and link it to social issues that are happening in communities," she says. For example, Hart is connecting dancers featured in the Lebanon episode of We Speak Dance with kids in local refugee camps. She's also raising money to provide those refugees with dance classes. And on Jan. 5, she along with dancer and choreographer Ryan Heffington will be hosting a 12-hour dance protest, which will be livestreamed on Hart's Facebook page.
"Basically we're gonna be dancing for 12 hours in downtown L.A.," Hart says. She got together with Heffington and asked if he would be willing to participate — and which cause he'd like to dance for, a question she asked all participating dancers. "[This] is really important and the beauty of the campaign," she says. "Everyone's like, 'Oh, you have so many social causes that you're dancing for, what does it all connect to?' But by asking people to dance for what matters to them, they have that ownership, and they get to explore the issue in their own way."
We Speak Dance highlights this dual nature of dance — the way it can mean something different to each person, yet still unify people across the world in prayer, power, and protest.
Correction: A previous version of this article misstated Hart's connection with the U.N. It has been updated to accurately reflect that connection.