54 Plus Size Petite People Share Their Favorite Places To Shop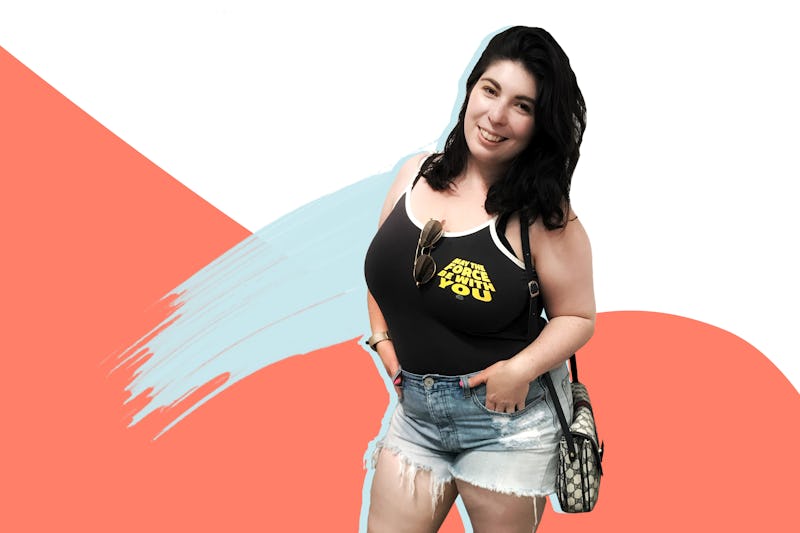 Kristin Mahler/Bustle; Courtesy Becca Glasser-Baker
Shopping for clothes can be a real stressor all on its own — whether it's shoving ourselves into a pair of too-tight jeans or trying on a dress for a friend's wedding that might not be exactly in line with our everyday style. What's more, it seems different stores and brands all have completely different sizing charts, which can make shopping all the more confusing and discouraging — especially for women who identify as petite and plus sized.
According to Bloomberg, 67 percent of American women wear a size 14 or above, and as Today reported, a 2017 issue of the International Journal of Fashion Design claimed the average American woman is a size 16. But this doesn't mean that even if you are a 14 or a 16 that finding clothing that fits is easy.
In an effort to hear from real people about an often confusing sizing system, Bustle surveyed more than 400 people who then identified themselves by body type. Four categories that were most commonly listed were plus size petite, plus size, tall, and petite.
In this piece specifically, we've analyzed the results of the 54 individuals who self-identified as petite-plus size. Turns out, there is a lot to be said about the way the fashion industry is catering to their individual sizing needs.
These are those respondents' real experiences on all things shopping and sizing, and the challenges they're facing every single time they even consider making a clothing purchase.
What They Think About Shopping In General
As Mic reported, the industry standard for petite is 5'4 and under. That categorization is purely based on height — you can be any weight and still considered petite if you're shorter than 5'4. Out of the 54 respondents who identified as petite-plus size, 19 said they were between sizes 14 and 18, 24 identified between sizes 10 and 14, and 11 identified as a size 18 or higher. Despite the body diversity of the survey respondents, all of them face common obstacles in the dressing room.
Rebecca Glasser-Baker, who says she is typically a 12/14 or L/XL, knows first hand how challenging shopping can be. "I am super busty but my waist is super tiny. So when it comes to outfits, the silhouettes of dresses often cut off at my boobs making me look like I'm pregnant when I am not. Other times garments often don't have a lot of shape which leaves me looking like a sack of potatoes," she told Bustle.
A majority of the 54 respondents (approximately 54 percent) shopped mostly online and sometimes in stores, while around 41 percent shopped mostly in stores and sometimes online. Four percent say they shop only in store, and the remaining 1 percent shopped only online.
What They Think About Sizing In General
Sizing is tricky for nearly everyone — but once you narrow down the body type to petite-plus size, it gets all the more difficult to find an item that fits you near perfectly without having to make any adjustments.
"I also think a huge issue is when companies create plus size clothing, they seem to make everything for tall women. I'm 5'1 so I have to get almost everything tailored. I am one of those people who has to try everything on in person, because of my proportions. I wish online shopping was easier!" Glasser-Baker also shared.
Another key piece of advice from one of the people surveyed was to "know your silhouettes and know sizes are inconsistent." In addition, one respondent advised fellow petite-plus size individuals to be prepared to try on lots of clothes and size numbers, but without getting hung up on the actual number. "Being OK with trying on multiple sizes of the same thing and not attaching value to that number allows me to shop and get what I truly want instead of trying to fit into what I expected my size to be," she wrote.
While there are sizing apps out there to help consumers when shopping, only approximately 6 person of the petite-plus size individuals surveyed said they've used a sizing app before. All of the six that selected they used a sizing app to help them shop for clothes all put the same app: Truefit. The app is driven by data to help consumers find the shoes and clothing that they will (hopefully) love.
What They Think About Shopping In Store Versus Online
While a majority of the respondents admitted they shop online more than they do in stores, there are challenges that come with this convenience.
One person who took the survey noted that shopping in stores can be helpful because you have the help of a sales associate to guide you on the right path. "Ask the sales associate for help. I'm top heavy and the store often knows what has worked for other customers [with a similar body type]," the individual wrote.
Other respondents advised those in similar situations to know their measurements inside and out so as to avoid trying on any major "catastrophes," as one person wrote.
Where They Like To Shop
When asked what stores they most enjoy shopping at, the more common answers were a mix between brand-name shops, large department stores, and smaller, more niche ones. For example, popular responses included Target (offers sizes XXS - 4X; 00 - 26 W; tall/short options) , LOFT (offers sizes 00 - 34; petite/tall options), Nordstrom (offers sizes XXS - 3X; 00 - 28W, petite/tall options), Nordstrom Rack (offers XXS - XXL+; petite options) , Zara (offers sizes XXS - XXL; 2- 14), and online-only retailers such as ASOS (offers sizes 00 - 24; petite/tall options) & UK-based Boohoo (offers sizes 0 - 14, petite/tall options).
The survey separately asked the respondents to state where they'd recommend a friend to shop, and answers ranged from large discount department stores to smaller, more pricey brands. Among the recommendations, some of the most common were Target, Forever 21 (offers sizes 2 - 12; 1X - 3X), American Eagle (offers sizes 00 - 18; XXS - XXL), and Old Navy (XXS - XXL, petite/tall options), whereas the most unique responses included Universal Thread (which is part of Target), Forever 21 +, Free People (offers sizes XXS - XL), and Aerie (offers sizes XXS - XXL).
What Could Be Better About Their Shopping Experience
The general consensus of the respondents is that there's a lot more room for improvement when it comes to providing a better shopping experience for those who fall into the petite plus-size category.
"I wish more companies took into considering that not all plus size girls are tall. There's a regular petite section, why not a plus size petite one?" said Glasser-Baker.